There are many great shows on television, but for some reason, a handful of them get terrible reviews. We're not talking about shows that had terrible ratings, either. There are a few TV shows that were hugely popular with viewers, but got torn apart by reviewers. It's a shame, seeing as plenty of people judge whether or not to watch something based on what the critics say. Imagine if you never watched any of your favorite shows because people had told you it wasn't worth your time.
Viewers and critics having different opinions may not make sense on the surface, because why would it? If one group is saying it's all bad, the other can't justify saying that it's great, right? Well, contrasting opinions usually crop up because viewers and critics look for different things when they watch a show.
---
---
While the former may only be interested in whether it grabs their attention or has a compelling story, the latter tries to focus on every element possible. A lot goes into making a show, including editing, dialogue, and continuity, and critics like to focus on how all of these features affect the final product. Viewers, on the other hand, just want to enjoy the next 20-60 minutes.
We're not saying that either side is in the right, but in the past critics have been a bit too harsh on some pretty great shows. Take these, for instance. The viewers loved them, and we can't say that they were wrong.
Iron Fist
Marvel films and TV shows are everywhere these days, and their fanbase just keeps growing as they release more and more movies and TV series. One of the newest Marvel TV shows is the series Iron Fist which currently airs on Netflix. Although he's not one of the best known superheroes in the franchise, Marvel has been trying to bring their Defenders team (which also includes Daredevil, Luke Cage and Jessica Jones) further into the spotlight. Fans of the Marvel franchise were happy to have another series to watch, and compared it favorably with the other shows on Netflix, but critics felt they'd dropped the ball this time around.
The Brave
The Brave follows an elite covert operations team throughout their various missions and is a hit with its viewers – it has a 92% approval rating on Rotten Tomatoes. They love it so much that they're currently trying to convince NBC to give the show a second season, after the first one concluded at the start of 2018. While the fans may have connected with the show, the same can't be said for those who reviewed it. "Generic" was a word that got tossed around a few times.
Stalker
22 of the 24 critic reviews for Stalker on Metacritic were negative. Not very high for a show that averaged 7-8 million viewers over 20 episodes, with many fans praising it for being different from most of the other crime dramas on TV. The show was created by the man behind the horror films Scream and I Know What You Did Last Summer, but where those works were praised, Stalker was just accused of being uncomfortable to watch. If those reviewers can't stand the heat, they should get out of the kitchen.
Startup
Martin Freeman, aka John Watson in the British drama series Sherlock, stars as FBI agent Phil Rask in the online drama series Startup. The show is centered around the son of a financial swindler who invests dirty money into a digital currency startup. At the end of 2017, it was renewed for a third season, but critics haven't found Startup's characters to be very appealing. They've also complained about the show's slow pacing. Viewers, however, aren't bothered. They've labeled the show one of the most binge-worthy series in recent years.
Hand of God
The premise of Hand of God is of a once respected Judge suffering a breakdown after his son tries to take his own life. He believes God then starts talking to him through his comatosed son and joins the 'Hand of God' church. His new belief in God spurs him to do many illegal things, but in the eyes of reviewers this action came off too violently without enough entertainment thrown into the mix. They struggled to get behind the protagonist's motives, but viewers felt differently and found the Amazon Prime series to be incredibly engaging. The 82% audience score on Rotten Tomatoes tells us it's worth watching.
Man with a Plan
Matt LeBlanc may be best known as Joey Tribbiani on the sitcom Friends, but he's had several other notable roles since the show ended in 2004. Most recently, he's been starring in Man with a Plan, where he plays a father having to adjust to the role of househusband when his wife goes back to work. Reviewers haven't been charmed by LeBlanc's performance, citing the show as unimaginative and devoid of humor. However, if the show is as bad as they insinuate, it wouldn't still be maintaining good ratings well into its second season.
Damien
Based off of horror film series The Omen, Damien was a one-season show that aired in 2016 to a flurry of negative reviews. The consensus was that it was a horror series that failed to feature much in the way of horror, with many criticizing it for being too cliched. While Damien's critical rating may only be 11% on Rotten Tomatoes, its audience approval score is as high as 83%. Fans commend the show for portraying horror in an unconventional way and suggest that prospective viewers ignore reading any reviews.
The Night Shift
The Night Shift enjoyed a good four-season run between 2014 and 2017, but it was ultimately canceled when ratings dropped a bit too low to justify continuing production. While some people may have tuned out, however, there were still several million people who enjoyed the show, and rightly so. The medical drama filled a void that had been vacant for some time, and plenty of viewers enjoy shows of this genre. Despite the insistence of critics that the show was merely "average", it had plenty of compelling storylines that kept audiences engaged throughout its duration.
Killer Instinct
The only positive review for Killer Instinct on Metacritic was written by bestselling author Gillian Flynn who gave the show a score of 100… but called it "the best worst series on TV." Her review, while somewhat backhanded, provided a spot of green in a field of red which left the show with an overall score of 25 on the site. That's a bit of a contrast to the 8.5 out of 10 it got by Metacritic users who love how Killer Instinct deviated from the typical crime drama that you find everywhere else.
Falling Water
Falling Water can't be so bad, if it got commissioned for a second season that aired earlier this year. 79% of viewers don't seem to think so either. They heaped praise on the series for developing a rich mythology with plenty of intriguing questions and mysteries that led to a very satisfactory conclusion. While the initial premise of dream traveling might not be wholly original, it deviates enough from past examples to allow the show to stand on its own legs.
Scorpion
Scorpion is one of the few shows on this list to still be on the air, with its fourth season currently showing Monday nights on CBS. It hasn't had the terrible reviews that some of these other series have gotten, but it has been criticized for being overly complicated with its dialogue and trying to be too smart. However, that's what many viewers have been complimentary about, praising Scorpion for being more rooted in science, even if it stretches reality just a little.
Conviction
Conviction only holds a critical rating of 18% on Rotten Tomatoes, despite its audience score being a massive 80%.That's a big difference of opinion, but who should you be more inclined to believe – the viewers or the reviewers? According to the critics, the show was too contrived to be plausible and failed to move away from the cliches of the genre. What they failed to mention was the shining star in Hayley Atwell who single-handedly gave the show a worthwhile reason to be on the air.
Friends From College
How I Met Your Mother's Cobie Smulders has a starring role in Netflix's original comedy series Friends From College. While a show that follows the lives of six friends might sound familiar, this new series revives the concept and views it from a different angle. Critics may not be able to get past the somewhat divisive cast of characters, but viewers certainly can, and they can see the humor in them too. That's why the show has an approval rating of 74% on Rotten Tomatoes, and why a second season has now been commissioned.
Chicago Fire
What reviewers don't see in Chicago Fire, audiences just don't know. The show apparently isn't "terrible," it just doesn't bring anything new to the format of firefighter dramas. It's a credible point to make, but it doesn't take into consideration what the actors/characters and storylines bring to the show as its own entity, rather than as a genre. The 7.7 and 86% rating on Metacritic and Rotten Tomatoes respectively show that while the critics may discount these factors, the viewers certainly don't – they love the show.
Painkiller Jane
Painkiller Jane, a TV adaptation of the comic book character with the same name, only ran for one season in 2007, but it left a lasting impression on its audience. Fans were particularly complimentary towards Kristanna Loken, praising her performance as the superhero protagonist Jane Vasco, although critics disagreed. They felt that the character, and the show as a whole, lacked the edginess that was prevalent in the comics. Viewers weren't quite as concerned about this, still finding the show to be plenty captivating just the way it was.
The Game
When The Game debuted on The CW back in 2006, the critics were ruthless. They referred to the show as low-budget and a hollow imitation of a sitcom, citing it as a disappointing spin-off to the popular series Girlfriends. Viewers, on the other hand, were much more positive about the show which starred Tia Mowry and Brandy, claiming it had everything they wanted in a TV show. As a result, the series was picked up by BET after being canceled in 2009. It went on to have an additional five seasons, all with higher average ratings than the ones aired on The CW.
Ghost Whisperer
After finding fame in the teen drama show Party of Five, and later starring in the horror films I Know What You Did Last Summer and its sequel – Jennifer Love Hewitt became the face of supernatural drama series Ghost Whisperer. The show lasted for five seasons and was loved by its fans throughout, but critics weren't impressed at all when the series first aired. They found it to be too sentimental, stating that the scarier or more comedic moments were lost by a lack of focus. Despite bad scores by reviewers, hundreds of viewers have praised the show online, giving it an overall score of 90% on Rotten Tomatoes.
Marco Polo
Reviewers weren't blown away by the Netflix series Marco Polo when they started watching it in 2014. Criticism was largely directed at what they considered to be too slow a pace, with the production standards not up to the level that they expected. Their concerns didn't stop the show from receiving a 92% approval score by viewers on Rotten Tomatoes, though. Many fans on Metacritic assured that the problems Marco Polo might have had were gone within the first few episodes, leading it to become an epic drama that was canceled before its time.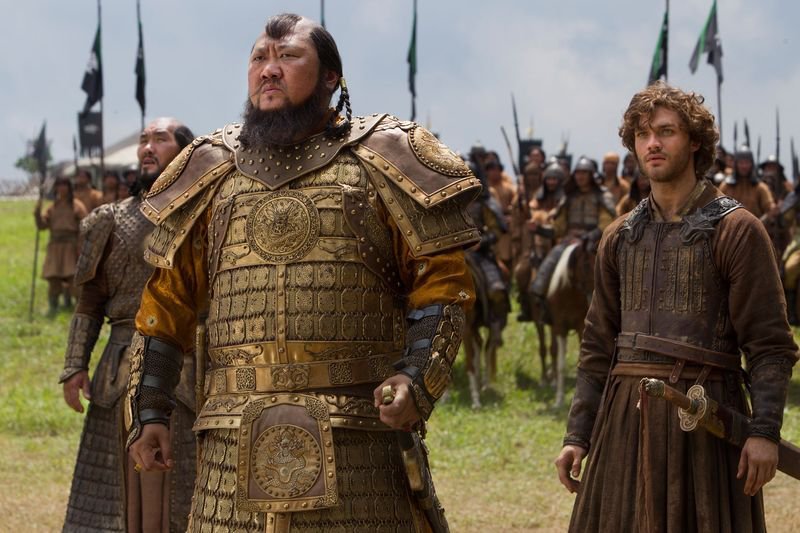 Criminal Minds
Criminal Minds has aired 12 seasons so far, with a 13th currently showing on Wednesday evenings. That's pretty good going for a series that critics stated was too confusing and lacked characters who didn't conform to stereotypes. The show's first season only has a rating of 36% on Rotten Tomatoes, with just a slight increase of 42% on Metacritic, but it still managed to pull in an average of 12.38 million viewers back in 2005. That shouldn't come as a surprise considering the audience approval score is much higher at 8.1 out of 10, signifying universal acclaim.
Rules of Engagement
Rules of Engagement never received very positive reviews during its six-year run, but that didn't stop CBS from giving the sitcom the go-ahead for a new season time and again. Ratings of the show did dwindle, but remained high enough, with many fans praising the performance of cast member Patrick Warburton. Reviews were critical of the show's comedy (claiming an absence of it) and the somewhat pessimistic view towards love and relationships. Their negativity, however, did not stand in the way of the sitcom's success.
The Orville
The Orville is the latest creation from the man who brought us the animated series Family Guy and American Dad. Inspired by Star Trek, this futuristic comedy-drama has been a mega-hit with viewers, but critics can't see what the fuss is all about. Their negative comments have been mostly aimed at the show's lack of originality and inability to stick to one genre, resulting in an approval rating of just 21% on Rotten Tomatoes. This contrasts with the score of 93% given by the audience, creating one of the biggest divides on the website.
Two and a Half Men
Two and a Half Men originally starred Charlie Sheen and Jon Cryer, and followed a carefree writer (Sheen) whose life get turns upside down when his brother (Cryer) and young nephew (Angus T. Jones) move in with him. Critics were harsh on the sitcom, particularly because of Sheen's antics, but even later after he was replaced by Ashton Kutcher in the show's ninth season their criticism remained. But you don't get 12 seasons of a show without having a great fan base, which is what helped propel the show forward.