Any movie buff will have a list in their collection that is under the 'must watch' section, and a lot of the greats will appear there! It wouldn't be a surprise either to see that the list included a lot of science fiction films because, as anyone can appreciate, they know how to write a storyline! The movies all have different audiences and feature many different plot lines that intertwine the alien creatures with action-packed storylines creating one brand new genre! Some of the names on the list may include 'Terminator', 'E.T.', and 'The Matrix', but there are certainly two franchises that have an incredibly dedicated fanbase.
---
---
Star Wars fans vs. the Trekkies are two fan bases that can both love and despise each other, but with the differing storylines and similar release times of the movies, who could be the ones to come out on top? The Star Wars fandom has their Death Star while the Trekkies have The Enterprise, and the feud between the better version of every opposite can continue for as long as time. However, when it comes down to the race of who got their first, a lot of people believe Star Wars was the frontier, when in fact it was Star Trek that initially paved the way for the boom of the sci-fi era! With the original series being released in 1962, the pointed ears were born, and the bridge between humans and aliens was crossed in the epic franchise.
Behind the wheel of the famous starship can be seen the leader of the great crew, Captain Kirk, and who better to play him than the legend William Shatner? This superstar actor helped to create one of the most famous franchises of all time, but this was not his only claim to fame. Over the years William Shatner has become known worldwide for his distinct voice and acting abilities, as well as branching out into various other careers along the way. But behind every great superstar lies some tales that need to be told. Life for this actor was not written to be an easy one, and he would have some considerable hurdles to overcome on his journey. Could William Shatner step up to take control of his life the way he could so well as Captain Kirk?
The early years
William Shatner was born March 22, 1931, in Canada to Joseph and Anne Shatner. He is one of three children, having two sisters named Farla and Joy. Shatner grew up attending school in Canada and finished his schooling by receiving a degree in business studies. This would come into use later in his career where he was able to use his strengths in business to ensure his career was a successful one, having gained the knowledge of how to be a smart businessman.
His younger years
During his childhood years, Shatner was able to start his acting career young. Shatner landed roles on Canadian radio shows where he was featured as a young performer. His passion for the acting world was only set to grow as he went on to continue during his time at University. The summers would give the young star a chance to perform with a theatre company where he could learn key skills to take on into later life. While the work was all on stage during this time, his confidence grew.
Becoming manager
After graduating from University, Shatner went on to take a job as business manager for a Canadian theatre in 1952. By 1954 he was acting in the festival productions, and even managed to have one of his performances in 'Oedipus Rex' televised! He would go on to star in his first Broadway production during 1956, allowing him to become more well known and able to further his acting career. This was a massive step for the young actor.
Television debut
During his time performing on Broadway, Shatner was able to find some work acting on television too. He appeared in shows such as 'Studio One', 'Goodyear Television Playhouse', and 'Playhouse 90'. All of his hard work was not to be in vain, quickly landing a starring role in 'The Brothers Karamazov'. The film was Shatner's first, and in 1958 he was able to split his time between becoming a young movie actor and appearing in successful Broadway productions!
Building a repertoire
The next few years were huge stepping stones for the actor as he was able to land several roles in the stage, one successful part leading to his next star moment. As well as performing on the stage, Shatner was able to take his performance to the small screen, getting his first television series playing a prosecutor on a TV show. Although the show only had a short run, this marked a turning point that would land Shatner the most significant role of his career!
Commander of the Enterprise
1962 saw the birth of the crew manning the USS Enterprise starship. With Captain Kirk at the helm, the show was set in the 23rd century and followed the members of the ship as they explored around the galaxy. Even though in later years the show would go on to form a major cult following, the initial three seasons were a disappointment in the ratings and saw the cancellation of the show. If only they knew what was to come!
The man of many weddings
Shatner is no stranger to a wedding, having a had a whopping four! From 1956 to 1969 the actor was married to Canadian actress Gloria Rand, with whom he had three children. Leslie, Lisabeth (who went on to be Miss Golden Globe!), and Melanie were all born to the pair, but the relationship would eventually end in divorce after he left Rand while he was filming the original Star Trek series. HIs next marriage saw Shatner and Marcy Lafferty tie the knot in 1973. The two later divorced in 1996.
Living on in memory
Although the show had been canceled, it didn't stop it from becoming a fan favorite as its popularity grew and grew. It was following the initial cancellation that Shatner decided to use the opportunity to make a career change. Moving into music, his first album was recorded and featured spoken copies of popular songs, but his version of 'Lucy in the Sky with Diamonds', originally sung by the Beatles, was voted as one of the worst covers of the song – not exactly the reviews you'd want to hear!
The struggling actor
Often referred to as 'that period', the early '70s were a tough time for the captain as he struggled to find any work. Having to settle for any job that was offered his way, Shatner would often find himself appearing at parties just to get some money in his pocket. This problematic period saw the actor lose his house and be forced to live in his car, but he would soon find himself on the up again after seeing through the bad times!
Getting the needed break
Following on from his struggle, and after landing many roles in cheap films, Shatner finally got the break he was searching for. Landing a starring role in a television series, For the People, the show would give the actor a chance to go back to his roots acting in legal dramas as he was once again shown to be the prosecutor of the show. It brought in good write-ups and led the actor to continue to get hired for various roles. A few more television series later and Shatner was flying high once again!
Kirk reborn
Several commercials and stints on celebrity game shows later, Captain Kirk's role was reborn in 1977. During the '70s the show had gained a major following after it had been turned into a cartoon. The fanbase of the 'Trekkies' was formed, and saw them only wanting more! The eight-year delay for the original cast had everyone excited for the new film, but the directors had to choose their story and theme carefully as two years previously 'Star Wars' had been released, so the crew now had competition.
Flying the starship once again
The movie was an instant hit and saw Shatner go on to star in the following six films until his departure after 'Generations'. The Trekkies were kept happy after such a long break, but Shatner wasn't one to show publicly how grateful he was. In a bold move, while on 'Saturday Night Live', Shatner found himself involved in a sketch around a convention for the franchise where he told all his fans to go and get a life… perhaps not the best way to keep the fans happy!
Causing a commotion
On the show, both Nimoy and Shatner were unfortunate enough to be involved in an on-set accident. Back in 1967, the pair were standing too close to an explosion piece that ended up giving both of them tinnitus! That's not the only thing that Shatner's had to endure though; he is also reported not to be able to do the Vulcan salute, and always had to have his fingers wired in place or taped together during the filming! Well, don't we feel clever knowing we can do it!
Feuding castmates
During his time working with the franchise, it is impossible to say that Shatner was able to get along with everyone on the set. In fact, it was the complete opposite as he appeared to have a feud with everyone at some point! Not all of the issues Shatner had were outside of the show either, as some were to do with the writing of his character! It seems he wasn't one to accept if things didn't go his way.
Kirk V Spock
A lot of Shatner's anger was directed towards Nimoy. On the show, Shatner would grow annoyed that his character was never the one to be coming up with any solutions and that Spock was always given credit. This lead to the beginnings of the jealousy, that was only further fuelled by the number of female fans Nimoy had in comparison. The difference in the quantity of fan mail was very noticeable, and this didn't sit comfortably with Shatner.
Bike race
The competition would not end there between the two either. When filming the show, it was absolutely necessary to make it to the cafeteria for lunch on time in order to make it back for shooting as the breaks were only short. Nimoy would cycle there to make sure he had enough time, but Shatner wasn't happy how he could be beaten as he would run instead. He then began to hide Nimoy's bike, leading to the star having to bring his car to the set to lock it in!
Building bridges
The two were reported to have grown very close after an initial rocky start to their friendship. Nimoy and Shatner were said to have made sure they got equal rights on the set as well as fair pay opportunities and treatment. It seemed as though they had finally gotten over their grievances, but according to the rumors, this wasn't to last. Shatner's inability to share the spotlight appeared to cause a lot of friction amongst the actors, but luckily this didn't come across in the show.
Fall out to the end
The feud between the two star actors wasn't set to dissipate anytime soon. Over the years there was plenty of opportunities for the pair to make quips at each other, and make their dislike known. This feud was one that was never going to be resolved, and unfortunately never will be now. Nimoy tragically passed away in 2015, but hadn't spoken to Shatner in five years! Nimoy had refused to talk after Shatner recorded him without his permission during a documentary.
Third time unlucky
Shatner found himself a new wife in 1997 when he married Nerine Kidd Shatner, Nerine tragically passed away two years later, but her death caused major questions to pop up in the media about Shatner's involvement. His fourth and (so far) final marriage is to a horse breeder named Elizabeth Anderson Martin. The two wed in 2001 and appear to be living out their lives happily together. Hopefully, it will be the last time Shatner has to walk down the aisle!
Questionable drowning
Nerine Kidd Shatner was just 40 years old, 28 years younger than her husband, at the time of her tragic drowning. Nerine was reported to have been suffering from issues with alcohol before her death. She apparently had somehow fallen into the pool with Valium and alcohol being found in traces of her blood following the autopsy. Shatner had attempted to revive his wife upon discovering her at the deep end of the swimming pool but was unsuccessful.
Cause for controversy
Following his wife's death, Shatner was put in the public spotlight by conspiracists. The public was quick to question whether the drowning story was sincere or not, as the pair had supposedly filed for divorce the previous year and it looked as though Nerine would've been set to receive a lot. The couple were reported to have put aside their differences and were back to their once happy marriage point again, so was it just a freak accident?
Strong athlete
Although Nerine had been suffering with her alcohol dependency and was shown to have traces in her system, she was also a confident swimmer and a reasonably fit athlete which questioned how the former model would have been able to drown in the first place. This is accompanied by the fact that Shatner left his wife alone, and returned alone when he found her, potentially giving him a chance to pull off the crime. While nothing was ever charged, it hasn't been forgotten by many people! What do you think?
Wanting leadership
On Star Trek, Shatner could often be seen to steal lines that were blatantly written for another character. However, in his bid to take his onscreen leadership role to a more real-life level, the actor would do just about anything to get himself the leader position, and wouldn't have anyone trying to take it off of him. Whether he was just too in the character of Kirk, or he was incredibly insecure, it wasn't a good look for the star.
Inspiration from the best
It is reported that Nichelle Nichols had seriously considered leaving the show due to Shatner and his issues! Nichols was the first African-American actor to be on television playing a major starring role, and it was only after some advice from none other than Martin Luther King, Jr. that she decided to stick it out! Now if ever there is some inspiration for you, it doesn't come much better than from the most inspirational man himself!
Enemy number three!!!
Nichols and Nimoy were just two on the list of people Shatner managed to annoy during his time on Star Trek. Lucky number three was George Takei, known for playing the role of Hikaru Sulu in the franchise. Over the years, Shatner and Takei have been continuously feuding over various things. It seems unclear what the initial reason is for the two's arguments, but they have since come up with plenty of reasons to continue to dislike each other!
Too many to count
A big topic of discussion was how Shatner publicly announced how he hadn't been invited to the actor's wedding, with Takei retaliating that it was, in fact, Shatner that hadn't replied! The two have very publicly made comments on the other, with Takei talking about how big headed Shatner is, and Shatner speaking about how he pities the actor for being so unhappy that he has to take out his frustration on him – ouch! It doesn't look like these two will be on each other's Christmas card list this year…
Other work
Star Trek was not Shatner's only project at the time. He also managed to star in 'T.J. Hooker' in which he played a member of the police. The show ran for four years after its debut in 1982, and gave Shatner a chance to try his hand at directing! He also went on to write several novels, including a sci-fi series, although the involvement of the actor in the writing is disputed. Shatner also found himself involved in various television series during this time playing minor roles.
Later years
Over the years Shatner has been involved in many projects, some of which include his own documentary where he interviews fellow actors of the Star Trek franchise, a one-man Broadway show, and many television shows. His latest project is an unusual one that saw the actor voicing a character for the 'My Little Pony' television series. After the filming of the show, Shatner went on to confess that he was, in fact, a 'brony'! Well, we didn't expect that!
Life with the new wife
An unlikely hobby of Shatner's is his showing and breeding of horses! He runs a ranch with his latest wife, where between them they raise the animals. Shatner even rode one of his horses called Great Belles of Fire during the filming of 'Star Trek Generations' that he puts down to his most favorite day of filming in any of the franchise! His love for the animals has even gone as far as to see Shatner release a book in which he is completely honest about his devotion to them.
An odd charitable donation
On May 16, 2006, the actor made a grand donation to charity by selling a somewhat unique and… interesting item to an online casino! Shatner incredibly sold his kidney stone to a casino for a staggering $25,000! The money all went towards a charity designed to help with housing after Shatner had to convince the hospital to return the stone to him following its removal. A grand donation, but we're not sure that we'd want that in our house!
Secret son?
Shatner is currently facing an unexpected problem, as he is being sued by a man named Peter Solan, who claims to be Shatner's son. Sloan began using Shatner's surname and filed a civil lawsuit against Shatner after being asked by by his attorneys to cease using his name. Sloan is suing for $170 Million, $30 million of them for compensatory damages, $90 million for punitive damages and $50 million for pain and suffering. He also requests Shatner to submit a DNA and test to confirm his paternity. Shatner denies all of Sloan's claims.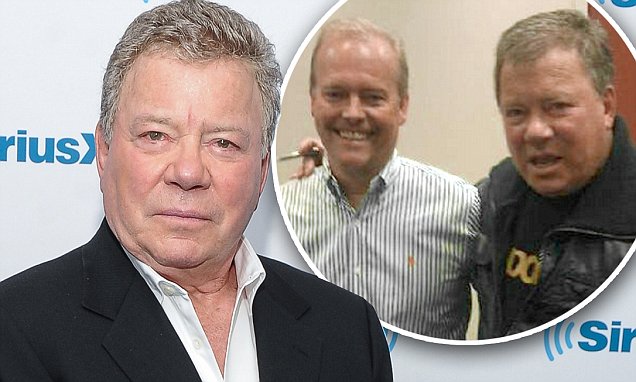 His biggest regret
Shatner said that his biggest regret is for not making peace with Star Trek co-star and friend Leonard Nimoy before his death. The actor had recently published a book about the two fifty-year relationship, describing the many ups and down and ego battles throughout their friendship. Nimoy and shatner did not speak to each other for a few years, although Shatner tried contacting Nimoy, knowing that he was terminally ill, shortly before his passing in 2015.