Beverly Hills, 90210 was a primetime soap opera that hooked the country immediately. The show starred Shannen Doherty, Jennie Garth, and Tori Spelling, along with Luke Perry and Jason Priestley as a group of troubled teens coming of age in a zip code full of glamor and seduction.
The show touched upon issues that other teen dramas never dared approach at the time. That's why millions of viewers tuned in each year for its one-decade long run. Many of these stars continue to be stars today while others decided to take a different path.
Jason Priestley as Brandon Walsh
Brandon's family moves to Beverly Hills from Minnesota at the beginning of the show. He and his twin sister, Brenda, enroll at West Beverly High and soon become very popular.
Brandon is highly virtuous and an idealist, which makes him the ultimate good guy. Although he has several love interests on the series – including Kelly Taylor, to whom he eventually gets engaged – he and Kelly end up canceling their engagement on the last season, and he leaves to pursue his dream job as a journalist in Washington.
Jason Priestley – today
Although Brandon Walsh was the role that truly gave Jason heartthrob status, he actually started his acting career in the late '70s.
Since his Beverly days, he's appeared in a wide variety of TV shows, including fantasy shows Tru Calling and Medium, the NBC comedy My Name is Earl, and What I Like About You (which starred his Beverly Hills co-star, Jennie Garth). In 2010, he landed a starring role in the show Call Me Fitz, and in 2016, he was cast as the lead in Canadian drama Private Eyes.
Tori Spelling as Donna Martin
Donna is best friends with Kelly and Brenda. She's easy-going and kind, and tends to hide her insecurities by maintaining her popular status and dressing fashionably.
In high school, Donna decides to save herself for marriage, which causes some strain on her relationship with boyfriend David Silver. However, on the night of their University graduation, she decides David is the person she's been waiting for. She also ends up marrying David at the end of the show, as well as opening a store and a website to sell her fashion designs.
Tori Spelling – today
Since her role in Beverly Hills, which was produced by her father, Aaron Spelling, Tori has written six books, and starred in her own reality TV show.
After the death of her father, she inherited only $800,000 of his estimated $600 million fortune. Her estranged mother, Candy, who was the estate executor, said the reason behind it was Tori's uncontrollable spending. In 2006, Tori married actor Dean McDermott, and while the couple's been known to go through some struggles – they're ultimately happy with their home life, raising their five children.
Luke Perry as Dylan McKay
Dylan is the bad-boy counterpart to his best friend Brandon Walsh. Like Brandon, he's also intelligent, grounded and mature for his age, but has the tendency for reckless behavior at times, and even engages in substance abuse for part of the show.
Dylan has a difficult home life, having strained relationships with his mostly estranged parents. While usually a loner, he has several love connections during the series, including Brenda Walsh, as well as Kelly Taylor – with whom he has an on-again-off-again relationship until the two reunite at the end.
Luke Perry – deceased
Before his big break, Luke had been to over 200 auditions until he got the role of Kenny in the drama Another World.
After landing the role of brooding heartthrob Dylan McKay, he got an incredible amount of work in movies, theater, and television. The actor also starred in his own sci-fi drama called Jeremiah for two seasons. His latest work was as a series regular on the mystery drama Riverdale, this time playing the leading heartthrob's father. Unfortunately, in late February 2019, Perry suffered a massive stroke and passed away with his loved ones by his side on March 4. He will be remembered as a beloved cast member of all the productions he was in.
Ian Ziering as Steve Sanders
Steve seems like an immature, spoiled rich kid at first, but is revealed to be struggling with being adopted, and with his judgmental father.
He becomes good friends with Brandon, who provides him stability and comfort. Prior to the show, he dated Kelly for a year, before she broke up with him, with the two becoming good friends. After attending UCLA, Steve becomes more grounded and marries Janet Sosna – a graphic designer Brandon and Steve hire for their newspaper – and the two start a family together.
Ian Ziering – today
Aside from his role as David Sanders in Beverly, Ian Ziering is also known for starring in the Sharknado film series, alongside Tara Reid.
The actor has also participated in reality television, being a celebrity dancer on Dancing with the Stars, and appearing on Celebrity Apprentice in 2015. In 2013, Ian also spent four weeks as a celebrity guest star for Chippendales in Las Vegas. Ziering was recently announced to reprise his role of Fin Shepard in the upcoming sixth installment of Sharknado.
Brian Austin Green as David Silver
David is introduced to us as a geeky freshman of West Beverly High, ambitious to make a name for himself and become one of the popular kids.
During the first season, he slowly becomes friends with the gang, and in season two starts dating popular girl Donna Martin. The two break up when David is unfaithful, and continue to have a rocky on-and-off relationship throughout the show, both of them dating other people in-between. Eventually, their relationship endures as the two realize they're meant to be and marry each other.
Brian Austin Green – today
David Silver was a breakthrough role for Green, who later became a series regular on several shows, like Terminator: The Sarah Connor Chronicles, the Freddie Prinze Jr. comedy Freddie, and Anger Management, starring Charlie Sheen.
Brian used to date his Beverly Hills co-star, Tiffani Thiessen, and was also involved with Vanessa Marcil, who played Gina on the show – with whom he has a child. In 2004, he met Megan Fox, and after a few times of breaking-up and resuming their relationship, they're now settled down with their three children.
Gabrielle Carteris as Andrea Zuckerman
Andrea is a smart, driven and dedicated student of Beverly High. Internally, she struggles with not being one the seemingly carefree popular girls, though she is more concerned with being a good person, and fulfilling her dream of getting into Yale.
While she does get in, she's initially unable to afford it, and goes to UCLA instead, before finally starting at Yale. Like the rest of us, during the show's first few seasons she falls in love with Brandon, who doesn't realize his feelings for her until it's too late.
Gabrielle Carteris – today
Gabrielle began her television career with minor roles, before being cast in Beverly Hills. She was 29 at the time, and thus the oldest cast member to play a 15-year-old.
Since then, she's made guest appearances on JAG, as well as crime dramas NYPD Blue, Criminal Minds, and NCIS. She also had a recurring part in the CBS medical drama Code Black. In 2016, Gabrielle was elected to serve as president of SAG-AFTRA, after four years as executive vice president of the actor's union.
Kathleen Robertson as Clare Arnold
Clare is the daughter of Chancellor Arnold, of California University. She's spoiled and privileged, but also an intelligent and bold woman.
Clare started dating Steve Sanders when she became his math tutor, a relationship and turned serious and meaningful before long, but the two didn't always get along. After Steve's mother, who's dating Clare's father, breaks up with him, Clare leaves Steve to accompany her father out of town, wanting to make sure he won't be lonely.
Kathleen Robertson – today
After being cast in her breakthrough role as the privileged Clare Arnold on Beverly Hills, Kathleen was cast to star in a short-lived TV show called Girls Club.
She also had minor roles in the moving, award-winning drama I Am Sam, as well as the crime drama Hollywoodland, featuring Adrien Brody. In television, she landed a role in the Starz network crime drama, Boss, and starred alongside Taye Diggs in the crime drama, Murder in the First.
Carol Potter as Cindy Walsh
Cindy Walsh is the caring and attentive mother of Brenda and Brandon, whose family moves from Minnesota to California at the beginning of the show.
Cindy is very motherly and loving, and not just towards her own children, but also towards their friends, on many occasions providing them comfort and shelter from their own broken families. Cindy and her husband, Jim, eventually move away to Hong Kong a year after Brenda leaves for London, leaving Brandon to fend for himself.
Carol Potter – today
Beginning her career with several minor roles, Carol was cast as a series regular on crime drama Today's F.B.I in 1981.
After leaving Beverly Hills, 90210, she was cast as a series regular on Sunset Beach, in the role of Joan Cummings. She later had several guest appearances on TV shows like crime drama NYPD Blue, JAG, supernatural drama Medium, and Providence. Carol is married to actor Jeffrey Josephson, with whom she tied the knot in 1990, just when Beverly Hills debuted on television.
Tiffani Thiessen as Valerie Malone
Valerie is smart, cunning, and tends to antagonize others. After her father's death, she moves to Beverly Hills to stay with the Walshes, old-time friends of her parents.
Later on in the series, it's discovered her father had continually, intimately assaulted her until she killed him in self-defense. A constant source of conflict, Valerie writes Brandon to tell him he shouldn't marry Kelly, before leaving Beverly Hills and moving back to Buffalo. Valerie shows up at Donna and David's wedding in the end, revealing she's gotten her life together.
Tiffani Thiessen – today
Tiffany rose to fame in the '90s, when she played cheerleader Kelly Kapowski on Saved by the Bell, and later Valerie Malone on Beverly Hills – essentially replacing Shannen Doherty, who left the show.
Justin Bieber even wore a T-shirt with Tiffany's image to the 2011 MuchMusic Video Awards, to which she humorously reacted by wearing a shirt with his image on it. Recently, she's had recurring roles on action series White Collar and dramedy What About Brian, and has been cast in the upcoming comedy, Alexa & Katie.
Shannen Doherty as Brenda Walsh
Brenda is Brandon's twin sister, who swiftly one of the popular students of West Beverly. Driven and passionate, she's not afraid to speak her mind when necessary.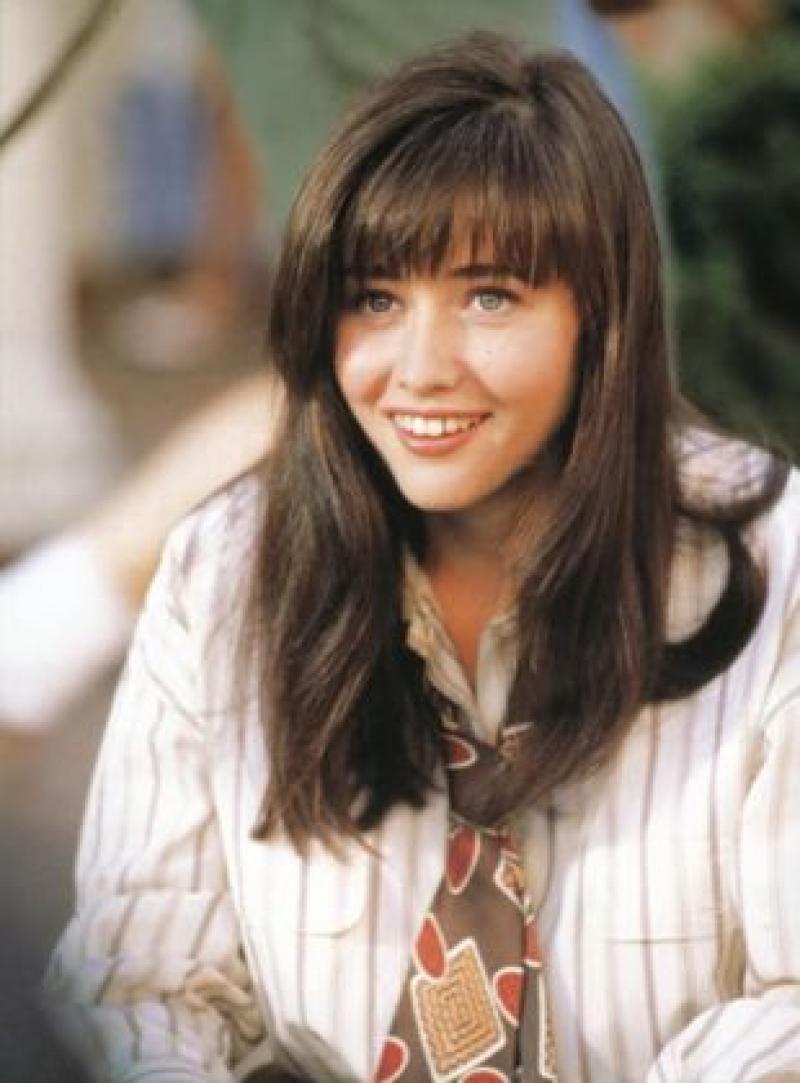 At the beginning, when Brenda moves to California, she tries to make an impression on the popular Kelly, though with Brenda's own independence and wit, she becomes her equal. Her most meaningful romantic relationship is with her first love, Dylan. Brenda was eventually written out of the show due to Doherty's on-set behavior, with Brenda leaving to pursue an acting career in London.
Shannen Doherty – today
Shannen began as a child actress, as a series regular on Little House on the Prairie. Some of her major roles, aside from Brenda, were in the movie Girls Just Want to Have Fun and dark comedy Heathers, as well as the supernatural hit TV show, Charmed.
In her early years, she was accused of bad behavior and being difficult to work with, but has since shed that reputation as she matured. In 2015, she was diagnosed with breast cancer. After undergoing treatment, Shannen announced the cancer was, thankfully, in remission.
Lindsay Price as Janet Sosna
Janet is the graphic designer that Brandon and Steve hire to work in their newspaper. She begins dating Steve, initially wanting to keep their relationship.
However, unable to deny her deep feelings for him, the two become more emotionally intimate, with them eventually becoming pregnant, and marrying. At first, her parents are displeased with how fast their relationship is moving, but eventually they realize their daughter is happy, and give their approval of the newlywed couple.
Lindsay Price – today
Before marrying Steve Sanders on Beverly Hills, Lindsay had roles in soap operas All My Children and The Bold and the Beautiful.
After Beverly, she had small roles in comedy shows Jack & Jill and Coupling, before landing one of the lead roles in the NBC dramedy Lipstick Jungle, starring alongside Brooke Shields and Kim Raver. More recently, Lindsay made some guest appearances on shows like Two and a Half Men, action comedy Castle, and the ABC comedy Black-ish.
Vincent Young as Noah Hunter
Noah Hunter is part of a powerful, wealthy oil family. He's mostly kind and caring, but has a complicated relationship with his brother, who believes he's not a real Hunter since the two don't have the same birth-mother.
Noah gets involved with Donna, until both of them are unfaithful to each other. During his indiscretion with Valerie Malone, he spends the night with her without realizing that his brother has slipped something in her drink to take advantage of her. When he finds out, he comes forth with the truth.
Vincent Young – today
Vincent Young is still mostly known for his role as the troubled Noah Hunter on Beverly Hills, 90210. Since leaving the show, the actor has made numerous appearances in television, on shows like JAG, crime dramas CSI: NY and NCIS, and the action series Chase Street.
Vincent also has several parts in upcoming movies such as historical drama American Zealot, horror film Clinton Road, and Escape Plan 2: Hades, which stars Sylvester Stallone and 50 Cent.
Hilary Swank as Carly Reynolds
Protective single mother Carly is one of Steve's love interests on the show. She meets Steve after he tries to encourage her son, Zach, to be more aggressive on the soccer field, which Carly resents.
They get off to a rocky start, when they have a fight at her workplace, causing her to lose her job. But as he helps her get a new job at The Peach Pit, the two get closer. Their romance ends when Carly eventually moves away to Montana, to take care of her ill father.
Hilary Swank – today
Hilary started off with minor guest roles in Buffy the Vampire Slayer and Growing Pains, before arriving to Beverly Hills, only to to be fired after one season.
Later on, though, she landed her breakthrough role in Boys Don't Cry, winning an Academy Award and Golden Globe for her performance. She later continued her success in Clint Eastwood's Million Dollar Baby, winning another Oscar and another Golden Globe for her role as a waitress-turned-boxer. She's set to appear in the upcoming crime drama, Trust, alongside Donald Sutherland and Brendan Fraser.
James Eckhouse as Jim Walsh
Jim is the loving parent of Brenda and Brandon, but also a firm believer in tough love and a proper education for his children.
He tries to be a good father, often providing his children and their friends with good advice, to make up for a rocky relationship with his own father. In addition to his own kids, he cares deeply for Dylan, to whom he serves as a father figure, instead of his own troubled and mostly-absent parents – despite his unease with his daughter dating such a "rebel."
James Eckhouse – today
Prior to his acting career, James was actually working as a carpenter in Denmark. After playing the role of great dad Jim Walsh on Beverly Hills, the actor made dozens of TV appearances, in shows such as medical drama Chicago Hope, Nash Bridges, legal drama Ally McBeal, The West Wing, and Criminal Minds, to name a few.
He also had a recurring role as Judge Sims on the soap opera, Days of Our Lives. He is currently set to appear in a 2018 romantic comedy flick called Simple Wedding.
Christine Elise as Emily Valentine
Emily is a troubled girl, who's had to move around a lot. When she comes to West Beverly, she goes on dates with both Dylan and Brandon, which angers Brenda.
Emily continues to date Brandon, until one night when she spikes his drink at a dance club. After he breaks up with her, she stalks him, and is eventually institutionalized to receive psychological care. Later on, a fully recovered Emily reunites with Brandon in San Francisco – and reveals she's moving to France to become a marine biologist.
Christine Elise – in real life
Christine actually dated co-star Jason Priestley for five years, according to his biography. Since Beverly Hills, the actress landed a recurring role in ER, as medical student Harper Tracy, as well as a recurring role in L.A. Firefighters.
She's also made guest appearances over the years, on shows like medical drama Strong Medicine, JAG, and ABC's dramedy Castle. More recently, Christine took part in the Child's Play horror franchise – appearing in the movie Cult of Chucky. She also maintains a food blog, and hosts a vegan cooking show on YouTube.
Vanessa Marcil as Gina Kincaid
Former ice-skater Gina is the kind of person who tends to antagonizes people. At first, she is thought to be Donna's cousin, but is later revealed to be her half-sister.
Gina gets romantically involved with Dylan, but eventually the two break up and she starts dating David Silver, which causes tension between David and Dylan. Upon finding out Donna's father is also her father, she tries to form a connection with him, but he soon suffers a fatal stroke and dies. Gina, who blames herself for his death, leaves town.
Vanessa Marcil – in real life
Besides her role as Gina Kincaid on Beverly Hills, the actress is mostly known for her role as Brenda Barrett on the ABC daytime drama, General Hospital.
Vanessa also appeared in a few recurring roles on television shows, such as crime drama Las Vegas, NBC's comedy Lipstick Jungle, NYPD Blue, and mystery drama Without a Trace. Vanessa also had an off-screen romance with one of her Beverly co-stars – she used to date Bryan Austin Green, and the two have a son together.
Joe E. Tata as Nat Bussichio
Nat is the owner of The Peach Pit, a diner in Beverly Hills. He's kind hearted and friendly, and genuinely cares about people.
In season four, he suffers a heart attack and Brandon tries to help him keep The Peach Pit running. Eventually, Dylan becomes partners with Nat. They also co-own The Peach Pit After Dark – a night club adjacent to the diner, started by Dylan and Steve. Nat later rekindles his relationship with former girlfriend Joan, and when she gets pregnant, the two get married.
Joe E. Tata – in real life
Joe began acting back in 1960, appearing in a wide variety of television shows. Some of which include daytime soap Days of Our Lives, crime drama The Rockford Files, '80s action series The A-Team, and The WB supernatural drama Charmed.
In 2008, the actor reprised his role as Nat, which was a recurring part on the Beverly Hills spin-off series, 90210. He also appeared in Tori Spelling and Jennie Garth's series, Mystery Girls, in 2014, but has since taken a step back from acting.
Emma Caulfield Ford as Susan Keats
Susan is a smart woman and a feminist, who works as The Condor's editor at California University. She is at constant war with Brandon, with the two bantering each other, but she hires him to work at the newspaper and begins dating him.
Susan's ex-boyfriend and previous editor of The Condor, Jonathan Casten, tries to break the two up – but eventually it's their careers that pull them apart, as Susan goes to Washington, D.C. to work on the presidential campaign, and Brandon received an internship in Boston.
Emma Caulfield Ford – in real life
Like Vanessa Marcil, Emma is another Beverly star who appeared in General Hospital, where she had a recurring role.
Aside from Beverly Hills, the actress is known for several TV shows she took part in, such as Buffy the Vampire Slayer, the CBS drama Life Unexpected, and magical drama Once Upon a Time. More recently, Emma also had a voice-role in the animation comedy Fantasy Hospital, and appeared in AMC's horror drama, Fear the Walking Dead.
Daniel Cosgrove as Matt Durning
Matt is a nice and mostly serious lawyer, who dates Kelly and later becomes engaged to her. There are several issues that cause strain on their relationship, like her feelings for Dylan, and Matt trying to hide the fact that he was unfaithful to Kelly.
Matt also agrees to help his brother and sister-in-law have a child by donation, against Kelly's wishes. When his brother dies, Kelly urges him to go be a father to his child in New York, since she still has feelings for Dylan.
Daniel Cosgrove – in real life
Other than playing Matt on Beverly Hills, Daniel is mostly known for his parts in several soap operas. He had big-time roles in Guiding Light, As the World Turns, All My Children, and Days of Our Lives.
Besides soaps, the actor played the role of professional golfer Freddy Mason in Dirty Sexy Money, and also landed a recurring role in the Showtime drama Billions. Daniel is currently filming an upcoming drama series called You, starring Penn Badgley.
Dina Meyer as Lucinda Nicholson
Lucinda is a Ph.D student at California University, who is working on a documentary about women in various cultures.
She starts seeing Brandon, despite being older than him, but he breaks it off when he finds out she's actually married to his sociology professor. When he later finds out she divorced her husband, the two start dating again – but when she makes a pass at Dylan to get him to finance her documentary, Brandon ends it for good.
Dina Meyer – in real life
The role of Lucinda truly kickstarted Dina's career. Soon after, she landed a role in the sci-fi action film Johnny Mnemonic, starring alongside Keanu Reeves.
She later got a recurring role in the popular sit-com Friends, as Joey's love interest, Kate Miller. The actress had major roles in adventure drama Birds of Prey, as well as mystery drama Point Pleasant. She's also participated in quite a few movie titles, including several movies in The Saw franchise, playing the character of Detective Allison Kerry.
Ann Gillespie as Jackie Taylor
Jackie is Kelly's stylish mother, who used to be a famous model. She seems like a cool mother, flexible about rules and fun, but it turns out that she's suffered from substance abuse since Kelly was young, forcing her to take care of her own mother.
After she makes a scene in front of Kelly's friends, she decides to go back to rehab. When she gets out, she meets Mel Silver, David's father. The two soon fall in love, get married, and have a daughter named Erin.
Ann Gillespie – in real life
Ann started her acting career in the early '80s, with a role in the drama Ryan's Hope. She also had some guest roles in television shows like the family comedy Happy Days, sci-fi series Star Trek: The Next Generation, medical drama ER, and Gilmore Girls.
She also returned to Beverly Hills' spin-off, 90210, portraying the part of Jackie Taylor. After that, Ann decided to leave her acting days behind, and she currently works as an Episcopal priest.
Jennifer Grant as Celeste Lundy
Celeste is a kind and good spirited woman, who dates Steve during college, after meeting him at a game show. She ends things when Steve is revealed to have been unfaithful, even though he deeply regrets it.
She then begins dating John Sears, a member of Steve's fraternity whom he dislikes. Steve and John engage in a joust match over a mud pit, during which he reveals John's true colors to Celeste, who breaks up with him. Steve and Celeste remain friends, until she eventually leaves town.
Jennifer Grant – in real life
Jennifer comes from a legacy of actors, being the only child of legendary actors Cary Grant and Dyan Cannon. Her parents got divorced when she was two years old, but she remained close with her father, who didn't want her to become an actress.
She tried working at a law firm, and worked as a chef at Wolfgang Puck's restaurant, Spago, but eventually gave into her love of acting. Beside her role in Beverly Hills, she's also known for playing the lovely Jacey Wyatt in the comedy series Movie Stars.
Peter Krause as Jay Thurman
Jay is a reporter who works with Andrea on the Blaze. As the two get involved, and offers her to go with him to Houston, for a CNN internship.
She's excited at first, but having formed a relationship with a young deaf boy, Cameron, she feels uncertain about leaving him. Brandon's jealousy over her relationship with Jay causes him to finally kiss her – but she turns him down, saying that he had his chance. Jay and Andrea stay in a long-distance relationship, until he ends it by letter on Christmas.
Peter Krause – in real life
Although he played a rather small role in Beverly Hills, Peter Krause moved on to playing huge, significant roles, earning him quite a few award nominations.
He played the starring role of Nate Fisher in the critically acclaimed drama Six Feet Under, as well as the role of the supportive husband Adam Braverman in Parenthood. Peter actually married his Parenthood co-star, actress Lauren Graham, who plays his sister on the show. Peter is currently starring in the Ryan Murphy-produced drama 9-1-1, which focuses on the lives of first responders.
Rebecca Gayheart as Toni Marchette
Toni is a sweet, good-natured girl who dates Dylan. At first, he plans on taking action against Toni's father, Anthony, who attempted to assassinate his father.
But in time, their relationship becomes serious, as they develop real feelings towards each other. Anthony is against the relationship due to the animosity between them, and after Dylan and Toni marry each other, he orders a hit on Dylan. Alas, due to the rainy weather, the assassin accidentally shoots Toni instead of Dylan, and she dies.
Rebecca Gayheart – in real life
Rebecca took part in several horror movies, like Scream 2, Urban Legend, and Shadow Hours. She's also had numerous roles in television, taking on roles in shows like the Czech drama Wasteland, fantasy dramedy Dead Like Me, and thriller drama Vanished.
In 2004, she married former Grey's Anatomy star, Eric Dane – with whom she recently worked on a thriller called Grey Lady. But in February 2018, she sadly filed for divorce, after 14 years of marriage.
Jennie Garth as Kelly Taylor
Kelly is first introduced as a popular high-school student, a privileged and self-absorbed teenager. She's good friends with Donna Martin and with quickly befriends new arrival Brenda Walsh – although she's often in competition with Brenda, most notably over the romantic interest of bad boy Dylan McKay.
As the show progresses, she becomes more mature and sensitive towards others. Kelly has a few other love interests on the show, with Brandon, Brenda's brother being one of them, but eventually Kelly ends up with Dylan.
Jennie Garth – today
Jennie is still mostly known through her role as the self-centered Kelly Taylor in Beverly Hills, as well as the 2008 spin-off of the show.
She also starred in the teen comedy What I Like About You, alongside Amanda Bynes, and in a reality show of her own, called Jennie Garth: A Little Bit Country, in 2012. Jennie is currently married to actor Dave Abrams, although the couple has been reported to be spending time apart at the end of 2017.