Imagine a reality where women are oppressed. Where they must serve other people, obey them, and bear children for them. Imagine there was a strict regime where those who don't follow the rules are severely punished. Such is the grim reality on the popular Hulu show, The Handmaid's Tale.
The show is based on a book of the same name, by Canadian author Margaret Atwood, and describes a dystopian reality where women have lost their place and status in America. June Osborn used to have a family of her own, before she was torn away from them. She's forced to serve as a Handmaid, and to bear a child for the cold-blooded and vicious Waterfords. She tries to battle her circumstances and tries to survive, hoping that someday she will be reunited with her own family.
---
---
The Handmaid's Tale is almost at the end of its second season, and has already been renewed for a third. It's not just incredible ratings and the audience's love that the show was met with. It also received many critical accolades and was nominated for several major awards, scooping up an Emmy and a Golden Globe for its first season.
It's no wonder this show is so riveting – with such an amazing cast, viewers can't seem to look away. The actors' portrayal of their characters is so brutally honest, it can make us feel compassion towards even the most evil of characters, and at time hate the best ones. These talented people make the show truly what it is, but it also makes us wonder what they're like in real life.

Max Minghella as Nick Blaine
Nick Blaine is the Waterfords' driver and security man, serving under Commander Waterford. But he's also an Eye, part of Gilead's secret police force which seeks out traitors. Nick turns out to be a real friend, as well as a love interest, for June. He helps her in every way that he can, often risking his own life to try and save hers. He also helps the resistance at times, but is always careful not to risk being found out.
Max Minghella – in real life
Max is one of many British actors on the cast, but he's also a screenwriter and filmmaker, and will be making his directorial debut next year with the film Teen Spirit. Other than his role on The Handmaid's Tale, the actor had a recurring role on the Mindy Kaling comedy The Mindy Project. He also took part in movies like comedy The Internships, drama The Social Network, thriller Syriana, and political drama The Ides of March, alongside Ryan Gosling and George Clooney.
Alexis Bledel as Emily
Emily was once June's walking partner, as Handmaids usually go out to get groceries in pairs. She used to be a respected biology professor with a wife and son – for which she's considered to be a "gender traitor," Gilead's name for people who are part of the LGBT community. Emily is the one who tells her about the resistance movement, Mayday, which she is part of. Trying to take action, she steals a car in an attempt to escape, but ends up being severely punished.
Alexis Bledel – in real life
Alexis Bledel began her way as a young actress, playing overachieving daughter Rory on the drama Gilmore Girls, a role which she later reprised for the Netflix reunion. She also starred in the coming-of-age drama The Sisterhood of the Traveling Pants parts, as well as its sequel, and played the lead role in the short-lived Fox comedy, Us & Them. In 2017, she was cast to play Emily in The Handmaid's Tale, and received many accolades for her portrayal of the difficult role.
Joseph Fiennes as Fred Waterford
Commander Fred Waterford is the head of the household where June serves as a handmaid, and also a key figure in the Gilead command. In flashbacks, we see him and his wife Serena fighting to achieve their religious doctrine, which they eventually managed to do. At times, it seems to June as if Waterford can be decent, almost kind, despite the situation. In actuality, he turns out to be every bit as vicious and savage as she could have imagined.
Joseph Fiennes – in real life
Joseph is a British actor, and brother to the famous actor Ralph Fiennes. He began his way in the film Shakespeare in Love alongside Gwyneth Paltrow. He proceeded to appear in films like war drama Enemy at the Gates, Shakespeare-based The Merchant of Venice, the dramedy Running with Scissors, and the 2014 version of Hercules. He also had prominent roles on television shows like the mystery drama Flashforward, fantasy show Camelot, and season two of the horror anthology series American Horror Story.
Ann Dowd as Aunt Lydia
As an Aunt, Lydia's job is to teach fertile women about their new place in the world as Handmaids. She teaches them how to behave, often applying cruel and even sadistic punishments to those who disobey the rules. While Aunt Lydia is responsible for their well-being, she must also discipline them. Despite being seemingly merciless and remorseless, at times you can see she really cares about the girls, and struggles with the difficult role she must play in their lives.
Ann Dowd – in real life
Ann Dowd also won an Emmy as well as a Golden Globe for her outstanding performance on the show. The actress has had many roles both in TV and films. She had parts in movies like the Tom Hanks starring drama Philadelphia, The Manchurian Candidate, the family dramedy Marley & Me, and the sci-fi thriller Hereditary. She's also known for her TV role in the mystery drama The Leftovers. Ann works as an acting coach along with her husband, writer Larry Arancio, and was in fact Lady Gaga's acting coach.
O-T Fagbenle as Luke Bankole
Luke Bankole is June's husband in the old world, who has managed to escape alone to Canada, after being separated from his wife and daughter. In flashbacks, we see that before they were together, Luke was married to another woman, and had an affair with June before leaving his wife for her and starting a family. He can do nothing to find June now, but the two manage to send each other messages to say they're alive. While he knows she's alive, he knows that she is "not okay" and far from being such.
O-T Fagbenle – in real life
British actor, writer, and director O. T. Fagbenle has many TV titles under his name, aside from The Handmaid's Tale. He had roles on shows like the British comedies As If, Grownups, and FM (starring Chris O'Dowd), HBO's drama series The Interceptor, and the Harlan Coben mystery show The Five. The role of June's husband Luke Bankole was a breakthrough role for the talented actor, who's been named one of 30 actors to watch.
Samira Wiley as Moira
Before Gilead, Moira is June's fun and cheeky best friend and partner in crime. She's separated from her wife when the regime of Gilead begins, and ends up as a Handmaid along with June. After that, she's sent to work at a night club called Jezebel's, where she's forced to serve the commanders who show up. But despite thinking it impossible, she manages to escape to Canada, where she finds Luke and discovers her wife never made it.
Samira Wiley – in real life
You may know Samira Wiley by her incredible performance in the prison drama Orange Is the New Black, playing Poussey Washington. The actress is currently married to one of the show's screenwriters, Lauren Morelli, after the two met through the show. Samira also had parts on shows like comedy You're the Worst and the crime comedy Ryan Hansen Solves Crimes on Television, but her roles on OITNB and The Handmaid's Tale truly make her one of the most prominent actresses on TV today.
Yvonne Strahovski as Serena Joy Waterford
Serena is the author of A Woman's Place, the doctrine used to form Gilead. She insists hers is the only way to fight the world's increasing infertility, but it comes back to bite her. She never thought that being a woman meant she would lose her power in the new world as well, but she slowly realizes that she has. Ultimately, her only goal is having a child, and she would do anything for it. Although she sometimes shows June kindness, she's usually cold-hearted and ruthless towards the Handmaid.
Yvonne Strahovski – in real life
The gorgeous actress is actually Australian, and she began her way in the Australian drama Headland. She rose to fame when she played CIA agent Sarah Walker on the action dramedy Chuck, and later landed a recurring role on Dexter as the titular character's deadly love interest. Yvonne also appeared on the action series 24: Live Another Day and The Astronaut Wives Club, before being cast as Serena Joy on the Handmaid's Tale. Married to actor Tim Loden, the actress is currently expecting her first child together with her husband.
Nina Kiri as Alma
Alma is a Handmaid who trained at the Red Center along with June, Janine, and Moira, who now serves Commander Ellis and his wife. She is involved with the resistance movement known as Mayday, which tries to help the Handmaids of Gilead. When June wants to help, she gives her an assignment – to pick up a package containing letters of testimonials from Gilead's victims. When Nick accompanies the Waterfords to Canada, he passes the package along to Luke and Moira, who publish them online.
Nina Kiri – now
Nina Kiri began her acting career in 2011, with a role in a TV movie called Geek Charming, starring Modern Family's Sarah Hyland. She later moved on to starring in several horror thriller films, such as Let Her Out, The Haunted House on Kirby Road, and The Heretics, which she is mostly known for. In 2017, she landed the role of Alma on The Handmaid's Tale – which is no doubt a true breakthrough role for the actress.
Bahia Watson as Brianna
Brianna is another Handmaid, who is named Oferic after her Commander. She is often seen with a Handmaid named Dolores, and she's also one of the Handmaids to refuse to stone Janine. In one of her first encounters with June, she tries to give her advice for her new posting at the Waterfords. Later on, she is one of the Handmaids to reveal her real name at the supermarket, after June and Emily tell their names to some of the Handmaids.
Bahia Watson – now
Bahia Watson began her television career not long ago, in 2014, and has already been cast in the recurring role of Brianna on The Handmaid's Tale. Before that, she took part in the drama film What We Have, and had guest roles on the family drama Remedy, as well as the supernatural medical drama Saving Hope. The actress has also done theater work, and not just acting. She's actually a playwright as well, who also writes poetry and short stories.
Jenessa Grant as Dolores
Dolores is also a Handmaid, who's been named Ofsamuel. She trained at the Rachel and Leah Center along with June, Moira, and Janine. In a flashback, we see she was denied permission to go to the bathroom, and after having an accident, she is punished with violence. She's also one of the Handmaids to reveal her real name at the supermarket, and after Janine laughs at it, she reveals she's been named after her grandmother.
Jenessa Grant – now
Canadian actress Jenessa Grant has done quite a few roles since she began acting in 2010. In film, she's been on movies like the drama On the Road, sports drama A Fighting Man, and thriller The Intruders. Jenessa appeared on TV series such as the fantasy drama Reign, and the action shows Ransom and Orphan Black. She's also done some voice acting, dubbing Faith on the popular Video Game Far Cry 5, before being cast on The Handmaid's Tale.
Ever Carradine as Naomi Putnam
Naomi is the wife of Commander Warren, under which Janine serves. Janine delivers them a baby, and while she named her Charlotte, Naomi names the baby Angela. After Janine's breakdown, she isn't allowed to see her baby anymore, until one day the infant becomes ill. June, with a surprising helping hand from Serena, manages to get Naomi's permission for Janine to see Charlotte – and after spending the night holding her and singing to her, the baby's dire condition becomes much improved.
Ever Carradine – now
Ever Carradine actually comes from a long line of performers – as her father, Robert, is an actor, and so is her late grandfather, John Carradine. Her uncles are Keith Carradine (Dexter) and David Carradine (Kill Bill), also renowned actors. Ever had roles on shows such as the family dramas Party of Five and Once and Again, the comedy Veronica's Closet, dramas like Commander in Chief and 24, and the Showtime dramedy Shameless. She's also taken part in films like comedy Lucky 13, Guns for Hire, and the drama film Constellation.
Tattiawna Jones as Lillie
Lillie is the second Ofglen, after Emily gets reassigned. She used to struggle with substance abuse, so she is glad to be safe now. But when the Handmaids are asked to stone Janine for endangering her child, she is one of the first to break rank and refuse. It's later revealed that she had her tongue removed for this act, and at the opening of the new Rachel and Leah Center, she decides to act. She steps forward and detonates a bomb, causing her own death along with many Commanders.
Tattiawna Jones – now
Tattiawna Jones started out with several guest roles on TV shows like the action series Rookie Blue and the family drama Heartland. She later moved on to starring roles as a series regular in the crime dramas Flashpoint and 19-2, as well as the western Strange Empire and the mystery series Eyewitness. In 2017, she was cast as Ofglen #2 (Lillie Fuller) on The Handmaid's Tale, and following her departure from the series she appeared on the Freeform drama series, The Bold Type.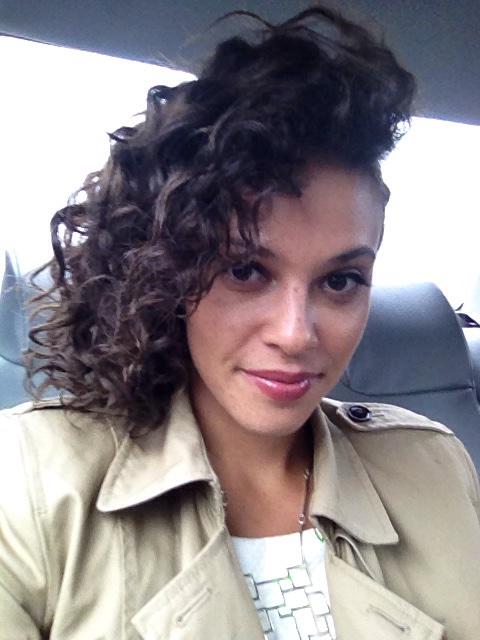 Marisa Tomei as Mrs. O'Conner
Mrs. O'Conner used to be a high ranking wife, but she was banned and sent to the colonies, after having an affair with another man. As to be expected, she isn't received with a warm welcome by the Handmaids at the colony. Emily, who's at the colonies at the time, treats her seemingly better than the others, offering her advice and even giving her some antibiotics. Only, as it turns out, they aren't antibiotics at all – as she discovers Emily has poisoned her.
Marisa Tomei – now
Maria Tomei is one of the most famous actresses today, who began her way in the soap opera As the World Turns. She rose to fame in 1992 with a role in the comedy My Cousin Vinny, for which she won an Academy Award. Since then, she's been in films like the comedies What Women Want and Anger Management, The Big Short, and drama The Wrestler – to only name a few. The actress was also cast to play Aunt May in the new Marvel Cinematic Universe Spider-Man films.
Clea DuVall as Sylvia
Sylvia is Emily's wife from her previous life, with whom she shares a child. In flashbacks, we see the two at the crowded airport, trying to leave the country together with their son before things go completely sour. But as their marriage is no longer acceptable by the state, she's unable to leave. Only Sylvia, who has a foreign passport, can leave along with their son. The three are separated, and Emily never sees them again before she turns into a Handmaid.
Clea DuVall – now
This Los Angeles born actress, writer, producer, and director began acting in the mid-'90s, and already has over 80 credits to her name. She's mostly known for roles on shows like HBO's Carnivàle, the action show Heroes, American Horror Story: Asylum, and the political comedy Veep. She's also done a lot of film work, including titles like the Academy Award–winning drama Argo, the highly acclaimed Girl, Interrupted, comedy She's All That, and horror flick The Grudge.
Rebecca Rittenhouse as Odette
Odette (pictured on the right) is Moira's fiancée, who is only seen through flashbacks. She was a doctor who met Moira when Moira was carrying a child as a couple's surrogate. The two began dating and eventually became engaged, but were separated when the takeover happened. Moira tries to find out what happened to Odette, and for that she goes through binders filled with pictures of unidentified victims. Eventually, she discovers Odette isn't alive, as she finds her picture in one of the binders.
Rebecca Rittenhouse – now
This Los Angeles born actress studied acting at the Atlantic Theater company, and made her off-Broadway debut in the Amanda Peet-written play Commons of Pensacola, alongside big names like Sarah Jessica Parker and Blythe Danner. Rebecca's first role on television was a guest role on the show The Affair. Later on, she was cast to play more major roles like Nurse Dobler on Red Band Society, Cody LeFever on the soap opera Blood & Oil, and Anna in the Hulu comedy The Mindy Project.
Erin Way as Erin
Erin is a former Handmaid who was saved by Mayday, and currently lives with Luke and Moira in Little America (the area in Toronto where many of Gilead's survivors reside). She is initially deemed unable to speak due to trauma she has from the past events of being a Handmaid. But she finally breaks her silence while having a bowl of cereal by suddenly saying to Moira, "Blessed be the Froot Loops," a funny take on the Gilead mannerism "Blessed be the fruit."
Erin Way – now
Erin Way is a former ballet dancer turned actress, with quite a few TV shows and movies under her belt. She's been on shows like the comedy Love Vampires, crime drama Detroit 1-8-7, and action dramas Alphas and Colony. Other than her recurring role on The Handmaid's Tale, Erin also had guest roles on other shows like Grey's Anatomy and its spin-off series Private Practice, action show Agents of S.H.I.E.L.D., crime dramas The Mentalist and Doubt, and the sci-fi show Supernatural.
Madeline Brewer as Janine
Janine is another Handmaid (formerly known as Ofwarren) who used to be a waitress in her previous life. She's resistant at first, and for that she suffers a gruesome punishment, losing one of her eyes. Janine suffers through a mental breakdown, and tries to jump off a bridge along with her newborn daughter whom she kidnapped after she was taken away from her, but eventually she stabilizes. After being taken to the Colonies – a place in which no one ever comes back from – she believes God is looking after her because she is eventually brought back.
Madeline Brewer – in real life
Madeline Brewer is one of the most promising up and coming actresses on TV in the past few years. Aside from her winning performance as Janine on The Handmaid's Tale, the actress appeared in several other major shows. She played Tricia Miller on Netflix's hit show Orange Is the New Black, as well as Miranda on thriller show Hemlock Grove, and even appeared in an episode of the highly popular anthology Black Mirror, Men Against Fire. You can also watch Madeline in drama films such as Flesh and Blood and Hedgehog.
Amanda Brugel as Rita
Rita is the Martha who serves Commander Waterford and his wife Serena. She's one of two Marthas of the house, and she's mainly in charge of cooking for the household. While she does her best to steer clear of any trouble, and mostly keeps her head down, she does care about June and tries to help her. She also promises her to take care of her soon-to-be-born child. Rita herself had a son, but she lost him in the war, as she tells Serena.
Amanda Brugel – now
The Canadian actress played parts on TV shows like the drama Paradise Falls, action shows Covert Affairs and Orphan Black, and the Canadian comedy Seed – before she was cast as Rita on The Handmaid's Tale. She also had small parts in famous films such as the DC Comics action flick Suicide Squad, the award-winning drama Room, and David Cronenberg's dramedy Maps to the Stars. Amanda is also an activist, as she started a non-profit organization called Brugs Army in 2013, which goal is to improve women and children's lives everywhere.
Sydney Sweeney as Eden Spencer
Eden is a young wife who's matched together with Nick. The two marry in a large ceremony where many other couples are wed without having ever met before. She tries to be a good wife and abide by the scripture, and believes her goal is to bear a son. But Nick, who's in love with June, isn't really interested. When she falls in love with another Guardian, the two are sentenced to have their lives ended by drowning.
Sydney Sweeney – in real life
20-year-old Sydney Sweeney isn't only an actress, but also studies entrepreneurship, in hopes of having her own business someday. Other than her recurring role on The Handmaid's Tale, she's mostly known for her roles as Haley on drama In The Vault and Emaline on the Netflix show Everything Sucks!. You can see the young actress nowadays starring alongside Amy Adams on the HBO mini-series Sharp Objects – based on the novel by Gone Girl author Gillian Flynn.
Elisabeth Moss as June Osborne
June is the strong and resilient main protagonist of the show, and handmaid of Serena Joy and Fred Waterford (and therefore referred to as Offred – "of Fred"). Before the creation of Gilead, the religious regime that takes over the United States, June had a husband and a little girl named Hannah. In flashback scenes, we see them separated from each other, and while her husband Luke made it to Canada, her daughter went to another family in Gilead. June is forced to stay in the Waterford household, in order for her to conceive a baby for the cruel couple. But her ultimate goal is to make it to Canada safe and rejoin her family.
Elisabeth Moss – in real life
Dubbed "The queen of peak TV," Elisabeth Moss began acting in the '90s and did much highly-accoladed work in television, film, and theater. Other than playing June on The Handmaid's Tale – a role for which she won an Emmy and a Golden Globe – her most prominent roles are the president's daughter Zoey in political drama The West Wing, secretary Peggy Olson on AMC's drama Mad Men, and Detective Robin Griffin in the miniseries Top of the Lake. The talented actress was also a producer on season one of The Handmaid's Tale, and for season two she was bumped up to executive producer, due to her heavy involvement in the production of the successful show.