True Blood was a highly acclaimed fantasy-horror TV show, based on a series of novels by Charlaine Harris, called The Southern Vampire Mysteries. The show takes place in the southern town of Bon Temps, Louisiana, a few years after the existence of vampires became common knowledge to mankind, as they "came out of the coffin." The title of the show refers to the synthetic blood these civilized vampires drink instead of consuming human blood, called Tru Blood.
The series revolves around Sookie, a waitress at a local bar, who has the ability to hear people's thoughts – which makes her somewhat weird in the eyes of the townspeople. When Sookie meets Bill, a gentleman vampire full of southern charm, she becomes part of his supernatural world, and soon finds out she's not just a telepath, but a half-faerie.
The show introduced us to a wide variety of characters – humans, vampires, shape-shifters, werewolves, and witches – all of them colorful and intriguing. True Blood's incredible ensemble of actors managed to truly bring this fantasy to life, making it one of the most addictive shows in television.
---
---
Sci-fi and fantasy shows have always had their way of attracting passionate fans (hello, Star Trek fans), but it seems that lately, the supernatural is becoming increasingly popular. After movie-turned-phenomenon, Twilight, came out in 2008, vampires were becoming the hottest new trend of the fantasy world.
True Blood is one of the most successful shows within this category. The show, created by Six Feet Under mastermind Alan Ball, aired on HBO for seven seasons between 2008 and 2014. It aimed a spotlight at some of the most relevant issues today, from equal rights and discrimination to substance abuse, weaving these important issues into the plot.
The series was well received by both critics and audiences – primarily during its first five seasons, while Alan Ball was the show-runner. The actors of True Blood also received great reviews for their performances, and even won some major awards. The cast, which was highly beloved by viewers, was responsible for a huge part of the show's popularity.
It were the actors who kept the viewers on the edge of their seats in suspense, made them laugh, cry, and sympathize for these characters, and whether they were human or not – they were always portrayed in the most human, honest way. These actors, many of them around the globe, are obviously very different from the supernatural characters they play. So what are they like, in real life?
Rutina Wesley as Tara Thornton
Tara has been Sookie's best friend since childhood. She's strong-willed, smart, and bluntly outspoken, having to deal with a difficult life and an abusive mother. Tara has a strong dislike for vampires, but is ironically turned into one, when she gets shot and her friends ask Pam to save her life by turning her. At first, Tara is furious, being turned into what she hates most, but eventually she accepts the vampire lifestyle. Eventually, she also makes amends with her mother, and even dies to protect her from another vampire.
Rutina Wesley – in real life
Rutina Wesley is a television, film, and stage performer. The Juilliard graduate's first major role was in Broadway play The Vertical Hour, alongside Julianne Moore. Besides playing the fierce Tara on True Blood, Rutina also received recurring roles in TV horror drama, Hannibal, as well as sci-fi action show, Arrow. She's recently been cast to star in the Oprah Winfrey Network drama, Queen Sugar, which revolves around three siblings, who move to Luisiana to claim their late father's sugarcane farm.
Stephen Moyer as Bill Compton
Bill is one of the main characters on the show, and Sookie's love interest for part of it. Born in the 19th century, he was a confederate soldier before being turned into a vampire. Although he's done unspeakable things in the past, he tries to co-exist peacefully with humans. He's usually polite, compassionate, and very protective of Sookie, and his vampire progeny, Jessica. At the end, Bill meets his "true death" when he's infected with HEP-V, a genetically engineered virus able to kill vampires, and asks Sookie to stake him.
Stephen Moyer – in real life
The British actor began acting in theater, and even started his own theatre company, called "The Reject Society". Since then, he's been in films like the drama Quills, which starred Geoffrey Rush and Kate Winslet, and thriller Open House, alongside his wife and True Blood co-star, Anna Paquin. Stephen is currently starring in Fox's The Gifted, a show that's connected to the X-Men series, about parents who find out their children have mutant abilities, and take their family on the run.
Alexander Skarsgård as Eric Northman
Eric is the vampire sheriff of Louisiana's Area 5, and the owner of the vampire bar, Fangtasia. Over a thousand years old, Eric is usually very cold and calculating, and extremely violent when deemed necessary – but he's actually not a bad guy. He's loyal and protective, especially when it comes to his progeny, Pam, and to his maker, Godric. Eric ends up running a multibillion-dollar corporation with Pam, selling the cure to the HEP-V virus – derived from the blood of Sarah Newlin, who was responsible for spreading the virus.
Alexander Skarsgård – in real life
This Swedish actor comes from a family of performers. His father is renowned actor Stellan Skarsgård, and several of his brothers are actors as well, like Bill Skarsgård, who recently played Pennywise in horror film It, and Vikings star Gustaf Skarsgård. Besides True Blood, Alexander participated in a wide variety of movies, such as Zoolander and drama What Maisie Knew. He recently landed the role of Perry Wright in HBO's miniseries Big Little Lies, a role that won him several awards, including an Emmy and a Golden Globe award.
Carrie Preston as Arlene Fowler Bellefleur
Sassy woman Arlene is one of the waitresses at Merlotte's, and Sookie's friend. Despite not being very tactful and bigoted against vampires, she's very kind and loving, with her children being the focus of her entire world. As the plot progresses, she learns she has the ability to see the spirits of the dead. When the HEP-V virus is spread, and Sam Merlotte becomes mayor, he gives Arlene ownership of his bar, which she renames Bellefleur's, by the name of her late husband, Terry.
Carrie Preston – in real life
Other than True Blood, Carrie Preston is mostly known from playing Elsbeth Tascioni, an eccentric but highly competent lawyer on The Good Wife, a role which landed her an Emmy Award. Preston is currently playing in the Rashida Jones drama-comedy Claws on TNT. In 1998, she married actor Michael Emerson, with whom she cooperated in several acting jobs, including a guest appearance on his show, Lost. She will soon reprise her role as Elsbeth Tascioni, on The Good Wife's spin-off, The Good Fight.
Sam Trammell as Sam Merlotte
Sam is the owner of Merlotte's Bar and Grill, and a good friend of Sookie's. Although he has a rough past, he's kind, generous and, literally – loyal as a dog. He's a shapeshifter, who often turns into a dog, to follow around and watch over Sookie, whom he adores. In season six, Sam meets Nicole – an idealistic young woman who's part of an organization that strives to protect supernatural beings from human persecution. Sam and Nicole end up together, and have two children, as shown in the series' final episode.
Sam Trammell – in real life
Sam's career isn't limited to his on-screen work. The actor has also done quite a lot of theater, and was even nominated for a Tony, for his role in Broadway play, Ah, Wilderness!. Sam began his television career starring in drama series like Trinity and Going to California. He also had roles in several movies, including teenage drama The Fault in Our Stars, and action film I Am Wrath, starring John Travolta. More recently, Sam landed a guest role playing Rebecca's Ex, Ben, on the family drama This Is Us.
Ryan Kwanten as Jason Stackhouse
Jason is Sookie's older brother. He's sheriff deputy of Bon Temps, and known throughout town to be a womanizer. He's very kind and thoughtful, but also impulsive and uneducated. This led him to briefly join the anti-vampire church, Fellowship of the Sun, until they kidnap Sookie, and Jason comes to his senses about the dark side of being involved in anti-vampire activities. Later on, Jason fell in love with his best friend Hoyt's ex-girlfriend, Brigette, with whom he eventually settled down with.
Ryan Kwanten – in real life
The Australian actor began his career in the '90s, playing lifeguard Vinnie Patterson on the Australian soap, Home and Away. His breakthrough role was on True Blood, but he's had plenty of roles in television, and in movies such as adventure drama Flicka, alongside Maria Bello and Tim McGraw, and thrillers Dead Silence and Red Hill, in both of which he played a lead role. Ryan is currently set to play the lead role in an upcoming crime drama web-series on Sony Crackle, The Oath.
Nelsan Ellis as Lafayette Reynolds
Lafayette is the colorful short-order cook at Merlotte's, and Tara's cousin. He's very flashy, funny and charismatic, but he's also caring and nurturing to his loved ones. Lafayette sells and consumes V, which is highly addictive vampire blood. In season three, he meets a male witch named Jesus, with whom he becomes romantically involved. He begins to explore his mystical abilities, and later discovers he's actually a medium, able to make contact with spirits and ghosts.
Nelsan Ellis – in real life (deceased)
Nelsan enrolled at Juilliard in 2010, where he met Rutina Wesley, who would later become his TV cousin on True Blood. After being cast on the show, the actor also landed some important movie roles, portraying Martin Luther King Jr., in the award winning historical drama, Lee Daniels' The Butler, and renowned American singer Bobby Byrd in Get on Up. Unfortunately, Nelsan passed away in 2017 of heart failure, at the age of only 39. His last role in television was in the show Elementary, playing ex-convict Shinwell Johnson.
Kristin Bauer van Straten as Pam De Beaufort
Pam is a vampire, turned over a century ago by Eric. Formerly a madam of a brothel, Pam met Eric when he saved her while she was attacked in the street. Wanting to become a vampire herself, Pam forced Eric into turning her by cutting her own veins. Since then, she's been his partner in crime and closest friend. Pam is wickedly charming, sarcastic, and cruel to whomever crosses her, but she is highly loyal to Eric. The two end up partnering to sell "New Blood", the cure for HEP-V.
Kristin Bauer van Straten – in real life
Kristin's first regular television role was in 1995, on the Fox sit-com The Crew. Since then, she's had a variety of guest roles in other shows, such as cult sit-com Seinfeld, comedies Everybody Loves Raymond, Just Shoot Me! and Two and a Half Men, and ABC dramedy Desperate Housewives. Aside from playing Pam on True Blood, she's known for playing the role of the wicked Maleficent on Once Upon a Time. She is also set to appear in the TV movie Hollyweed, alongside Kevin Smith and Jason Mewes.
Deborah Ann Woll as Jessica Hamby
Jessica is the only vampire progeny of Bill Compton. After staking a vampire who tried to kill Sookie, Bill is forced by the vampire authorities to turn young, innocent Jessica into a vampire. Having grown up in a strict family with an abusive father, Jessica begins exploring new feelings and experiences as a vampire. She becomes involved with human Hoyt Fortenberry, but their relationship ends due to Jessica's desire to explore her darker sides. Eventually, the two reunite and marry each other in the final episode.
Deborah Ann Woll – in real life
Deborah's career started with several guest roles in shows like comedy My Name Is Earl, and crime dramas CSI and The Mentalist. The role of teenaged vampire Jessica on True Blood was her breakthrough role, which landed her several roles on the silver screen. Some of these films include action movie Catch .44, alongside Bruce Willis, and horror flick Mother's Day. In 2015, she was cast as Karen Page, the female lead in Marvel's Netflix show Daredevil, and played the same character in series The Punisher and The Defenders.
Lauren Bowles as Holly Cleary
Holly is a waitress at Merlotte's Bar and Grill, who is also the first witch who appears on the show, performing rituals and making herb potions. She's very kind and caring, and has two children – Wade and Rocky – whom she tries to keep out of trouble. She used to be married to an abusive husband, but is now divorced. During the show, she gets romantically involved with sheriff Andy Bellefleur, and the two eventually become engaged.
Lauren Bowles – in real life
Lauren is not the only actress in the family, as her half-sister is the famous Veep star, Julia Louis-Dreyfus. Besides playing Holly on True Blood, Lauren received several parts on Julia's shows, including comedies Seinfeld, Watching Ellie, The New Adventures of Old Christine, as well as on Veep. The actress also had several roles in films, such as the romantic comedy Hall Pass and The Starving Games, a Hunger Games parody. Lauren has been married to Once Upon a Time actor, Patrick Fischler, since 2004.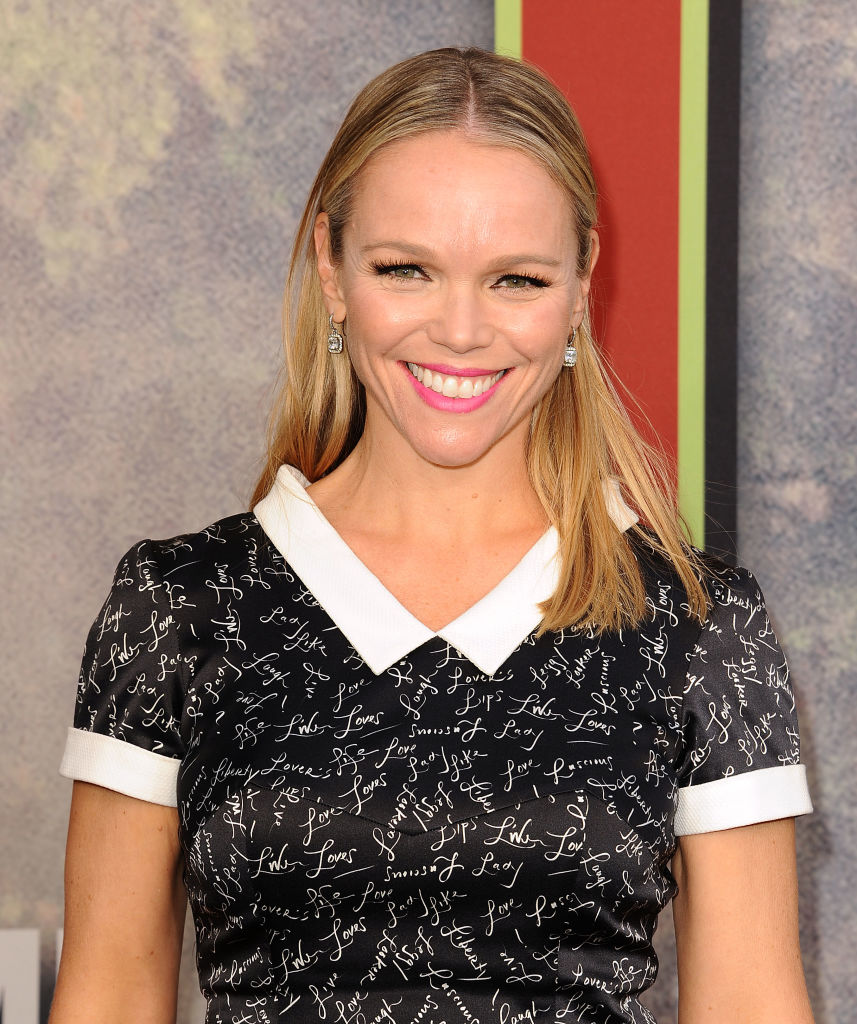 Adina Porter as Lettie Mae Thornton
Lettie Mae is Tara's mother. She's a religious woman, but suffers from a drinking problem and is abusive towards her daughter. During the show, Lettie Mae goes through a process of getting herself clean and sober, and earns Tara's forgiveness. She also marries the preacher of the local church, Reverend Daniels. It is later revealed that Lettie Mae's drinking problem was caused by having an abusive husband, who left her when Tara was a little girl to fend for herself.
Adina Porter – in real life
Adina started acting theater, and even appeared on Broadway. Other than her role of Tara's mother, (despite being only eight years older than Rutina Wesley, who plays her daughter), she's also known for her role of Indra in The 100, as well as her roles in two seasons of the American Horror Story anthology, which were praised by critics. The actress also had recurring roles in musical drama American Dreams, Ray Donovan, and The Newsroom. This year Adina is set to appear in a drama film called Miss Virginia.
Janina Gavankar as Luna Garza
The stubborn and outspoken Luna is a shapeshifter, and love interest for Sam on seasons four and five. The two meet in a shapeshifter therapy session, and Luna is the one who tells Sam that if one shapeshifter kills another, he becomes a skinwalker – able to shapeshift into humans as well, and not only animals. Because her mother died giving birth to her, she has this ability, and she uses it to free her daughter, Emma, when she's kidnapped by vampires. Unfortunately, as skinwalking makes her ill, she dies after rescuing Emma.
Janina Gavankar – in real life
Janina began acting in the early 2000s, receiving small parts in Barbershop and Barbershop 2: Back in Business, as well as several other movies. She moved on to appear in recurring television roles on Grey's Anatomy, romantic drama The L Word, and sci-fi shows like Arrow, The Vampire Diaries, Sleepy Hollow, and True Blood. The actress has also done voice acting for video games like Star Wars: Battlefront II and Far Cry 4. In 2018, she is set to star in a thriller called Cortex.
Anna Camp as Sarah Newlin
Sarah Newlin is former wife to televangelist Steve Newlin. She seems sweet and kind at first, but turns out to be just the opposite. After Steve and Sarah's anti-vampire church, Fellowship of the Sun, is taken down, Sarah forms an institute where vampires are experimented on, tortured, and killed. She also adds the virus Hep-V into Tru Blood drinks, trying to infect and kill all vampires. As her blood is the cure, Eric and Pam eventually trap her in the Fangtasia's basement, so anyone who requires can feed on her.
Anna Camp – in real life
Anna Camp began her way playing in the high profile Broadway revival of the play Equus, starring alongside Daniel Radcliffe. In addition to her role in True Blood, she also landed several other recurring parts, in shows like Mad Men, Fox's The Mindy Project, and legal drama The Good Wife. She also has a successful career in film, playing roles in The Help and Café Society, as well as the role of Aubrey in the highly successful Pitch Perfect movies. Anna married her Pitch Perfect co-star, Skylar Astin, in 2016.
Anna Paquin as Sookie Stackhouse
Sookie is the main protagonist. Because she is half faerie (something she's initially unaware of), she's able to hear people's thoughts. While waitressing at Merlotte's, she meets Bill Compton, an intriguing gentleman vampire, and is soon pulled into a world of vampires, werewolves, and other supernatural beings. Although pursued by many characters on the show, Sookie always remains her own powerful woman, capable of defending herself and her loved ones, with courage and selflessness. Despite having powers, Sookie desires a normal, happy life – which she eventually gets to have.
Anna Paquin – in real life
Anna began acting as a child, and won an Academy Award at the early age of 11, for her role in music drama The Piano. Other than True Blood, Anna is mostly recognized by her role as the lethal Rogue in the X-Men movie franchise. More recently, the actress also had a starring role in the short-lived television crime drama, Bellevue. Anna is currently married to her True Blood co-star Stephen Moyer (Bill), whom she met on set. In 2012, Anna gave birth to their twin children.
Kelly Overton as Rikki Naylor
Rikki is a werewolf, and as pack master Alcide's girlfriend – alpha female to the Shreveport pack. She's hot-headed and isn't willing to blindly go along with actions she disagrees with. When Alcide refuses to kill Sam Merlotte and his girlfriend Nicole, who threatens to expose the werewolves, Rikki challenges him to fight her for the role as pack master. She loses the fight, but Alcide isn't willing to kill her either, and resigns his role instead, returning to his life as a lone wolf.
Kelly Overton – in real life
Kelly Overton began her television career in 2000, playing the role of Rainn in the soap opera All My Children. After doing the show, she went on to playing the role of Elaine Robinson in a Broadway production of The Graduate, alongside Jason Biggs and Kathleen Turner. Aside from her role as alpha wolf Rikki, the actress is mostly known for her current main role, portraying Vanessa Helsing, in the Syfy drama series – Van Helsing.