While many movies and videos these days require extreme computerization and special effects, there are still some extremely talented people behind the films who really take things to the next level. Whether it's an action movie or just an intense scene, there are times when even the best actors are just not comfortable or capable of performing the necessary stunts. That's where stunt doubles come into play and help out as much as they can.
At times, the stars end up befriending their stunt people, which makes it even easier to work with them. Other times, they are on opposite ends of the age spectrum, but still manage a working relationship.
Whether they become best friends or not, there is a pretty specific requirement to be a stunt double: they must at least resemble the actor they are portraying. Sometimes the similarities are so obvious you can barely tell the two people apart. Keep reading to see celebrity stunt doubles that will completely ruin the illusion for you.
Carrie Fisher and Tracey Eddon
Arguably one of the most iconic scenes in cinematic history, Princess Leia and the gold bikini is definitely one to remember. What is even more interesting is that the late Carrie Fisher was not alone in filming Return of the Jedi.
In fact, perhaps the women Ross fantasized over in Friends was actually her stunt double, Tracey Eddon. Probably not, but the action scene would not have been possible without her. Aside from talent, Eddon and Fisher shared a friendship on the film set and were often seen hanging out between filming.
Robert De Niro and Rick Avery
Though Robert De Niro may be a tough man that you don't want to mess with, everyone needs a stunt double from time to time. In photos on the set of Dirty Grandpa, you might not know who is who, even when they're standing next to each other.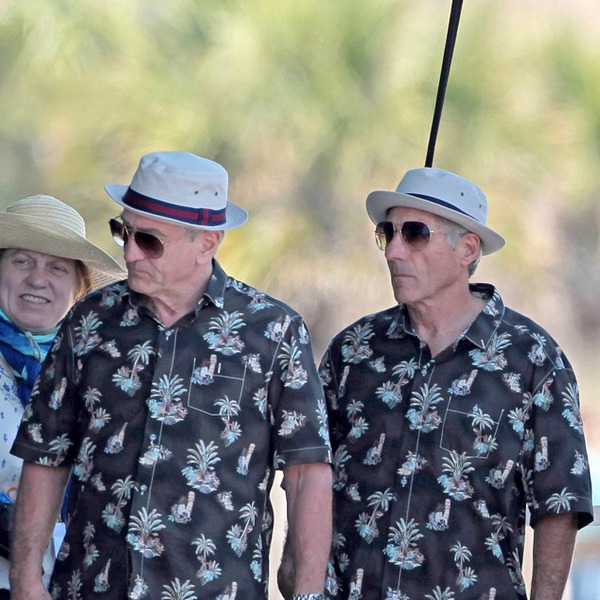 It may seem pretty impossible to perfect De Niro's classic frown face, but Rick Avery seems to come pretty close to having it down since he has played his double in multiple films.
Mark Ruffalo and Anthony Molinari
No, Mark Ruffalo does not have a twin, but he does have a doppelgänger that can pass as one. Anthony Molinari was perfectly cast in the first Now You See Me film and its sequel.
He has also played a stunt double for George Clooney, but the similarities between him and Ruffalo are simply uncanny. The talented stuntman has performed in over 100 TV series and has had quite a success career that has even led to several awards.
Uma Thurman and Zoë Bell
Aside from Pulp Fiction, Kill Bill is probably one of Uma Thurman's most memorable and notable roles. She plays a tenacious character known as The Bride and there are numerous action and fighting scenes throughout the film.
Most of these scenes could not have been possible without her lookalike stunt double, Zoë Bell. Bell backed up The Bride with various stunts in both Kill Bill: Vol. 1 and Kill Bill: Vol. 2. She was also Lucy Lawless' stunt double in Xena: Warrior Princess.
Ben Affleck and Richard Cetrone
Okay, so Richard Cetrone has got the beard and hair down pat when it comes to being Ben Affleck's stunt double. From a distance, they probably do look very similar, but we just can't get over the difference in the eyes.
Cetrone must be doing a great job, though, because he has actually been Affleck's double in a total of five films. He is the man behind Batman's stunts in Justice League and Batman v Superman: Dawn of Justice.
Harrison Ford and Vic Armstrong
According to The Guiness Book of World Records, Vic Armstrong is the most prolific stunt double in the world. Perhaps his most well-known appearances are in the first three Indiana Jones films.
Whether it's because he looks so similar to Harrison Ford or because he's just that good, Armstrong has been Ford's stunt double in a total of eleven films. That really is prolific. He has even been considered the second Indiana Jones – Ford better watch out!
Brad Pitt and Domonkos Pardanyi
Brad Pitt had multiple stunt doubles when filming World War Z, but Domonkos Pardanyi was good enough to also accompany him on the set of The Counsellor. Pardanyi does not necessarily resemble Pitt, but he makes a great stuntman and a wig can easily solve the resemblance issue.
He's done various works throughout his time in Hollywood, but perhaps his most notable was on Game of Thrones. The stunt ensemble even won two Actors Guild Awards for their performance during his time on the show.
Johnny Depp and Tony Angelotti
Johnny Depp may be irreplaceable, but with an extensive amount of makeup and the proper costume, it's not so hard to look like Jack Sparrow. Depp did intensive training and character work for his role as the mighty captain, but even he needed a stunt double during filming of the Pirates of the Caribbean films.
Tony Angelotti was the man for the job, at least in three of the movies. Though not as prolific as other stunt people, Angelotti did also work on The Amazing Spider-man and The Mask of Zorro.
Quvenzhané Wallis and her body double
Legally, Quvenzhané Wallis was not allowed to perform her own stunts even if she wanted to because she was only ten years old when filming Annie. With her energetic and charming personality, Wallis nailed her performances like a pro.
And that includes all the dance numbers with the help of her older, but surprisingly similar in appearance stand-in. The two were often seen practicing the moves together behind the scenes to make sure they both got them just right.
Shia LaBeouf and Colin Follenweider
We may not be able to deal with more than one Shia LaBeouf, but we didn't even realize there were two different people playing Sam Witwicky in Transformers. Colin Follenweider and LaBeouf almost look like the same person in pictures from the set.
There really is no one better to cast as a stunt double than someone so similar to the actor that you can barely tell them apart. Aside from appearance, Follenweider has proven his talent as a stuntman through his work on Doctor Strange and multiple X-Men films.
Lynda Carter and Jeannie Epper
Again, no one can save the world alone, and that is certainly the case for the original Wonder Woman. Lynda Carter's and her stunt double, Jeannie Epper, teamed up to play Diana Prince and the dynamic duo ended up doing a fantastic job.
The two even began a friendship while filming. In fact, when Epper's son told his class that his mom was in Wonder Woman and they didn't believe him, Carter had the entire group on the set just to prove he was telling the truth.
Tom Cruise and Casey O'Neill
Casey O'Neill must be doing things right in life if his career includes being a stand in for Tom Cruise. He has been Cruise's stunt double in six different films, including two Mission Impossible movies and War of the Worlds.
O'Neill may not be famous for his good looks and his taste in A-list women, but he is the one responsible for the cool stunts in many of the high-action films Cruise has starred in. That has to count for something – there are pretty risky scenes in these productions.
Chris Hemsworth and Bobby Holland Hanton
It makes sense that Thor would need a backup to perform some of his superhero duties. After all, no one can save the world on their own. Chris Hemsworth has a nearly identical stunt double in dangerous scenes throughout this Marvel film franchise. It couldn't have been easy to find someone who not only looks similar to Hemsworth, but is also muscularly built enough to be mistaken as the actor.
Bobby Holland Hanton had to bulk up big time for this role so that he could really look the part, training twice a day and eating loads of calories full of healthy fats, carbs, and proteins. In costume and full hair/makeup, you can barely tell the difference between the two.
The Rock and Tanoai Reed
Who better to represent your body double than your own flesh and blood? Dwayne "The Rock" Johnson brought on his cousin, Tanoai Reed, to be his stunt double back in 2002 on the set of Scorpion King. The two do resemble each other so the decision makes sense. They have been using films as family bonding time ever since.
Aside from flicks with The Rock, Reed was also featured in the Black Eyed Peas' Pump It music video. The Hawaii native says that keeping up with his cousin physically has helped him to stay in shape because well, The Rock is huge. We wonder if the famous eyebrow raise that we all know and love runs in the family.
Rupert Grint and Anthony Knight
There will never be another Ron Weasley… Or will there? Anthony Knight sure makes a great double for our favorite red-headed wizard. He has done stunts in six of the eight Harry Potter films, three specifically for Rupert Grint.
Though he hasn't spread his stunt double wings outside the magical world of Hogwarts yet, we're sure he will do great things in the film and production industry. Worst case, he doubles Grint in any of his future endeavors and that's not such a bad job.
Rebel Wilson and Meredith Richardson
While Rebel Wilson usually does her own stunts, getting hit by a food truck isn't one of them. In her upcoming production Isn't it Romantic (set to be released in 2019), she asked her stunt double Meredith Richardson to step in for her.
Wilson actually had a minor concussion while filming, so maybe it was better to let her double in on the action. We hope we didn't ruin the scene for you, but hopefully you won't even notice when Rebel steps out and Meredith takes over.
Elizabeth Banks and Krista Bell
Elizabeth Banks is a hilarious comedian and incredible actress, but even she needs a stunt double sometimes. She has rocked the screen in various roles and we're here to talk about her action scenes in Power Rangers.
While Banks is a bit rebellious in her acting, she brought in stunt double Krista Bell to help master the film's more intense moves. Bell is no stranger to stunts and has been seen in Hulk, Iron Man 2, and Deadpool. That's why she was the right choice to help portray Rita Repulsa.
Margot Robbie and Ingrid Kleinig
We're not sure the world would be able to handle another Harley Quinn, but what about her stunt double? The two resemble each other so much that in full costume and makeup, they could easily be mistaken for each other.
It's no wonder Ingrid Kleinig was selected for the part. Kleinig has been a body double for Margot Robbie not only in Suicide Squad, but also Legend of Tarzan. Two vastly different roles, the same two brilliant women behind them.
Nicole Kidman and Alicia Vela-Bailey
Nicole Kidman may be one of the most talented actresses out there, but that does not mean she is a professional hula dancer. That's okay though because her dance double Alicia Vela-Bailey does have some significant dance experience.
In probably the funniest scene in Just Go With It, Vela-Bailey helped Kidman knock her opponent, Jennifer Aniston, out of the hula competition. The stunt woman has an extensive resume that includes stunt performing in films such as Avatar, Wonder Woman, and Divergent.
Taylor Lautner and Gabriel Nunez
While no one will ever be mistaken for Taylor Lautner, his stunt double in Tracers comes close. Gabriel Nunez was probably born a daredevil because he is a natural when it comes to stunts and tricks.
Nunez founded not only a free-running group, but later a brand and training facility. The stuntman hasn't been seen in anything for a couple years, but was active for over a decade. He even shadowed Lautner again in The Ridiculous 6 and helped out with stunts in a few Twilight films.
Cameron Diaz and Kimberly Shannon Murphy
Though it does appear that any blonde in a ponytail and white blouse could look like Cameron Diaz in this photo, Shannon Murphy's profile is pretty similar here.
She scored big when she was cast as Diaz's stunt double in Knight and Day because it meant she got to hang out with her and Tom Cruise all day, which doesn't sound like a bad time. Apparently it's not just the side of her face that resembles Cameron because in multiple other films throughout her career.
Daniel Radcliffe and Robbie Coltrane with Marc Mailley and Martin Bayfield
It could not have been easy to find a Hagrid lookalike, but somehow the impossible was achieved. Here, we have stunt double's Martin Bayfield and Marc Mailley fleeing away in Sirius Black's motorbike and you can hardly tell it's not actually Robbie Coltrane and Daniel Radcliffe.
Bayfield has helped portray Hagrid in all eight Harry Potter films, while Mailley has been in six of them and both the first Fantastic Beasts film and the second that is soon to be released.
Regina King and Dartenea Bryant
We'll never forget Regina King's hilarious personality in Miss Congeniality. She really is one of a kind, but her stunt double appears to have taken that one and turned it into a two.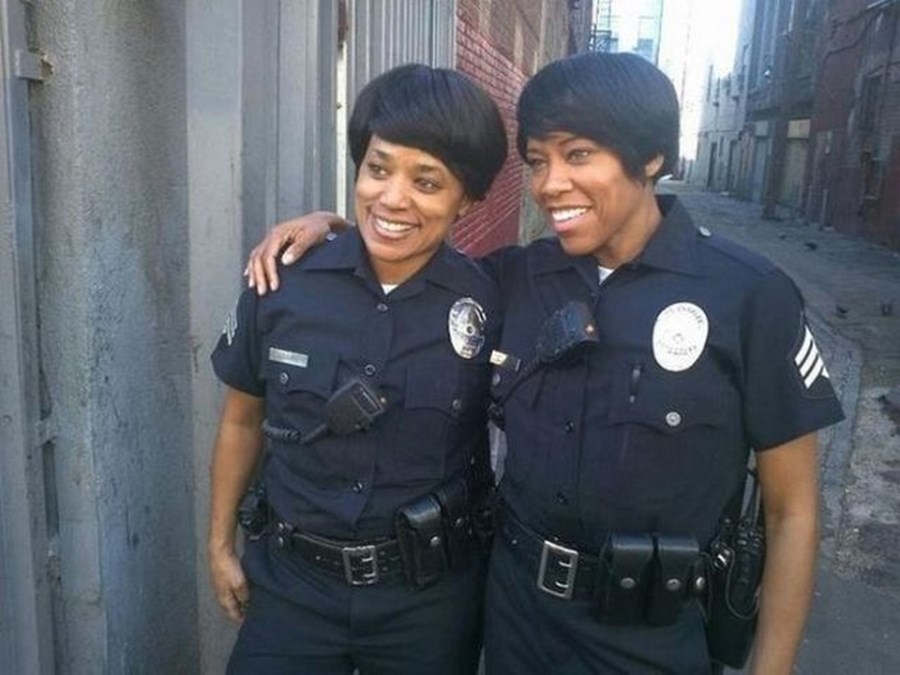 That's right, King may have an irreplaceable sense of humor, but she does have a body double. Dartenea Bryant has been stunting since the late '80s so she had more than enough experience for the role of Regina's stunt person in the TV series Southland.
Natalie Portman and Sarah Lane
Natalie Portman, a renowned and award-winning actress, has been praised for years because of her performance as a ballerina gone mad in Black Swan. Portman is said to have done most of the dancing herself after only training for a year and a half.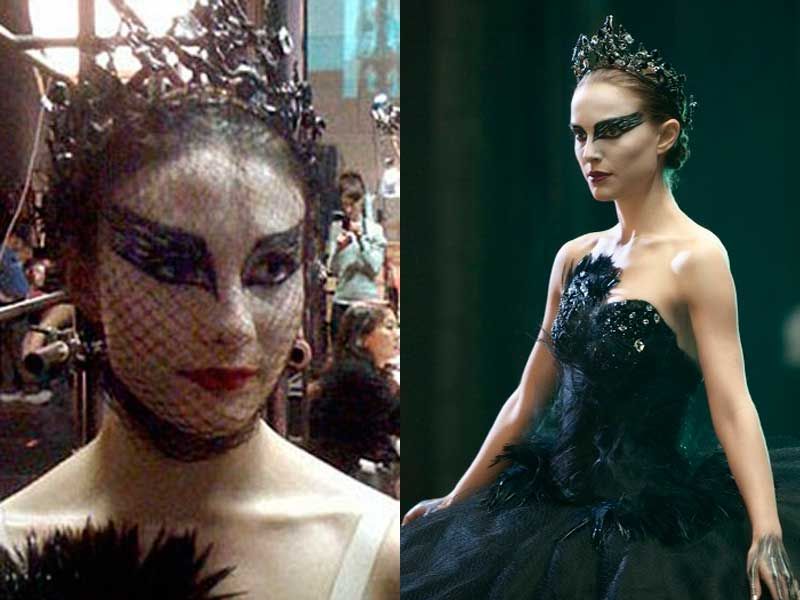 The actress did work extremely hard to perform this role, but the film could not have been produced without Sarah Lane, a professional ballerina. Lang was largely uncredited for the dancing, though she played a huge part in making it what it was: amazing.
Daniel Craig and Garvin Cross
And here we have Daniel Craig's twin brother. Oh no, wait, their not even related. Garvin Cross may look like his last name should be Craig, but he is just a body double for the actor, not his blood relative.
These two should be in a film together entitled Twins Separated at Birth. We're actually shocked that Garvin has only been Daniel's stunt double in one film, Dream House, because we assumed he would back him in all of his big action movies.
Kate Beckinsale and Alicia Vela-Bailey
We're not sure if it's just because they're wearing sunglasses and have identical hair, but these ladies look like mirror-images of each other. Kate Beckinsale stole Nicole Kidman's dance double and has actually used Alicia Vela-Bailey in two Underworld movies and Total Recall as her stuntwoman.
It looks like Vela-Bailey can do way more than just dance, she can also get down and dirty in fast-paced flicks. Her most recent stint was in the Marvel series Luke Cage as a stunt performer and Coordinator.
Andrew Garfield and William Spencer
Okay, this could have been any person with a similar build to Andrew Garfield and no one would know the difference because of the bodysuit, but they still managed to find a stunt double that resembled The Amazing Spider-Man.
William Spencer stunted for Garfield in both of the films and simply nailed it. It was actually a smart move choosing him because when they're suited-up and when they're in plain clothes, they can still be mistaken for each other in scenes.
Megan Fox and Stacey Carino
Megan Fox has had numerous body doubles and stunt performers by her side in movies, probably because she chooses high-energy and intense flicks that require extreme stunts.
One of those stunt doubles, Stacey Carino, helped her out with the more intense scenes in two of the Transformers movies. Though it's not like Carino and Fox could be mistaken for twins, they do have similar features that can make you do a double take when they're standing next to each other.
Emilia Clarke and Rosie Mac
We don't think anyone would have fit better for a Daenerys Targaryen body double. The two practically look like twins from the blonde wigs and brown brows to the pink lips and blue eyes.
It's actually pretty surprising that Rosie Mac was Emilia Clarke's stunt double for only ten episodes of Game of Thrones because we're not sure they'd be able to find someone better for the job. Aside from a loose adaptation of Little Mermaid back in 2016, Mac hasn't had any other notable roles.
Lucy Lawless and Zoë Bell
Zoë Bell is at it again doing what she does best. A few years before her rendition of The Bride in both the Kill Bill films, she helped Lucy Lawless bring the character of Xena to life in Xena: Warrior Princess.
Bell was in the series for a few dozen episodes before moving on to even more impressive roles. Like some of the other stunt people on this list, Bell has done a bit of acting as well and appeared in a few episodes of Lost.
January Jones stunt double
Though it is pretty obvious that January Jones' stunt double is quite a bit shorter than her, it probably isn't noticeable when watching the X-Men: First Class. Jones actually had five stunt doubles in this movie to help her create the character of Emma Frost.
While we're not sure which scenes specifically required which stunt doubles, it would be pretty comical to see her with five other woman walking around in this stylish '60s mod outfit.
Tom Cruise and Ben Stiller
No, Ben Stiller was never Tom Cruise's stunt double. This was from a parody the two made back in the days of Mission Impossible II for the MTV Movie Awards.
Stiller portrayed Cruise's overly particular stunt double who was so committed to the role he even legally changed his name to 'Tom Crooze'. 'Crooze' said in the spoof that in order to be the best stunt double, you have to really "become one with the actor;" you have to walk and talk just like the actor.
Michelle Morgan and Kateri Cowley
Michelle Morgan proved to be quite the actress in Heartland, but she just isn't a rodeo queen like her stunt double Kateri Cowley. Cowley offers her own professional equine services to those interested in training and lessons with horses.
Obviously, she fit right into the TV series that involved so many scenes with the majestic animals. Here, she's in matching outfits for a scene with Morgan, one of the shows stars, that was probably too advanced for someone who hasn't spent their life around horses.
Robert Pattinson and Paul Darnell
Vampires are known by legend for having unique abilities such as speed and ability to jump long and high distances. While Robert Pattinson got the scary and cold part down, his stunt double Paul Darnell took care of the action and stunts for him.
From running and jumping down mountains to climbing up trees, the stuntman brought the movie to life. The two also undeniably look alike. Whether it's makeup or not, they have the same pasty white complexion and nearly identical hair and eyebrows in the film.
Jennifer Lopez and her stunt double
Though no one can ever fully replace J-Lo, a nameless stunt double did quite a good job in her Follow the Leader music video back in 2012. What shocked people the most, is that her doppelgänger was actually a man.
There were multiple action-packed scenes of Lopez being chased all over Mexico throughout the video and her double nailed them flawlessly. Speaking of flawless, can we talk about his cheekbones and how perfectly he matched his hair to hers? He is on point with the look, that's for sure.