Probably best known from her days as Xena, the Warrior Princess — the 1995 NBC TV show that drew millions of fans worldwide – actress Lucy Lawless has far more gifts than her sweet warrior moves and piercing blue eyes. Though etched into collective consciousness as the mighty warrior princess, set out to do good in the world, Lawless actually started her career on stage, at the tender age of ten, at a musical in her native city of Auckland in New Zealand. Lawless was actually born in a suburb of the city, Mount Albert — where her father was the mayor.
Lawless has always been drawn to the stage; not many people know that her stunning voice is what brought her to show business, and she set her mind out to be a singer, originally. Lucy Lawless received the part of Xena after a very successful stint as a guest star on parent-show Hercules; she became so popular, a spin-off was created particularly for her. And though Xena stopped airing in 2001, Lawless continues to use her multitude of talents and perform, much to the delight of fans worldwide. Her influence, however, does not stop on the screen or stage.
---
---
She advocates fiercely for children's health, is a climate ambassador for Greenpeace, and even has one week a year — "Lucy's Feel the Love Week" — where she and her wide fan base vow to only perform charitable acts and help others. From her childhood in the suburbs of New Zealand, through her days playing the heroic Xena, and up to her cabaret performances at The Roxy in New York, Lucy Lawless has been an inspiration to millions; for that and not only her beauty, her fans nicknamed her Lucy "Flawless". Here are a few stations in her journey.

Powerful
Once asked in an interview if portraying a powerful woman is a difficult thing, actress Lucy Lawless seemed taken aback. "What? No!" She explained. "No. No, women are powerful, they all are, you –" she reached out to the interviewer — "You are. We're all powerful beings. We all are powerful beings. We all fight every day, all the time, the good fight. If we're lucky. The beautiful one."
Defiant
She spoke of her hit show at the time, Xena, Warrior Princess. "Xena had a difficult past and she did her best to redeem herself and that is what the show is about," Lawless continued. "It's about friendship, and love, and stories, and action, but that is what it's really about. And are we all not doing just exactly that? Aren't we all trying to forge a better world — how we see fit? I do not align myself with those who do not," Lawless concluded, defiantly. "And neither would Xena, mind you."
Lucille Frances Ryan – Lucy
Lucy Lawless is one of five siblings, born to the mayor of Mount Albert, a small New Zealand suburb of Auckland. Her uniqueness stood out from the moment she was born, her family says. Her trademark piercing blue eyes and special talent for all things acting and singing went well together, and she got her first part at ten years old — a lead in a musical in her local theater; by the time she was in middle school she was acting full time.
Pressure rises
Lawless felt the pressure of the expectations, however. A self-described perfectionist, she developed bulimia at age 14, when directors pressured her to up her looks in order to fit more roles. She suffered severely from the disease. "It came to a point where I thought it was fun," she has said. She managed to overcome the disease, and today is outspoken about both her past illness, and the dangers of pressure on young women to adapt their looks to society's norms.
A natural singer
Lucy Lawless is a gifted singer. She used to make her parents listen to her sing as a little girl, and stage shows for what she describes as a "big, Irish-Catholic family." Before, throughout, and especially after her pivotal Xena role, she developed a singing career composed mostly of musical theater and cabaret songs, and continues to performs throughout the world. Lawless has said she likes singing better than acting. "You can get more free with a cabaret," she was quoted saying.
Hercules: the Legendary Journeys
Lawless appeared first in parent show, Hercules, which was incredibly popular at the time during its run on NBC. She appeared as an Amazon, Lysia, and later on was cast as Xena, a love interest and fellow warrior to Hercules. In order to differentiate the two characters, Lawless' natural ash-blonde hair was dyed to its famous stark black. The character proved so popular, it soon received its own spinoff, an adaptation from a story written by John Schulian, following Xena in her travels to save the world.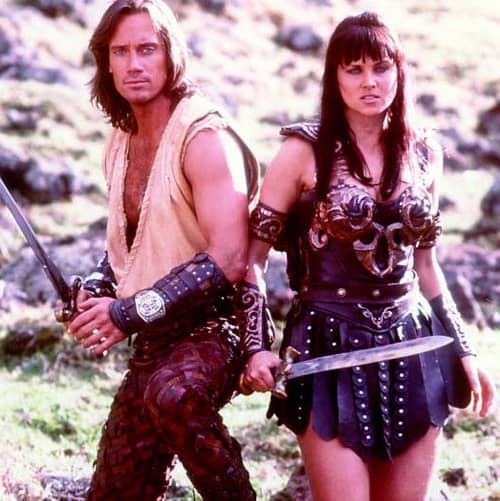 Xena, Warrior Princess
Xena, Warrior Princess went on air in March 1995 and became an instant hit. Showrunners Rob Tapert and John Schulian knew they had a treasure on their hands. "The show covered all the bases," Tapert was quoted as saying. "This is a stunningly gorgeous woman, who fights, who runs the show, but is also sexual, and erotic, and insecure at times and emotional, and this is a close look at her daily life. It's impossible not to relate to her as a lead."
Action, romance, friendship, love
"This show has action," Tapert added, "It has romance, parody, comedy, it has love." Perhaps in his last sentence he was referring to the show's co-star, Renee O'Connor, who played Xena's sidekick of sorts, Gabrielle, a traveling bard who wished to tell Xena's story and travelled with her on her journeys. Throughout the years, Xena and Gabrielle became best friends, and, famously, were suspected to be more than friends by adoring fans.
Instant friendship
Lucy Lawless and Renee O'Connor became instant friends, as well. O'Connor described Lawless as "confident in her body and sexuality." Her reputation on (and off) set was of a no-nonsense kind of woman — not unlike her most known and iconic character. Lawless studied at Auckland University for a short time, and then traveled throughout Europe. She later on married her highschool sweetheart, Garth Lawless, and they had a daughter, Daisy; they divorced in 1995, their marriage breaking apart as the show rose to fame.
Influential
Xena, Warrior Princess was an unbelievably influential show in its time. One of the most beautiful aspects of that influence was how seriously Lucy Lawless took on the responsibility of being the show's lead. Being the main character of a show that featured a female lead who played an undefeatable warrior meant that Lawless "owed to her fans to represent that in real life, too," she has said. "You have to be strong. You have to stand on your feet. And fight."
Modern issues
The world of science fiction was traditionally used to metaphorically deal with issues that exist in society; Xena was no different. Though the show linearly borrowed from a span of about 2,000 years of mythology, it dealt with very real and modern problems, and mainly with the role of women in society. Xena was one of the first shows to showcase a female lead — with a female co-star, no less — wandering, on their own, with no help from a male character.
A new kind of Sci-Fi
In the early 90s especially, science fiction shows ("sci-fi" to fans) blossomed. The medium has always been represented in literature and attributed to authors like Isaac Asimov and Orson Welles, but with the rise of Computer-Generated Imagery (CGI), concepts from science fiction could be brought to television less expensively, reducing costs — and opening a whole new world of opportunities for creators.
A new world
When CGI became available in lower costs to studios, it brought with it the opportunity to show — and not just describe — to viewers stories of the past and future, taking the metaphors and issues books have dealt with for years and making them available to see, rather than imagine, thus making the stories easier to relate to. Xena relied on CGI in most of its episodes, and for its time, it was advanced.
Role model
Xena and Gabrielle didn't only wander. Xena was an extremely fearless warrior. She was also emotionally vulnerable, but powerful; she showed no weakness on the show, and her character's journey was one of redemption. Lawless took her job as a female role model extremely seriously. She has and is consistent about children's education and health, as well as speaking to young women around the world, inspiring courage. "If a kid comes to me and says, 'I wanna be like Xena!'", Lawless has said, "I've done my job."
Getting in shape
Lawless had absolutely no experience prior to the show, so she visited Los Angeles before the show's shooting to train in the martial arts, swordplay, kravmaga, and gymnastics, in preparation for the role. "It's funny," Lawless has said, "Because at school my nickname was 'Unco', short for 'Uncoordinated'," she laughed. Lawless didn't stay uncoordinated for long. By the end of the shooting of the first series, Lawless was doing karate, kung-fu and kickboxing — for fun. She kept training long after the show finished.
An avid fanbase
Sci-fi shows are also very well-known for having an extremely diverse, avid, and loyal fan base. Conventions of the various science fiction television shows and comic books — known as comic cons — are held around the world. Fans dress up as their favorite characters (known as costume play; cosplay to the comic con community), countless merchandise is sold, and — oftentimes — cast members are the main attraction; they speak and interact with the fans, posing and autographing photos.
Proud of her work
Lawless has always been loyal to her fans. Many actors play in sci-fi by default or because they can't find other work, as it is considered by some to be "lesser" acting. Lawless has stressed she feels nothing like that. "I am so proud to be here," she has said in a convention, "so proud to be honored by you. And your rights are equal rights, and I am so grateful to you for all you've given me."
Activism
When you come to think of it, Lawless really isn't much different than her monolith character. Despite Xena's dark past — which Lawless thankfully does not share — she is a force of good on earth. Xena fights with swords and her chakram; Lawless seems to use her platform to fight for the betterment of all communities and not just her fans. Lawless has many charity interests, but her intense activism is probably what sets her apart from other actors, especially in the sci-fi world.
A true warrior
Lawless became a "Climate Ambassador" for Greenpeace. A strong believer in the need to stop climate change, she has protested numerous times against oil exploration. In February, 2012, Lawless and six other Greenpeace activists climbed aboard an oil-drilling ship for 72 hours, to keep it from leaving to perform oil exploration in the Arctic. Usually extremely composed, she tearfully hung her head after the ship departed. "We're losing everything," she said, crying, "under our own hands. That's not what I'm about."
Injured on duty
Lawless suffered a serious injury during a promotion for Xena. She was meant to ride in on her horse at a talk show, but the horse bucked, knocking Lawless unconscious. She broke her pelvis and fractured her collarbone and shoulder. Being the Lawless she is, she managed to return to shooting within two weeks of the injury, using — begrudgingly — her stuntwoman for her riding scenes. "It's against my philosophy," she had said in an interview. "You literally have to get back into the saddle!"
Love on set
Tapert and Lawless married in Australia and then relocated back to Auckland, New Zealand. They have two sons: Julius, born in 1999, and Judah, born in 2002. The years she took off the show were spent with her children. Her daughter, Daisy, from a previous marriage, also lives in Auckland. "I wanted a shot at something normal for a bit," Lawless has said, "I love being an actress, and I love being a mom. I get the best of both worlds."
Welcome to Cabaret
The few years off led to Lawless having much more time to pursue her singing career. "In the beginning they came to hear Xena sing," Lawless laughed at an interview, "I think that's changed." Lawless sings mainly Jazz and musical theater, and often holds cabaret shows with guests. She sells out venues around the world. "It's not Xena, it's me, but I'm also cool," she has said. "Cool. Cool! Pretty cool. I'm cool." Lawless even provided vocals for two Xena episodes, and critics have hailed her performances.
Parks and Rec and Princesses
Lucy Lawless has been in several shows in recent years, and is currently performing in the TV show Salem. Lawless hilariously overjoyed Xena fans when she guest-starred in two episodes of Parks and Recreation, a mockumentary starring Amy Poehler — a far-removed genre from that of the sci-fi shows Lawless usually stars in. The episodes were filled to the brim with references to Xena, including a scene with Lawless trick-or-treating in a princess costume with her two on-screen daughters, muttering, "It's been princess this and princess that. It's a nightmare."
Return to the screen
In 2015, it's been announced that Lawless will star in the show Ash vs. Evil Dead, a horror-comedy developed by Sam Raimi, Lawless' long-time collaborator, and her husband, Xena's creator, Robert Tapert. The show is a reboot of sorts of the Evil Dead films, where sources of evil attempt to overtake the earth. "I love working with my husband, and yes — it's nepotism!" Lawless has said in an interview. "But more that we develop it together. He'll go, 'you wanna do this?' and I'll say, 'yeah!'"
It's like red, but not quite
In interviews promoting the show, Lawless revealed her new look: long gone are Xena's dark locks. Lawless cut her hair short and dyed it pink at the edges upon returning to the TV screen. "It's all hoods and wigs anyway," she shrugged in an interview with Stephen Colbert. "They might not let me keep it. But I can't let go of my entire cabaret, can I?" Old and new Xena fans continue to enjoy Lawless' performances on screen and stage.
Let's make it bigger
She doesn't plan to let go of her cabaret, either; now relocating to Los Angeles, Lawless has announced that she will continue with her concerts in LA and New York, adding more cabaret and jazz elements. "Showy," she said when asked of her future plans, "I'd say it will be more showy. I have two teenage sons. I need to find a way to embarrass them horribly. I really don't think there's a better way than this."
I do tend to do that
Lawless also keeps in touch with her Xena, Warrior Princess cast and crew members — not only the father of her children, of course, but even her co-star Renee O'Connor. For years, they hosted a vlog where they simply went over their years in Xena. Lawless began laughing hysterically reading one of the interviews: "'I did not even know my sexuality until I met Lucy,' O'Connor says,'" Lawless read. She then turned to a very pregnant O'Connor and then back to the camera, exclaiming: "I do tend to do that."
Maybe there's more
The intention behind the joke is deeper, however, it seems. Xena, Warrior Princess, as a show, shaped the character, sexual orientation, world understanding, perception of love, and sense of belonging of fans around the world, many of them small girls who learned their own strengths. Many individuals attribute who they are to the show they loved so much as children, and Lawless, as an actor, and a woman, could not have fit the part of an amazing influence better if she tried.
Be your own warrior queen
At any rate, Lucy Lawless was and remains an influential figure in many people's lives. Inspiring and kind, she reminds us — on and off the show — that we must stand on our feet and fight. After a scene on Xena, Warrior Princess, when asked about her singing, Xena replies: "I have many skills". And so does, as it seems, Lawless. "You are a warrior queen," she tells her young fans. We all are, perhaps.