Throughout the course of history, we've all been made aware of cons and swindles that take place all over the world. It may be the robber who marks your outside wall with chalk symbols, or it may be the nuisance phone caller who tries to steal your credit card details – or it may be something much more sophisticated, like Frank Abagnale and Catch Me If You Can.
Nevertheless, it's fair to say that the world is full of crooks. As unfortunate as it may be, there will always be someone who wants a better life for themselves and will do anything they can to get there – even if it's not legal. In recent years, Sweetheart Swindling has become increasingly popular in the world of the conman. The premise behind a sweetheart swindle is very simple, but one that can have devastating effects. The con is popular among the gypsy community, with gypsy women targeting elderly, rich men.
---
---
So what is a sweetheart swindle? Well, the gypsy woman will set her sights firmly on a man of wealth. She will then manipulate her way into his life and push away anyone close to him. This way, she will be the only person close to the rich bachelor, and be a trusted confidante – this trust will eventually lead to monetary gain. The aim of a sweetheart swindler is to bleed the man dry of all of his money, before fleeing – cash in hand. There have been numerous cases of sweetheart swindling over recent years, but there is one case that trumps them all. Yep, we're talking about the Ralph Raines fortune. Over the course of a few years, one woman and her accomplices managed to swindle a whopping $15 million from one man, turning his life upside down in the process and creating a completely new one, complete with a wife, child, and business.
But how did she do it? Well, read on to find out more…
The Sweetheart Swindle
Many of us struggle to find love and live a happy life on our own. Because of this, many of us reach out for help and search for answers in other ways – just like Ralph Raines Jr., a rich bachelor from Gaston, Oregon. In his search for happiness and fulfillment, Ralph found himself looking for love in all the wrong places. Soon, he was targeted and conned by a scheme they call the Sweetheart Swindle. Before too long, he had been swindled out of a whopping $15 million. So, let's meet Ralph…
Ralph Raines Jr.
At the time of his swindle, the millionaire Ralph Raines Jr. was living by himself, in the middle of the forest, with nobody to spend time with – but this wasn't unusual for Ralph. For all of his life, Ralph had lived in the small town of Gaston, Oregon, with just 6,060 residents for company. As a child, he had suffered under the harsh eye of his father, who paid him little attention and ignored every achievement he ever made. He was never good enough for his father.
A tree farmer
Despite his father's lack of interest, Ralph would always go out of his way to help out his family. As he grew up, Ralph would put in hours of hard work and effort on the Raines' Tree Farm. However, when it came to socializing and being around people, Ralph was lost in the woods. Ralph found it difficult to talk to others and was described by family friends as being socially inept. This inability to communicate led to the youngster being gullible and vulnerable to those who knew his weak spots.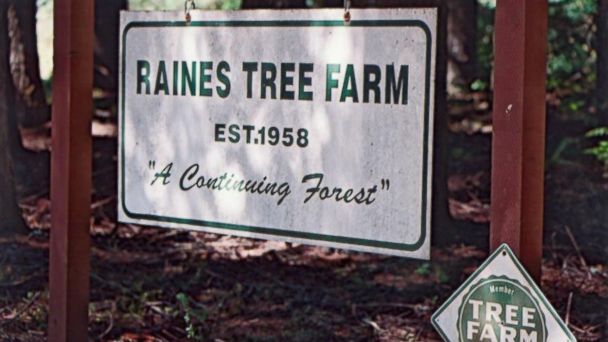 Normal social dynamic
However, those who knew Ralph knew that this social incompetence and vulnerability was a part of him. These traits made up his personality. He didn't understand the normal social dynamic, but there were friends and family around him who did love him for who he was – even if they did not show it all the time. In fact, many of these friends noted that he was more comfortable with trees than he was with people. But that was just Ralph. Nevertheless, this love of trees would soon bring in a huge fortune…
The Raines Tree Farm
The Raines Tree Farm was originally founded and planted by Ralph's father, Ralph Raine Snr. – and the farm was teeming with Douglas Firs. As soon as the trees were mature, they were cut down by the Raine family and shipped off to their next location, where they would be transformed into telephone poles. This process would earn them around $1,000 per tree. And with 1200 acres of forest to their name, the Raine family had a luscious flow of cash pouring into their business.
Multi-generational
It's common knowledge that tree farms are multi-generational. Because Ralph Raines Jr. was an only child, the Tree Farm would ultimately land in his hands – a piece of information that was well-known around the state of Oregon. Despite this, many close to the family maintain that Ralph had no idea of the true monetary value of the farm, or how much he would later inherit. Instead, he was putting his fate into the hands of the paranormal.
A trip to the psychic
As he continued to work on his father's farm and cultivate his trees, Ralph became aware of how lonely he was. So, when a psychic by the name of Rachel Lee opened a palm reading shop nearby, he hoped his love for all things paranormal would point him in the right direction. After an initial meeting, Ralph and Rachel developed a friendship that would take them on a whirlwind journey and would change Ralph's life forever.
Sharing information
As Ralph grew more comfortable with Rachel, he took more and more trips to her palm reading shop. As their sessions progressed, he would share more and more information with the gypsy who claimed she was a psychic. Rachel was able to uncover some of his deepest secrets and every single piece of information about the man, his father, and the tree farm. Soon, she discovered that the man in front of her was sitting on an enormous fortune that could serve in her favor.
Getting to grips with empathy
As Rachel embarked on an elaborate plan to swindle Ralph of his money, she realized that she would have to gain his trust. As a socially awkward individual with few friends or relationships, Rachel knew she had to share some of her own information to get close to him – but that information didn't exactly need to be true. Rachel spun lies to the millionaire about the loss of her husband to cancer and the death of her parents. From this, Ralph believed Rachel was a loner like him, which sparked a sense of empathy.
Her psychic abilities
With each meeting, Rachel managed to get even more information out of Ralph, and built a fake sense of friendship between the two. She persuaded Ralph to listen to her advice, as her psychic abilities would enable him to get what he has always wanted – a family and companionship. Through this intelligent and detailed deception, Rachel was able to worm her way into his life, brainwash his way of thinking, and unravel his emotions and money from the seams.
The next two years
However, Rachel knew that her detailed deception would take time. So, Rachel spent the next two years getting ever closer to the millionaire to show her loyalty and friendship. She became his closest confidant, and the pair would share intricate details of their life with each other – except Ralph didn't know he was the only one telling the truth. This newfound friendship was a revelation for Ralph, who had never been close to anyone before. Rachel was giving Ralph the attention she knew he needed.
Spending money on the psychic
Ralph, who had been devoid of any kind of love or friendship for most of his life, welcomed the attention with open arms. He was soon buying her expensive gifts and giving her checks in the hundreds – and she was lapping it up. As the pair grew closer, Rachel introduced Ralph to another person in her life; Blancey. Blancey was Rachel's on-and-off boyfriend, who fancied himself as a handyman. In fact, he was employed to fix the decking at Ralph's home.
Blancey and Rachel
Blancey and Rachel lived together and had moved to Oregon from California. Until now, the couple had lived a relatively normal working class life. They lived off Rachel's earnings as a psychic, and the odd few dollars Blancey received for his construction work. However, they wanted more from their lives – and they knew Ralph could be their ticket up the money ladder. With her powers of persuasion and her apparent 'keen eye' for personal finance, Rachel convinced Ralph to buy a house.
The property ladder
Rachel convinced Ralph that buying a particular property would be a good investment – and Ralph trusted his dear friend's input. So, he bought a four bedroom, 4,600 square-foot house in Portland, Oregon for a whopping $915,000. However, she knew Ralph would have no idea what to do, so once again offered her advice on the matter. She told Ralph that she and her family could live in the house for him and look after all of the bills and paperwork, to enable him to sell it on without any personal hassle.
Ralph and his father
Once again, Ralph trusted the advice Rachel was offering – so agreed to her terms. While Ralph and his father continued to live in the rusty old farmhouse that was settled on their tree farm, Rachel moved into his brand new property with her family. She moved Blancey and her children into the incredible and expensive 4-bedroom house, including her daughter, Porsha. Porsha was just 17 when they moved into the house, and would do anything to stay in her mother's good books. However, just how far she'd go would come to light much later on…
Health problems
Unfortunately, Ralph's story took a turn for the worse when his father suffered a devastating stroke. He knew his elderly father would need constant care and attention, and shared the sad news with his friend. Within the unfortunate circumstances, Rachel found a silver lining and seized her moment to get even closer to Ralph Jr. and his fortune. She offered up her services to the family and volunteered to act as Ralph Snr.'s carer. Of course, Ralph eagerly accepted.
Life was good
At that moment, Ralph believed he had a perfect life. He had a good friend in Rachel, his father was being taken care of, and he was supposedly investing his money wisely. However, there was still something missing from his perfect life – he was still looking for a woman to love and a child to take care of. Rachel knew of his troubles and his dreams and decided to create a fake world for the millionaire. In return, she would get the life she had always wanted.
October 2007
In October 2007, Ralph had just returned from a business trip to a timber convention and was waiting at Portland International Airport for Rachel to come and pick him up. However, Rachel had a different plan. She told Ralph to sit outside of the airport terminal on a bench and wait for her. Ralph was then approached by a blonde woman with fair skin, exactly his type, who happened to know his name and all of his likes and dislikes. His perfect woman introduced herself as Mary Marks, in a perfect British accent. Ralph was smitten.
A bookkeeper
Mary Marks reeled Ralph in with her supposed psychic powers but maintained her paranormal talents were only a hobby – as she worked full-time as a bookkeeper. She told Ralph that she moved to the United States from England to find work as a bookkeeper, and could help him and his company keep up to date with their finances. Ralph eagerly accepted her offer, and Mary went straight to work with Rachel to track the ingoing and outgoing money transactions for the Raines Tree Farm.
Looking for a Green Card
As Ralph got to know Mary Marks even more, he asked about her past and her accent. As she delved into a web of lies, she proclaimed that she was a British citizen who would need a Green Card to stay in the country. Without having to think about it, Ralph asked Mary Marks to marry him. He had found the perfect woman who needed a reason to stay in the country – it all seemed to fit perfectly together, and he was absolutely ecstatic about it.
Not living together
Although they tied the knot, Mary Marks and Ralph did not live together. Mary Marks maintained that she had to leave for long periods of time to work in California, so could not stay in Oregon with her new husband. In fact, the couple did not even consummate the relationship. However, this didn't stop a new development from occurring. In a new twist, Mary Marks convinced Ralph to have a child through IVF. Once again, he agreed.
Going back to California
After the supposed IVF procedure, Mary flew back to California to give birth to their son – and returned a couple of months later with Ralph's supposed child, who she had called Giorgio Armani. Ralph was absolutely besotted with his new son and raised him with all of the love and integrity he had missed from his own father. Ralph was the happiest he had been in years, with a loving wife and biological son. It was all going so well…
The missing link
Three and a half years after Rachel first befriended Ralph, she finally received the missing link in her devious plan. As he continued to bask in the glory of his new family, Ralph bestowed Rachel with full control of his financial accounts. With this new control to hand, Rachel was able to move money from different accounts – including her own. So, Rachel soon set out on a major plan to overpay herself, and transfer thousands of dollars into her own personal accounts, as well as her family members'. Ralph remained clueless.
Fueling the lifestyle
However, Rachel and her family made no efforts to hide this newfound wealth. The family would pay for all of their clothing, food, and luxuries with Ralph's corporate credit card, and would fuel the lifestyle they had always dreamed of. Above anything else, Rachel Lee loved to travel – and was use Ralph's money to fund expensive trips to Europe. They explored Monaco, Venice, Rome and more, all thanks to Ralph and his money.
Insufficient care
By this point, Ralph Snr. was suffering under the care of Rachel. She was not looking after him in a proper manner, and he bore numerous signs of neglect. After a while, Ralph Snr. was moved from his decrepit home on the Raines Tree Farm estate to Ralph's expensive Portland purchase. However, he was forced to sleep in the hallway and was once again neglected.
A devastating blow
In 2011, Ralph Snr.'s unfortunate life came to an end – and so did Rachel Lee's career as a caregiver. Although he was never that close to his father, Ralph Jr. was devastated by his loss, and spent hundreds of dollars creating the perfect gravestone for his father, that left space for him, Mary Marks and Giorgio Armani. However, this devastating blow did not stop Rachel and her partners in crime from causing even more damage. In fact, they were just getting started.
A new development
Just after his father's death, Detective Liz Crothers from the Portland Police Department noticed something odd on the way to work. While she was driving through the small town of Canby, she noticed a house that had been recently renovated and remodeled. However, this construction work was taking an unusually long time – which perked up her police senses. Alongside this, there was also a Ferrari parked outside of the house, something never seen in the small Portland town.
Unusual cars
Although Crothers wanted to learn more about the unusual house and realized that the expensive car was linked to Blancey – Rachel's boyfriend. There was also another car parked outside of the house, a smaller Smart Car that was registered to none other than Ralph Raines. The license plate on the Smart Car said Mary Ralph, with a small heart in between the two names. As she learned more about Ralph Raines, she discovered that he had recently bought a chain of psychic shops all around the United States.
No jurisdiction
Liz grew concerned that Ralph was involved in a sweetheart swindle, but could not carry on with her investigation. There was no evidence to believe there was any criminal activity going on in the house in question, and she did not have jurisdiction in that area – so she had to leave the house alone for the time being. So, Rachel and her band of cons artists were able to continue swindling Ralph's fortune from under his nose.
A year and a half later
Nevertheless, a year and a half after Liz Crother's original suspicions, she happened to come across a police officer who worked in the area in question. She asked the police officer about the unusual house and the cars, and he became actively involved in the case. Just a few days later, an unofficial task force was brought in to investigate the house and the expected sweetheart swindling case taking place in their town. With jurisdiction on their side, they could approach Ralph Raines.
A devastating sight
However, as they took a closer look at Ralph Raines and the Raines Tree Farm, they were greeted by a devastating sight. Where a thriving forest had once stood was a barren landscape, with few trees left on the site. This horrific change in scenery was down to Rachel Lee and her swindling. When funds had run low in the corporate accounts, she sold the trees and sold $12 million worth of land to pay for her expensive lifestyle. She didn't care about the business.
Paying his debts
But how did Rachel get away with it? Well, spinning even more lies, Rachel convinced Ralph that he and the business were broke. She persuaded him to sell the tree farm, to pay off the debts he had racked up due to inheritance tax. Of course, the money wasn't paying his debts – they were paying his supposed friend and employee. Ralph had to watch his livelihood and his previous trees as they were taken away from him.
Lavish spending
As Ralph wallowed in his supposed financial problems, Rachel, Blancey, and her family were living the life of luxury. They ramped up their lavish spending and bought expensive items, including cars. In fact, Blancey spent $500,000 on two cars in one single day. However, they were being watched by the detective task force – who had received copies of the Ralph Tree Farms' invoices and financial statements. Although they believed Ralph was being swindled, they needed to hear it from the horse's mouth.
Visiting Ralph
So, the detective task force went to visit Ralph, who was still happily married to Mary Marks and bringing up his son in the comfort of his remaining home. However, he refused to talk to the detectives and sent them away. But just a few weeks later, Ralph seemed to have a change of heart and decided to give the cops the time of day. He allowed them onto the property and showed off what was left of his beloved tree farm.
Willing to listen
As the detective showed Ralph evidence of fraud and money laundering, he decided that he was willing to listen to them. This new opening led to numerous investigations that would later reveal all of Rachel's secrets. However, the investigators were also worried for Ralph's safety. As he learned of her secrets, he confronted his supposed friend and employee. With a dark past behind her, they were worried that Ralph had a target on his head.
Making the first move
As soon as they left Ralph's house, the investigators made a call – they needed to arrest Rachel Lee and Blancey before they could get to Ralph. Before they stormed Rachel's house, they stopped off at her psychic shop, which revealed further incriminating evidence. However, alongside this evidence were numerous blonde wigs. But what were they for? The detectives soon found out, when they visited Rachel's house, just minutes before she was about to flee.
Leaving with Porsha
However, Rachel was not planning on leaving by herself. In fact, she was joined by Porsha, her daughter. Rachel and her daughter were arrested and later admitted to their guilt. But that wasn't all they admitted to. The investigators soon discovered that the blonde wigs belonged to Porsha, who had been posing as Mary Marks the whole time. Their meeting, the accent, and their marriage was all a sham – a sham created by her mother, Rachel Lee.
Giorgio Armani
Throughout their marriage, Ralph had been led to believe that Giorgio Armani was his child. However, as more and more secrets were uncovered, Ralph received devastating news. Although Giorgio is Rachel Lee's grandchild, he is the grandchild of another daughter. They had faked the whole pregnancy, and his whole life – and the whole family was in on it. The whole con had been perfectly executed, with devastating results.
I am not a victim
Despite all of the incriminating evidence and learning that his whole life was a lie, Ralph continued to back Rachel and Mary. He still loved his family, and couldn't believe they were behind all of the schemes. Even while under investigation, Rachel had managed to keep a hold on Ralph and continued to brainwash him. In fact, she had convinced him to write a letter to the authorities, stating that he was not a victim.
Turning himself in
During this time, Blancey had turned himself in to the police, stating himself as an accomplice to Rachel and Porsha's crimes. Over the course of their scam, Rachel, Porsha, and Blancey had managed to swindle around $15 million from Ralph Raines – and they were going to plead their cases in court. As judgment day loomed, there was no denying the fact that the scammers were guilty. But what would their punishment be?
The punishment
The jury determined that the scammers were indeed guilty, and they were all sentenced to serve their time. Porsha Lee was sentenced to 33 months in federal prison, and Blancey was sentenced to 24 months. Blancey was served with a reduced sentence because he cooperated with the police investigation, and promised to repay Ralph for any monetary losses he experienced because of his actings. Rachel Lee was sentenced to 100 months in federal prison, as the mastermind behind this mammoth sweetheart swindle.
Doesn't blame them
Despite all of the emotional and financial troubles the scammers put Ralph Raines through, he still does not blame them for their actions. He remembers the good aspects of their time together. They spent time with his dad, he truly felt love, and he got to feel what it would be like to have a child. Although he was swindled out of his money, he has forgiven those who swindled him and is ready to move on with his life. Luckily, the police have been able to retrieve a few million dollars, so Ralph will be able to continue living a wealthy life.