High school was, for the vast majority of us, a very interesting time to say the least. It was a time of a lot of firsts, a time of exploration, and a time of maturation. We all had different high school experiences, from being the jock who was incredible at sports to the nerd who only wanted to learn more and drive themselves to do better. And now, in our older adult years, we look back on all of those experiences and see how they shaped us into the people who we have become today.
And just like us, our favorite celebrities were also simple high school students well before they were rich and famous. Some of them were the popular kids who always earned straight A's and some… not so much. You'll recognize these women from their iconic roles and films but will you recognize them from their high school look? We thought that it would be interesting to discover how THEY were in high school, to see what they were doing and to look at them through the lens of yesteryear. We also wanted to show that, all in all, we are more similar to our favorite celebrities than different.
Susan Dey
Susan Dey is known best for her longtime role as Laurie Partridge in The Partridge Family. She continued acting well after her Partridge Family days, and had another major role in the late '80s to '90s as Grace Van Owen in the series L.A. Law.
Since 2004, Susan has retired from acting, and is now a mother with one daughter. She has been married to television producer Bernard Sofronski since 1988.
Susan Dey in high school
The Partridge Family star was born in Pekin, Illinois and later moved to New York. She attended Columbus Elementary School in Thornwood, New York until moving to Mount Kisco, New York where she attended Fox Lane High School.
When she was 17-years-old, she went to an audition for the role of Laurie Partridge, despite having no prior acting experience, she got the part. As soon as she graduated high school in 1970, she started filming for the show's first season.
Elisabeth Shue
Elisabeth Shue is one of the most famous actresses of the late '80s and '90s. She is known best for appearing in classic films of the era such as: Adventures in Babysitting, The Karate Kid, Back to the Future Part II and III, Leaving Las Vegas, and a whole lot more.
The 53-year-old is now a mother of three, and has been married to film and television director Davis Guggenheim since 1994.
Elisabeth Shue in high school
Elisabeth grew up in South Orange, New Jersey, with her parents and three brothers William, Andrew, and John. Her younger brother, Andrew, also worked as an actor and was best known for his role as Billy Campbell in the series Melrose Place.
Elisabeth graduated from Columbia High School in Maplewood, New Jersey and attended Wellesley College until transferring to Harvard University. With only one semester short of earning her Harvard degree, she dropped out in 1985 in order to pursue her career in acting. She returned to Harvard in 1997, and earned her BA in political science in 2000.
Nadia Comaneci
Nadia Comaneci is a Romanian gymnast and Olympic gold medalist. She was also the first gymnast to ever get awarded the perfect score of 10.0 at an Olympic Games.
After her remarkable score of 6 perfect 10s and three gold medals in the 1976 Montreal Olympic Games, she went on to win another two gold medals the 1980 Olympic Games in Moscow. Nadia is known as one of the greatest gymnasts of all time, and got inducted into the International Gymnastics Hall of Fame in 1993.
Nadia Comaneci in high school
Nadia was born and raised in Onesti, a small town in Bacau County, Romania. Nadia's mother enrolled her in gymnastics classes when she was in kindergarten due to her endless amounts of energy.
At the age of 6, she was spotted by Bela Karolyi doing cartwheels in the playground, and she was asked to attend Bela Karolyi's gymnastics school where she trained and shortly after became the youngest gymnast to win the Romanian Nationals.
Cheryl Ladd
Although Cheryl Ladd made her way from South Dakota to Hollywood to pursue a career in music, she ended up gaining fame as a model and actress.
Her gorgeous blonde locks and killer smile turned her into the face of Max Factor, and her breakout role was that of Kris Munroe in the stylized '70s crime series Charlie's Angels, where she remained until the show was canceled in 1981. Ladd is still acting today and recently appeared in the Hallmark Channel Christmas movie, A Royal New Year's Eve.
Cheryl Ladd in high school
Cheryl Ladd was born as Cheryl Jean Stoppelmoor in Huron, South Dakota, in 1951. Her mother was a waitress and her father Marion was a railroad engineer.
In high school, she showed an interest in dancing and singing, while also cheering on her school's athletics team as a cheerleader. Ladd also had an outlet for her passion for music, through her band, The Music Shop. With all that talent and her classic features, it's easy to see why she became a star.
Phoebe Cates
Another major star (and crush) of the '80s is Phoebe Cates. Phoebe got her big break in acting in 1982 as Linda Barrett in Fast Times at Ridgemont High.
Not too long after, followed leading roles in several more popular '80s films such as Gremlins 1 and 2 and Private School. Phoebe has since retired from acting and the mother of two children. She has been married to actor Kevin Kline since 1989.
Phoebe Cates in high school
Pheobe was born and raised in New York City. Her father, Joseph Cates, was a major Broadway producer and her uncle, Gilbert Cates, was a television producer.
Pheobe attended the all-girls Hewwit School in New York City and later graduated from Professional Children's School, which was made especially for aspiring child dancers or actors. After a brief career in modeling, Phoebe decided to pursue acting and landed her first role when she was 17 in the 1982 film Paradise, which received criticism for its close similarity to the 1980 movie, The Blue Lagoon.
Brooke Shields
The stunning Brooke Shields is a model turned movie star who got her big break at the young age of 12 in the controversial film Pretty Baby.
Since then, she has appeared in dozens of films and TV shows, from The Blue Lagoon, Suddenly Susan and most recently, Law & Order: Special Victims Unit. The actress is still just as beautiful as ever, and is now the mother of two children and wife to her screenwriter husband of 16 years, Chris Henchy.
Brooke Shields in high school
Brooke Shields attended and graduated from Dwight Englewood High School in Englewood, New Jersey. In this photo, which was taken during her 1983 graduation, she was happily accepting her diploma.
By that point, she was already a well-known supermodel and movie star, but insisted on finishing her education. She took a brief break from her career after graduating from high school in order to attend Princeton University, where she graduated with a Bachelor's degree in Romance Languages.
Heather Locklear
Heather Locklear has had many notable roles in television over the years, but her most popular were as Amanda Woodward on Melrose Place, Sammy Jo Carrington on Dynasty, and Caitlin Moore in Spin City (just to name a few.)
Her well-acclaimed roles have garnered her 6 Golden Globe nominations. She has one child with her last husband, Bon Jovi guitarist Richie Sambora, and was married before him to Mötley Crüe drummer, Tommy Lee.
Heather Locklear in high school
The California native was born and raised in Los Angeles with her production executive mother and UCLA administrator father. While she was studying at Newbury Park High School, she tried out for the school's cheerleading squad, but was rejected.
Instead, she decided to join the drama club, and she discovered her true passion was acting. She attended UCLA after high school, where she modeled and appeared in commercials for the school store.
Raquel Welch
The talented and beautiful Raquel Welch became an icon of the '60s and '70s for her unique on-film persona. During a time when women were portrayed as superficial characters on-screen, only known for their looks, Raquel broke the mold by portraying more empowered female characters.
In 1974, she won a Golden Globe for her iconic performance in The Three Musketeers. Raquel is now 77 years old, and has two children. She is currently single, but has been married (and divorced) four times.
Raquel Welch in high school
As a young girl from San Diego, California, Raquel always knew she wanted to perform. She started learning ballet when she was seven, and did it until the age of 17 when her instructor told her that she didn't have the right figure to be a professional ballerina.
Raquel certainly stood out among the other students at La Jolla High School, and won the title of Miss La Jolla and Miss San Diego, The Fairest of the Fair, at the San Diego County Fair. She graduated from high school with honors in 1958.
Barbara Mandrell
Barbara Mandrell is a country star known for her series of top-10 hits and appearances in TV shows throughout the '70s and '80s. She got to the number one spot on Billboard for the first time in 1978, with her hit Sleeping Single in a Double Bed.
Many more chart-toppers followed such as If Loving You Is Wrong I Don't Want to Be Right, I Was Country When Country Wasn't Cool, and many more. She was inducted into the Country Music Hall of Fame in 2009.
Barbara Mandrell in high school
Barbara grew up in Houston, Texas and developed a passion for music at a young age. Her father ended up managing her career, and she got the attention of an RCA Records producer when she was just a child. Growing up, she played pedal steel and lap steel guitars, the accordion, and several more instruments.
At the age of 13, she was already touring with big names like Patsy Cline and Johnny Cash. Barbara and her family founded the Mandrell Family Band, and ended up marrying their drummer, Ken Dudney, right after graduating from Oceanside High School.
Barbi Benton
Barbi Benton is a former model, actress, and singer. She is known for her regular role on the television series Hee Haw doing short comedy sketches, as well as her roles in popular series of the '80s Love Boat and Fantasy Island.
Barbi is known more, however, for her relationship with Hugh Hefner, who she started dating at the age of 18 in 1969 through 1976. Barbi married real-estate developer George Gradow in 1979, and the couple is still happily married today and has two children.
Barbi Benton in high school
Before Barbi was given the name 'Barbi' by Hugh Hefner, she was just Barbara. She grew up in Sacramento, California and attended Rio Americano High School. When she was only 16 years old, she started a career in modeling.
As soon as she graduated from high school, she enrolled in UCLA, and shortly after took a job appearing in Hefner's late-night entertainment television program when she was 18. Hefner fell in love with her right away, and the rest is history.
Dolly Parton
Dolly Parton is one of the biggest names in country music, and has been singing and writing country music professionally since her first album in 1967, Hello, I'm Dolly.
Since then, Dolly has garnered a whopping total of nine Grammys, ten CMA Awards, seven Academy of Country Music Awards, and three American Music Awards. Some of Dolly's biggest chart-toppers have been, I Will Always Love You, Jolene, Coat of Many Colors, and 9 to 5 (which she also starred in the film for.)
Dolly Parton in high school
Before Dolly Parton was one of country's biggest stars, she was just a small-town girl living in a remote area in Sevier County, Tennessee. She grew up with her farmer father and stay-at-home mother, and is one of 12 children.
Dolly always knew she wanted to be a singer, with her first public performances being at her local church. She landed a deal with a small Louisiana label when she was 13, and as soon as she graduated from Sevier County High School in 1964, she moved to Nashville in order to pursue her career further.
Kelly LeBrock
Kelly LeBrock was one of the most sought-after fashion models of the '80s, and posed for names like Vogue and Christian Dior. She gained even greater fame for saying "Don't hate me because I'm beautiful" as a Pantene spokeswoman.
She made her film debut in 1984 in The Woman in Red, and starred in Weird Science and Hard to Kill shortly after. Following a tumultuous marriage with martial arts expert Steven Seagal, LeBrock has been married to retired investment banker Fred Steck since 2007 and has three children.
Kelly LeBrock in high school
Although Kelly was born in New York City, she grew up in the wealthy Kensington part of London, and attended boarding schools in Sussex until her modeling career took off.
She didn't have the most typical teenage life, and started working professionally as a model when she was 16 years old. Her career took off when she landed a 24-page spread in an issue of Vogue magazine at the age of 19.
Vanna White
The lovely Vanna White has been turning the letters on one of America's favorite gameshows, Wheel of Fortune, since its first season in 1983. She has also appeared in a variety of films and TV shows, where she played herself in a majority of them.
Vanna dated the dancer-turned-actor John Gibson and got engaged to him during the '80s, but in 1986, he tragically passed away when the plane he was in crashed. In 1990, Vanna married restaurant owner George Santo Pietro and the couple has two kids. Their marriage came to an end in 2002.
Vanna White in high school
Vanna was born in Conway, South Carolina, but grew up in Myrtle Beach. Her parents divorced when she was an infant, and she was raised by her mother and stepfather throughout her childhood.
While she was in high school, she developed a passion for performing, and joined the school's cheerleading team. Right after high school, she moved to Hollywood in order to pursue a career in acting and landed the spot on Wheel of Fortune out of 200 other girls, when she was 26-years-old.
Jenna Jameson
Jenna Jameson is an adult film actress and model, and arguably the most famous adult entertainment performer of all time. She became famous in the early '90s, and has won over 35 adult video awards since then.
She founded her own entertainment company called Club Jenna in 2000, with her ex-husband, businessman Jay Grdina. Jenna is now 43 years old, and has since retired from the industry, and is now focusing on being a mother to her twin 8-year-old sons, and her newborn baby girl.
Jenna Jameson in high school
Jenna grew up in Las Vegas, with a father who was a police officer and a mother who was a showgirl. Her mother passed away when Jenna was two. Later, Jenna, her father and brother moved into a trailer home, with Jenna moving in with her tattoo artist boyfriend at 16.
Jenna had a difficult time in high school and has confessed to being the victim of repeated assaults. At 17, she started working as an exotic dancer, making $2,000 a night by the time she graduated Bonanza High School.
Nancy McKeon
You most likely recognize Nancy Mckeon as tomboy Jo Poliniaczek from the classic NBC sitcom The Facts of Life, but Nancy Mckeon has done a lot more than that. In fact, she continued to act all the way into 2011.
She had a lead role in the Lifetime series The Division as Inspector Jinny Exstead, and more recently a recurring role in Sonny with a Chance as Connie Munroe. Nancy has been married to Marc Andrus since 2003 and the couple has two children together.
Nancy McKeon in high school
Nancy grew up in Westbury, New York with her parents and actor brother, Philip. She began modeling baby clothes for Sears by the age of two, and her brother appeared in over 65 commercials as a kid.
When her brother landed a role in the 1976 series Alice, the Mckeon family relocated to Los Angeles. Nancy got her big break at the age of 13, in the series Stone. The producers of The Facts of Life discovered her, and added the character of Jo just for her when she was only 14 years old.
Debbie Harry
Debbie Harry is the lead singer of the new wave punk band, Blondie. Many of the group's singles such as Call Me, Rapture and The Tide is High reached number one both in the United States and the United Kingdom throughout the late '70s to early '80s.
Debbie's distinctive photogenic facial features, as well as her bleached blonde hair and stunning voice, made her into a punk icon. Blondie is still making music and going on tour today.
Debbie Harry in high school
Debbie grew up in Hawthorne, New Jersey with her adoptive parents who adopted her at three months old. Debbie attended Hawthorne High School, where she graduated from in 1963.
After high school, she studied at Centenary College and graduated with an Associate of Arts degree. After college, she decided to move to New York City, bleach her hair blonde, and pursue a career in singing. Before she and her guitarist boyfriend, Chris Stein, formed Blondie, Debbie worked as a secretary, waitress, and dancer.
Olivia Newton-John
The English-Australian beauty has had quite the singing career. Olivia Newton-John released her first solo album, If Not For You, in 1971. Her career floundered in the United States with many of her singles staying at the bottom of the charts.
In 1973, her single Let me Be There made it to the top 10 in the pop and country charts and she earned a Grammy for Best Country Female. However, her fame soared after she starred in the 1978 movie Grease as the lead role of Sandy. Today, the mother-of-one is still going on tours.
Olivia Newton-John in high school
Olivia moved with her family to Melbourne, Australia from Cambridge, England when she was six years old. She attended Christ Church Grammar School followed by University High School. At 14, the future superstar formed an all-girl singing group called Sol Four with three classmates.
The band would often perform at a coffee shop which her brother-in-law owned. After graduating, she won a singing contest, Sing, Sing, Sing, and the prize was a trip to Great Britain. Olivia reluctantly went, and ended up staying for several years to pursue her solo career.
Jane Fonda
The lovely Jane Fonda started her career off as a Broadway actress in the 1960 play There Was a Little Girl. She left the stage shortly after to pursue a career in film. In the '70s she won two Best Actress Oscars for her performance in 1971's Klute and 1978's Coming Home.
In the '80s she became a fitness guru, and released her first workout video which became the highest-selling video of all time. Jane has been married three times, each ending in divorce, and has three children.
Jane Fonda in high school
Jane was raised in New York, where she attended Emma Willard School, a private all-girls school in Troy. She did not have an easy childhood, with her mother taking her own life when Jane was only 12 years old.
Her father went on to marry young socialite Susan Blanchard, who was only nine years older than Jane. While in high school, the future star maintained straight-A's and taught dance classes. Jane eventually went to Paris for two years to study art before returning to New York and joining Lee Strasberg's Actors Studio.
Lynda Carter
Before Gal Gadot, Lynda Carter was the original Wonder Woman from the live action television series of the mid to late '70s.
Although Lynda Carter went on to several other roles in television and film after putting her red, white, and blue costume away, she is still known today as the original Diana Prince. Lynda is now 66 years old and has two children. She has been married to ZeniMax Media CEO Robert A. Altman since 1984.
Lynda Carter in high school
Lynda spent her childhood and teen years in Phoenix, Arizona and attended Arcadia High School until 1969. During her high school years, she was very active in drama and choir. She was initially interested in pursuing a career in music, and was in a band called Just Us throughout high school.
She later on attended Arizona State University, but dropped out shortly after in order to follow her dreams as a singer. After an unsuccessful music career, Lynda went on to become a semifinalist in the Miss World pageant, which opened doors for her in the world of acting.

Monica Lewinsky
There aren't many people who have never heard of the name Monica Lewinsky. She became famous in the late '90s after President Bill Clinton admitted to having an "inappropriate relationship" with the White House intern, which was later known as the Lewinsky scandal.
Monica gained celebrity status, and since then has engaged in several ventures from designing handbags to working as the advertising spokesperson for a diet plan.
Monica Lewinski in high school
Way before Monica had any ties to Bill Clinton, she lived a privileged childhood in Beverly Hills. She attended Jon Thomas Dye School in Bel-Air for Elementary school followed by Beverly Hills High School and later, Bel-Air Prep, where she graduated in 1991.
Right after high school, she attended Santa Monica College followed by Lewis & Clark College in Portland, Oregon. After graduating in 1995, she moved to D.C. to start her unpaid internship at the White House.
Madonna
If you were an avid music listener in the 80s, or even if you were a citizen on planet earth, there is a good chance you probably heard of Madonna. And unlike other musical icons from that time, her name is still relevant in the music industry today.
She had a profound influence on the genre of pop: The combination of electronic sounds, her voice, catchy tunes, and "Queen of Pop's" image paved the way for singers such as Britney Spears and Shakira.
Madonna in high school
Growing up in Michigan, Madonna went to Rochester Adams High School and was actually a very good student, getting A's in all of her classes. She was also a very serious cheerleader, and would later receive a dance scholarship for the University of Michigan School of Music, Theater and Dance.
Although we know that later on she would become a singer, it's important to note that much of her influence on the music industry had a lot to do with her dancing, and we see the origins of that now.
Winona Ryder
Winona Ryder is one of those actresses that leaves an imprint on your memory, and usually it's for the better. She first came into the spotlight when she played Lydia Deetz, a gothic adolescent in the Tim Burton directed Beetlejuice in 1988.
Fast forward to the early 2000s, where she starred alongside Adam Sandler in his hit comedy film Mr. Deeds. And she still keeps going, presently the star of the Netflix hit series, Stranger Things.
Winona Ryder in high school
You probably never knew this, but Winona was born in Minnesota in a farmhouse near a town called – wait for it – Winona. She ended up moving to California at age 10 and attended Kenilworth Junior High, where she got bullied and beat up.
But don't worry – she got her revenge years later, when her tormentor saw her in a coffee shop and asked for her autograph – the clean version is that Winona told them to go fly a kite.
Suzanne Somers
Suzanne Somers is best known for her portrayal of Chrissy Snow in the ABC hit comedy series, Three's Company. But many people also know her very well for her appearance on ABC comedy series Step by Step.
She played the role of Carol Foster Lambert, attempting to keep the peace between her children and their new step siblings. But in addition to her acting career, Somers is also a singer and a critically acclaimed author.
Suzanne Somers in high school
Suzanne was born in California, and her last name was originally Mahoney, not Somers. She went to Capuchino High school, where she thrived and worked on her skills as a writer.
She eventually went to San Francisco College for Women, which was actually run by the Catholic Society of the order of the Sacred Heart. In later years, she became a prize model on the game show Anniversary Game, where she met show host Alan Hamel, her future husband.
Lea Thompson
Here's a girl from the 80s that you definitely know, though you may not realize it. Lea Thompson was a huge star of the fan favorite and critically acclaimed Steven Spielberg sci-fi movie trilogy, Back To The Future.
She played Lorraine Baines/McFly, who is the mother of Marty McFly and the center of a lot of unconventional strange time travel drama. But Thompson has been active as an actress since then too – she has recently been a staple actress in the hit drama series Switched At Birth.
Lea Thompson in high school
It's actually kind of funny that we are about to go back in time to talk about Lea Thompson in high school, when the best character she ever played was a high school girl that Marty only met because he went back in time.
Anyway – Lea was actually very serious about becoming a ballet dancer – she practiced it very rigorously until she was 14. Eventually, she decided to change her focus onto acting, and we are mighty grateful that she did.
Michelle Pfeiffer
This lady is one that is known for many roles, including that of the mysterious Catwoman in Tim Burton's Batman Begins. She is also very well known for her portrayal of Elvira Hancock, the snooty wife of Tony Montana in the 1983 gangster film Scarface.
As time as gone on, Pfeiffer has continued to impress audiences with her unique dramatic flair, and she has appeared in many modern films, such as the musical movie Hairspray, and the Tim Burton film Dark Shadows.
Michelle Pfeiffer in high school
Michelle was born in Santa Ana, California, and would go on to attend Fountain Valley High School. In those early days, before she could enjoy the lavish luxuries that success in Hollywood can bring, she worked as a checkout girl at Vons supermarket.
Later on, she went to Golden West College and decided to learn how to be a court stenographer. Soon after however, it became clear that that life was not for her, and she turned her talents to the world of acting.
Morgan Fairchild
The wonderful thing about actors and actresses is that the truly good ones usually have something about them that leaves some signature. For Morgan Fairchild, the stamp that she gives off has a taste of nobility and glamour – but perhaps this is most fitting for a soap opera star.
But while she is mainly known in her soaps such as CBS's Search For Tomorrow, she is known for her brief appearances in comedies as well – she actually appeared as a guest star on the hit comedy sitcom Friends.
Morgan Fairchild in high school
Originally from Dallas, Texas, Fairchild was actually a prominent star even as a young child – she appeared on Mr. Peppermint Show, a WFAA-TV program hosted by Jerry Haynes.
She later appeared in another WFAA-TV program called Sump'n Else, and would get various other acting roles in commercials. Some actresses don't get their big break until a lot later in life, and Fairchild is not one of those – while she became a lot more famous later, it's important to note that she caught some limelight as a kid too.
Kelly Preston
Kelly Preston is well known for the acting work she has done, but she has also done notable work as a model as well. Regarding her acting, she is perhaps best well known for her appearance in the American teen comedy film Mischief, which came out in 1985.
Regarding her later work, if you saw the teen comedy film What a Girl Wants with Amanda Bynes, you should know that Preston acted as Bynes's character's mother. She is married to fellow actor John Travolta.
Kelly Preston high school
Kelly was actually born in the city of Honolulu, Hawaii, and it actually explains a lot when you consider the chill nature of her on screen persona. Not only did she live in Hawaii, but she even lived in Australia for a while as a kid, where she attended Pembroke School.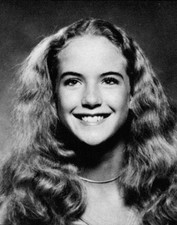 Years later, she would move back to the states, where she studied drama and theater at the University of Southern California. There she would get the tools necessary to thrive as an actress in the future.
Kim Basinger
Kim Basinger began her career as a model in New York City during the '70s. She decided to pursue acting and moved to Los Angeles in the late '70s. Kim gained fame after appearing as Bond girl Domino Petachi in 1983 Never Say Never Again.
In 1997, Kim won an Oscar for her performance in the film L.A. Confidential. Kim is still acting today, and was last seen in the movie Fifty Shades Darker. She was married actor Alec Baldwin in 1993 until their divorce in 2001, the pair have one child together.
Kim Basinger in high school
Kim grew up in Athens, Georgia as one of five children. Kim has described herself as a very shy girl throughout her childhood and hated public speaking so much that she would often faint if asked to talk in class. As a teen, her confidence grew.
She attended Clarke Central High School, where she joined the cheerleading team. She also participated in several beauty pageants and was eventually discovered from a beauty competition's ad and was offered a modeling contract with Ford Modeling Agency.
Audrey Landry
Audrey Landers is perhaps known for her memorable appearance in the hit CBS series Dallas, where she played the role of the captivating Afton Cooper. She is also well known for her portrayal of Val Clarke in A Chorus Line, 1985 film adaptation of the classic musical.
In the film, she displayed her talent as a singer as well as an actress, which impressed people even more than they already were – she was always a natural in the spotlight.
Audrey Landry in high school
A lot of Audrey's accolades can be attributed to her hard work and dedication, but it must be noted that she's been in show business since she was a little girl. Born in Philadelphia, she started acting when she was nine, appearing in a community theater production.
As she grew older, she continued to act and sing in community theaters throughout the entire state of New York. When she was a teenager, she attended the prestigious Juilliard School in NYC, where she studied music.