The first installment of Twilight was released in 2008 and took the world by storm, dividing it into two camps – team Edward vs. team Jacob, a werewolf and Bella's other main love interest. But no matter who you were rooting for, the movie assembled an army of twi-hard fans who became incredibly invested in the goings on betwixt Bella and her beaus.
Feeling an ache of nostalgia as strong as a newborn vampire, we decided to check in on some of the most inspiring women of Twilight have been up to. Keep reading to find out what they're doing now that their Twilight days are behind them.
Nikki Reed as Rosalie Hale
Rosalie is Emmett's mate, and part of the Cullen family – a coven of vampires residing in Forks. She's fierce and outspoken, and narcissistic at times. She was turned by Carlisle Cullen in 1933, after being assaulted by a group of men, and would do anything to be human again and have children.
At first, she resents Bella, objecting to the idea that a human girl would be part of their family. But when she warms up to her, it is revealed that she's only trying to protect Bella's humanity.
Nikki Reed – in real life
Nikki Reed began her career starring in the teen drama Thirteen, which she co-wrote with director Catherine Hardwicke, who later also directed Twilight. The role earned her several nominations, and an Independent Spirit Award.
After being cast in Twilight, Nikki took part in several other movies, like action films Catch .44, and Empire State, starring Dwayne Johnson. The actress is also a major music enthusiast, and even recorded several songs with her then-husband, singer Paul McDonald. In 2015, Reed married The Vampire Diaries actor Ian Somerhalder.
Ashley Greene as Alice Cullen
Alice Cullen is the bubbly, pixie-like family member of the Cullens, and Jasper's mate. She has the ability to see into the future, which makes her very powerful, but she's also very fun and optimistic.
She loves Bella like a sister, and often enjoys dressing her up (despite her objections). Her gift also makes her coveted by the Volturi, a powerful vampire coven that wishes to use her powers for their advantage, but her loyalties always lie with her beloved family.
Ashley Greene – in real life
Ashley initially wanted to become a model, but as she was deemed too short to be a fashion model, she took acting classes to participate in commercials – where she fell in love with acting. She got a few minor roles in television before being cast as Alice in Twilight.
After Twilight, the actress appeared in drama film Skateland, as well as family drama A Warrior's Heart, alongside her Twilight co-star, Kellan Lutz. She also had a role in historical drama, CBGB, about the Manhattan music club of the same name.
Anna Kendrick as Jessica Stanley
Jessica is a relatively minor character, and a comic-relief. She's a chatty girl who goes to Bella's high-school in Forks. While she's friends with Bella, she is often also jealous when boys express their interest in Bella instead of her – especially when it's the unattainable Edward Cullen, and later on Mike Newton, one of their schoolmates.
Bella encourages Jessica and Mike to go out, and the two eventually have an on-again-off-again relationship, ending up together.
Anna Kendrick – in real life
Anna began her acting career in theater. She landed a supporting role in Broadway musical High Society when she was only 12, for which she was nominated for a Tony.
After the days of Twilight, she starred in critically acclaimed movie Up in the Air, alongside George Clooney, scooping up nominations for major awards. The actress also starred in the drama 50/50, and Into the Woods, but became hugely famed for her role as Beca in the musical comedy Pitch Perfect movies, which were a major success.
Sarah Clarke as Renée Dwyer
Renée is Bella's mother. She's flighty, and can sometimes be irresponsible, but is very nurturing and caring. When Bella was a child, Renée felt unhappy living a boring, pedestrian life in rainy forks. She left her husband, Charlie, and moved away with Bella.
When Bella grew up, she moved back with Charlie, but stayed in touch with her mother. Although their relationship is quite close, Renée doesn't know Bella became a vampire and has a hybrid-child with Edward, as they worried she wouldn't be able to handle it all.
Sarah Clarke – in real life
Like Nikki Reed, Sarah also worked with Catherine Hardwicke in the movie Thirteen, before being cast in Twilight as Bella's mother, Renée. Since then, she's appeared in recurring roles on quite a few TV shows, including action series 24, dramedy Men of a Certain Age, and CW's sci-fi drama, The Tomorrow People.
Sarah has been married to Xander Berkeley, who plays Gregory in AMC's The Walking Dead, since 2002. The two will appear together in historical drama, The Maestro, in 2018.
Bryce Dallas Howard as Victoria
Victoria is a vicious vampire, and main antagonist in New Moon and Eclipse. She was a part of James' coven, and his mate, before James tried to hunt Bella for sport and was therefore killed by the Cullens.
Fueled by revenge, Victoria plans to kill Bella and the Cullens, and for that purpose creates an army of newborn vampires, who are much stronger than older vampires, due to the human blood in their system. Eventually, her army is destroyed and she is killed at the hands of Edward.
Bryce Dallas Howard – in real life
Bryce started acting in theater, until director M. Night Shyamalan took notice of her, and cast her in his mystery drama, The Village. Bryce was later cast in some high profile movies, which included Spider-Man 3 and sci-fi action Terminator Salvation, before being chosen to replace Rachelle Lefevre as Twilight villain Victoria, for the third movie in the saga.
She also starred in award winning historical drama The Help, as well as sci-fi adventure Jurassic World, opposite Chris Pratt, with a sequel in the making.
Elizabeth Reaser as Esme Cullen
Esme Cullen is the compassionate motherly figure of the Cullen family. In 1921, after her newborn child died of lung fever, Esme tried to take her own life by jumping off a cliff. Arriving at the hospital, her condition was so bad, she was assumed dead and sent to the morgue.
Dr. Carlisle Cullen found her, and turned her into a vampire to save her life. She joined him and Edward (whom Carlisle already turned) as part of their family, fell in love with Carlisle and married him.
Elizabeth Reaser – in real life
Before playing Esme in the Twilight saga, Elizabeth was mostly familiar for her role in Grey's Anatomy, playing patient Jane Doe, who becomes Alex's love interest.
She later starred in the short-lived comedy TV show, The Ex-List, and received roles in other shows like the CBS drama The Good Wife, anthology crime drama True Detective, and Mad Men. Elizabeth also did some work in film, which included the Charlize Theron dramedy Young Adult, as well as horror flick Ouija: Origin of Evil.
Maggie Grace as Irina
Irina is part of the Denali, a coven of vegetarian vampires (existing on animal blood instead of human) who are close with the Cullens. Volturi law forbids vampires from creating child vampires, who are extremely powerful, but exhibit little self control.
When Edward and Bella have a child together, she turns out to be a human-vampire hybrid. Upon seeing the child, Irina believes they turned a human child into a vampire, and tells the Volturi. When the Cullens prove this is false, Irina is killed for giving false information.
Maggie Grace – in real life
Maggie Grace was cast in her breakthrough role in 2004, playing Shannon on the ABC sci-fi mystery, Lost. The show gained huge success, and Maggie landed roles in high profile films like thriller The Experiment, and action comedy Knight and Day.
She played Liam Neeson's kidnapped daughter in action movie Taken, which became a box office hit and received two sequels, in which Maggie reprised the role. She also had a recurring role in the popular Showtime dramedy Californication.

Tinsel Korey as Emily Young
Emily is the fiancée of Sam Uley of the Quileute tribe, and caretaker to all the Quileute werewolves. Before Sam shifts into a werewolf, he dates Leah Clearwater, another member of the tribe.
But once he transforms, he involuntarily imprints on Emily, which means he's bound to her for the rest of his life. Emily first refuses his advances, encouraging him to return to Leah, but Sam won't give up. One day, as the two fight, a furious Sam shifts into werewolf form and injures Emily, leaving her face scarred.
Tinsel Korey – in real life
As a young girl, Tinsel enjoyed performing skits and dreamed of becoming an actress. She appeared in several commercials as a teen, before landing her first role in the Fox fantasy drama Tru Calling, alongside Eliza Dushku.
She also took part in a mini-series by Spielberg called Into the West, and films The Lookout opposite Joseph Gordon-Levitt, as well as the thriller. In 2009, she got the part of Emily in The Twilight Saga: New Moon, and reprised it during the rest of the franchise's films.
Noot Seear as Heidi
Heidi is a member of the Volturi's guard. She's responsible for bringing humans to the Volturi, in order to satisfy their thirst for blood. Her exceptional beauty and alluring way of dressing is meant to serve as "bait" to attract innocent visitors to be feasted on by the Volturi.
She also uses more elaborate techniques, like orchestrating contests with a grand prize of an all-expenses-paid trip to a random location, or arranging interviews for "a highly paid job" – which eventually brings people to Volterra, where the Volturi await them.
Noot Seear – in real life
Noot is a Canadian fashion model and actor. She began her modeling career at only 13, and has since appeared in ad campaigns for huge names like Armani, Chanel, Calvin Klein, and Vera Wang – to name a few.
Aside from her role as Heidi in the Twilight saga, she had a few other minor roles, including a guest appearance on the Showtime dramedy House of Lies, and an appearance in crime action film Electric Slide, alongside Chloë Sevigny and Jim Sturgess.
Julia Jones as Leah Clearwater
A member of the Quileute werewolf tribe, Leah Clearwater used to date Sam before he imprints on Emily, which breaks her heart. She turns bitter, and when she first turns into a werewolf and is forced to join Sam's pack.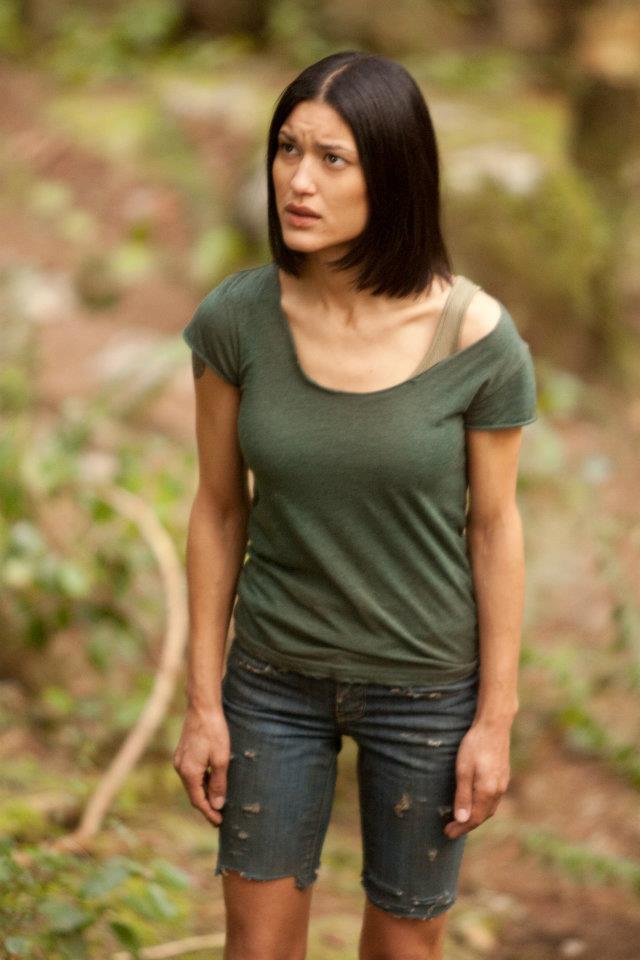 She uses the pack's telepathic connection (as they're able to hear each other's thoughts when in werewolf form) to torture Sam. When the Cullens need the werewolves' help against the Volturi, Jacob goes to help them against Sam's wishes, forming his own separate pack, which Leah joins.
Julia Jones – in real life
Julia began her acting career with small movie roles, and a recurring appearance on medical drama ER, as Dr. Kaya Montoya. In 2010, she was cast as Leah in The Twilight Saga: Eclipse.
Since then, the actress took part in big time movies like Adam Sandler's western comedy, The Ridiculous 6 (alongside her Twilight co-star, Taylor Lautner) and the highly acclaimed 2017 thriller Wind River, starring alongside the likes of Jeremy Renner and Elizabeth Olsen.
Jodelle Ferland as Bree Tanner
Young Bree Tanner is one of the newborn vampires created by Victoria and Riley, in order to fight against the Cullens and kill Bella. Bree isn't committed to the cause, but instead just wants to survive peacefully.
But even as she surrenders and shows the Volturi she can demonstrate self-control, they still declare her a criminal and execute her. Bree's character was given a spin-off novella, called The Short Second Life of Bree Tanner, which offers more information on Bree's mortal life, and her life as a vampire.
Jodelle Ferland – in real life
Jodelle, who played Bree Tanner, is already 23, and has many roles under her belt. Aside for portraying sweet vampire Bree, she is mostly known for her role as Mary Jensen in mystery drama Kingdom Hospital, and her role of Five in the Canadian sci-fi series, Dark Matter.
She also took part in several horror thriller films, such as Red, The Cabin in the Woods, The Unspoken, and Case 39, opposite Renée Zellweger.
Mía Maestro as Carmen Denali
Carmen is a member of the Denali coven. She's kind and gentle, and willing to help others in need. Carmen and her mate, Eleazar, join the Denali coven after Eleazar leaves the Volturi for her, and now lead a peaceful life as vegetarian vampires.
When Edward and Bella first introduce the Denalis with their hybrid daughter Renesmee, Carmen is the first one to believe she is their own, and not an immortal child they created. She later helps the Cullens, trying to prove this to the Volturi.
Mía Maestro – in real life
Born in Argentina, Mía is an actress and singer-songwriter. Her version of the song "Lloverá" appeared on the soundtrack for Twilight: Breaking Dawn – Part 1.
She started her acting career participating in movies like musical drama Tango, and the star-studded comedy Picking Up the Pieces, featuring Woody Allen, Sharon Stone, and David Schwimmer. The actress has also done some roles in television, including recurring roles in drama thriller Scandal, the ABC action drama Alias, and crime drama Savages.
MyAnna Buring as Tanya Denali
Tanya is the lovely leader of the Denali coven, who are friends with the Cullen family. Like the other Denalis, Tanya is also a vegetarian, feeding off animal blood, instead of human blood. Before Edward meets Bella, Tanya is good friends with him.
Though Tanya has a crush on Edward, he refuses her advances. Nevertheless, Tanya still supports the Cullens in their fight against the Volturi, wanting to fight for what's right and fair.
MyAnna Buring – in real life
MyAnna is a Swedish actress, who's had quite a few roles in television, movies, and theater as well. Other than playing Tanya on the Twilight franchise, she's also made guest appearances on major British shows such as Doctor Who and Downton Abbey.
She has also had starring roles in historical drama series Banished, as well as crime mysteries Ripper Street and In the Dark. In 2018, she is set to star in romantic drama series, One Night.
Casey LaBow as Kate Denali
Kate is also one of the vegetarian vampire members of the Denali coven. She is very close with her sisters, Tanya and Irina, as well as the Cullens. Kate is stubborn and strong-minded, and has the power to create an electrical shock on the face of her skin, effectively shocking anyone who comes to contact with her when she attacks.
In Breaking Dawn, as she helps the Cullens, she meets nomadic vampire Garrett, who becomes her mate and joins the Denali family.
Casey LaBow – in real life
Casey is a New York born actress and director. Before being cast as Kate in Twilight's Breaking Dawn – Part 1, she appeared with her Twilight co-star Ashley Greene in the 2010 drama Skateland.
After filming Breaking Dawn, she also took part in the musical thriller Plush, which starred Twilight alum Cam Gigandet. In 2016, the actress landed a recurring role in the Cinemax action series Banshee, as Maggie Bunker, the unfaithful wife of Calvin Bunker.
Alex Rice as Sue Clearwater
Sue Clearwater is a Quileute woman, who lives in the La Push reservation. She's mother of Leah and Seth, who are both werewolves, and the widow of Harry, who was good friends with Charlie, Bella's dad.
After Harry's death, Sure and Charlie become close friends, and later commence in a romantic relationship. Sue kindly helps Charlie handle new discoveries about the supernatural world, and fills the gap Bella left when she married Edward and left home.
Alex Rice – in real life
Alex Rice went into the entertainment business working behind the scenes of the TV show Judge Judy. Beginning her acting career in 2000, the actress landed some guest roles in shows such as CSI: Crime Scene Investigation, The Sopranos, the ABC comedy Spin City, and medical drama Strong Medicine.
She also starred in the 2010 romantic comedy Chasing Indigo. After appearing in Twilight, she's taken a step back from acting, but has now been announced to have a role in an upcoming drama feature called Spirit Water.
Mackenzie Foy as Renesmee
Renesmee is Edward and Bella's hybrid child – half-human and half-vampire – who has the ability to show people her thoughts, when she touches them. She is named after their mothers, Renée and Esme.
Being a hybrid, Renesmee grows in a rapid pace, which makes Edward and Bella are concerned. Later, as they find out about the existence of other hybrids, they are relieved to learn that her development will eventually stop when she's grown up. To Bella's dismay, Jacob imprints on Renesmee, becoming attached to her forever.
Mackenzie Foy – in real life
Mackenzie started off as a model, working for companies like Polo Ralph Lauren, Guess, and Gap. She began acting when she was only nine, landing guest roles in television shows like sci-fi mystery FlashForward and the reboot of Hawaii Five-0.
After being cast as the adorable Renesmee, she appeared in horror thriller The Conjuring, and also played the part of Murph in the space epic Interstellar, which earned her several award nominations. She is now set to star in the fantasy adventure film, The Nutcracker and the Four Realms.
Andrea Powell as Sasha
Sasha is the founder of the Denali coven, who turned Irina, Kate, and Tanya into vampires. She creates an immortal child named Vasilii, despite knowing the Volturi has deemed it to be illegal, and hides him from her daughters in order to protect them.
Alas, the Volturi discover the immortal child anyway, and execute her in front of her daughters. Since then, the Denalis do everything to respect the vampire law, which is why Irina tells the Volturi immediately when she suspects the Cullens have created an immortal child themselves.
Andrea Powell – in real life
Andrea Powell began acting in the '90s. She's had guest roles in teen dramas Dawnson's Creek and One Tree Hill, and also played small roles in horror movie Cabin Fever 2: Spring Fever, and in the drama The Legend of Bagger Vance, alongside Will Smith and Matt Damon.
Following Twilight, Andrea guest appeared on several other popular TV shows, such as supernatural drama The Originals, Lifetime dramedy Drop Dead Diva, Sleepy Hollow, and Halt and Catch Fire – which also stars wonderful Twilight alum Lee Pace.
Ali Faulkner as Bianca
Bianca is presumably based on a character which appears in the books called Gianna, who is a human secretary for the Volturi, who hopes they would turn her into a vampire but is killed instead, as they feast on her blood.
In the movies, Bianca is also a secretary at the Volturi headquarters, but is killed for a different reason. When Carlisle sends a letter to the Volturi, she misspells his name, and the Volturi, who are already tired of her, dispose of her.
Ali Faulkner – in real life
Before being cast as Bianca in the Twilight saga, Ali took part in a few drama films, like Secret at Arrow Lake and Maggie's Passage. In the years that followed her role on Twilight, Ali landed several leading parts in horror flicks, such as Butcher Boys, The Secret Village, and Bad Kids Go to Hell.
She also starred in musical drama The Song, and is set to star in the upcoming drama film T for Taj Mahal.
Andrea Gabriel as Kebi
Kebi is a member of the Egyptian coven, one of the oldest covens in the world. She is very quiet, and very obedient to her mate, Amun. Kebi is jealous of another member of the coven, Benjamin, who has the power to control the natural elements and thus gets much of Amun's attention – but she tolerates him in order to keep Amun happy.
The Egyptian coven are also called upon by the Cullens to help them stand against the Volturi, but Amun and Kebi abandon them before the confrontation ends.
Andrea Gabriel – in real life
Andrea is the daughter of soap opera stars Sandy and John Gabriel. Andrea caught the acting bug early on, and began her theatrical training as a young girl. She is mainly known for her recurring role in the successful ABC drama Lost, playing Sayid Jarrah's love interest, Nadia.
Other than Lost, Andrea participated in other TV shows as well, including crime dramas Law & Order and Criminal Minds, as well as medical drama Strong Medicine, JAG, and Gossip Girl.
Angela Sarafyan as Tia
Tia is another member of the Egyptian coven, and Benjamin's mate. Benjamin and Tia were in love while they were still human, but after he was turned into a vampire, she decided to leave her husband and become a vampire as well, in order to spend eternity with Benjamin.
Tia is said to be quiet, but when she speaks, it it with great insight. Tia and Benjamin also agree to help the Cullens, and stay throughout the confrontation with the Volturi.
Angela Sarafyan – in real life
Angela began her way as an actress with small guest roles, in shows like supernatural drama Buffy the Vampire Slayer, and crime dramas The Shield, 24, CSI, and The Mentalist. She also had a recurring role in American Horror Story: Freak Show.
In 2016, she appeared alongside Christian Bale and Oscar Isaac in the historical drama The Promise. That was also the year when Angela landed her breakthrough role in the highly popular drama Westworld as Clementine – a beautiful host at the Mariposa saloon.
Judith Shekoni as Zafrina
Zafrina is a fierce, powerful member of the Amazon coven – a South American coven of vampires who, unlike the Cullens, are not vegetarian, and as such they feast on human blood.
Aside from her vampire strength and natural fighting abilities, she can also project vivid illusions into other people's minds at will. Zafrina is an ally of the Cullens, who agrees to help them make a stand against the Volturi, and fight alongside them if necessary.
Judith Shekoni – in real life
Judith is mostly known for playing glamorous gangster wife Precious Hudson on the British crime drama, Eastenders. In 2015, she was also cast as one of the main antagonists in NBC's Heroes reboot – Heroes Reborn.
The actress has also done several guest parts on television shows like popular sit-com The King of Queens, the ABC drama Brothers & Sisters, and crime drama NCIS. Nowadays, she stars in the crime drama Ica, alongside another former Twilight actor, Cam Gigandet.
Catalina Sandino Moreno as Maria
Maria is the leader of the Mexican coven, and the creator of Jasper Whitlock, who's part of the Cullen family. She is formerly part of the Monterrey coven, consisting of her mate and two other parent-like vampires.
When her coven is annihilated during the ancient Southern vampire wars (in which vampire covens created armies of newborn vampires to fight one another for territory), she creates her own newborn army of talented soldiers, including Jasper. However, Jasper eventually gets sick of being Maria's assassin, and leaves her clan.
Catalina Sandino Moreno – in real life
Catalina started off her career with a bang, when her starring role in the drama film Maria Full of Grace was nominated for an Academy Award for Best Actress. She later landed the role of Che Guevara's second wife in Steven Soderbergh's Che, alongside Benicio del Toro.
After being cast in Twilight: Eclipse, she went on to participate in TV shows like adventure drama Falling Skies, FX's crime drama The Bridge, and the Showtime drama The Affair. Catalina is also the CEO of a production company called El Delirio Productions.
Christian Serratos as Angela Weber
Angela is another one of Bella's classmates in Forks high-school, and photographer for the school newspaper. She's quiet and shy, but very kind and can be insightful. These characteristics are highly appreciated by Bella, who becomes instant friends with her as she arrives at the school.
She likes Eric Yorkie, a fellow classmate, and expresses to Bella her wish to go to prom with him. When Bella convinces her to ask him herself, she does so and the two go together, remaining a couple throughout the saga.

Christian Serratos – in real life
Before being cast in Twilight, Christian Serratos played Suzie Crabgrass in the Nickelodeon series Ned's Declassified School Survival Guide. She also had few minor roles in shows like Hannah Montana, and the teen drama 7th Heaven.
Her biggest acting break, however, came after the Twilight series. In 2014, she landed the role of the feisty, outspoken survivor Rosita Espinosa in The Walking Dead – a serious change from Twilight's timid Angela – and became a series regular.
Kristen Stewart as Bella Swan
Bella is the Twilight saga's protagonist. She's a clumsy, kind-hearted girl who moves to the small town of Forks, Washington, and falls in love with a handsome, mysterious "young" man named Edward, who she later discovers is an over 100 year-old vampire.
Nevertheless, the two embark on an epic romance, overcoming outside enemies, his lust for her blood, and Bella's tendency to get into life-threatening situations. Although Bella also has feelings for her werewolf best friend, Jake, she ultimately choose to become a vampire and spend eternity with Edward.
Kristen Stewart – in real life
With her parents working in film and television, Kristen was immersed in the industry from a young age. As a child actress, she first gained recognition playing Jodie Foster's daughter in the film Panic Room.
After Twilight turned out to be a huge success, Kristen landed some a wide variety of roles in films like Joan Jett biography The Runaways, Snow White and the Huntsman, critically-acclaimed drama Welcome to the Rileys, and Woody Allen's Café Society. Kristen also received accolades for  her work in Clouds of Sils Maria, opposite Juliette Binoche.
Dakota Fanning as Jane
Jane is one of the high-ranking member of the Volturi, a powerful coven of vampires who enforces vampire law, which is meant to keep vampires a secret – often giving offenders cruel punishments. One of these punishments is Jane's terrifying ability to induce a feeling of excruciating pain in people's minds.
Her twin brother Alec, possesses the gift of sensory deprivation, and together the young siblings serve as Volturi's most powerful weapons. Jane's power, however, doesn't work on Bella, because she's a shield, meaning she is unaffected by most supernatural powers.
Dakota Fanning – in real life
As a child actor, Dakota became a familiar face at the early age of seven, when she played Lucy in the drama I Am Sam opposite Sean Penn – a role which made her the youngest nominee in SAG history.
Besides Twilight, the award winning actress took part in some major titles, including Hide and Seek (alongside Robert De Niro), sci-fi movie War of the Worlds, The Runaways (opposite Twilight co-star Kristen Stewart), and Ewan McGregor's American Pastoral. Most recently, she was cast in the upcoming crime action flick, Ocean's 8.