"Everywhere you look, everywhere you go, there's a heart, a hand to hold onto." We were totally obsessed by Full House back in the late '80s and early '90s, as was the rest of America if the ratings were anything to go by. Created by Jeff Franklin for ABC, the show follows Danny Tanner, his brother-in-law (Jesse Katsopolis, played by John Stamos) and friend (Joey Gladstone, played by Dave Coulier), as they work together to bring up Danny's three young daughters.
---
---
When the director's first started their casting call for Full House, they initially had their sights set on one person to play Danny Tanner. Bob Saget.
Bob Saget wasn't available for the pilot of Full House, due to prior filming commitments, and so John Posey took his place. However, he wasn't quite right, and Bob Saget quickly filled the shoes of Danny Tanner. In the show, Tanner is known as a bit of a feeble character who loses his wife and struggles to bring up his daughters by himself. After enlisting the help of his friend and brother-in-law, we watch as the family gets brought ever closer together. And you just can't help falling in love with the nicest TV dad of all time, Bob Saget.
While he may have played one of the most lovable fathers in Full House, Bob Saget couldn't have been much more different in real life. However, he has also had one of the saddest and darkest lives of any comedian, which could certainly have played a part in how his life has shaped up. We're going to delve into the secret life of Bob Saget; the losses, the heartbreak, the rebellious streak, and the rather shocking (at times) comedy, to find out what really makes Danny Tanner… Sorry, Bob Saget… Tick. You might be surprised at what you learn.

A born comic
Bob Saget was born May 17, 1956, in Philadelphia, Pennsylvania. His father, Benjamin Saget worked as an executive at a supermarket and his mother, Rosalyn Saget, worked in a hospital as an administrator. From a young age, it was clear to see that Bob was going to be "the funny one," as he would constantly make the girls at kindergarten laugh; in return for a kiss. Little did the world know, he would be making millions of people laugh in the future.
Feeling like an outcast
Bob Saget once admitted that he felt like a total outcast when he was growing up. He described himself as "overweight, with zits" by the time he was aged 15. Considered a massive nerd by his peers, Bob admits that he was definitely not considered one of the cool kids and found himself quite lonely, with very few friends. He spent most of his time with his father on road trips for the supermarket job, calling Benjamin his "childhood hero."
Doctor ambition
Perhaps due to his mother working at a hospital, Bob Saget had ambitions of becoming a doctor as he was growing up. However, his grades left a lot to be desired, and they worsened when the family moved to Encino in California; uprooting Bob from his school. It was his English teacher, Elaine Zimmerman, who saw that Bob Saget had much more of a creative streak than an academic one and persuaded him to consider a career in film, instead.
Through Adam's Eyes
Bob Saget attended Temple University once he left high school, where he would take his teacher's advice and pursue an education in film, with the hope that it would lead to an illustrious career in the industry. It was here he created a black and white film about a boy who needed facial reconstruction, called Through Adam's Eyes. This short film earned him an award at the Student Academy Awards.
The deadly appendix
After graduating in 1978, Bob Saget planned to attend the University of South California for graduate courses. However, he quit just a couple of days after the school year began, admitting he thought he knew it all by the age of 21. However, a rather dangerous illness soon brought the arrogant young adult crashing back to reality. Bob Saget had a gangrenous appendix that nearly killed him, and had to have emergency surgery to remove it. He admits he soon got over being arrogant when he nearly died.
Going stand up
While he may not have attended the University he had set his sights on in LA, he did hang around the Californian city to embark on a new career. Stand-up comedy. For the next few years, touring the comedy club circuit was everything to Saget. His act was based on improv and his own distinctive commentary, and described himself as a "triple-A personality." While on the comedy circuit, Saget also befriended fellow comedians, David Coulier and Gary Shandling.
Sherri Kramer
While at high school, Bob met a woman named Sherri Kramer who had big dreams, they started dating when Bob was just 17. After attending Law School at the University of Pennsylvania, Sherri was admitted to the bar of California in 1981, to become an attorney. Saget and Kramer were married in 1982, and she became one of his biggest supporters, particularly through his transition from comedy club comedian through to one of the biggest comedy stars of the '90s.
The Morning Program
Bob Saget's big break finally came in 1987, the form of The Morning Program, on CBS. This news show decided they needed to inject a bit of comedy into their format, in order to bring in more viewers; and they believed Bob would do just that. The show featured Saget, along with Mariette Hartley and Rolland Smith, but the comedy was not to last… Saget once told an interviewer, "I was considered too 'hot' for the morning, whatever that is." But his brief stint on the news show had got him noticed.
Full House
Luckily, Bog Saget was destined for bigger and better things. That same year, he was cast as the kinda wimpy but utterly loveable Danny Tanner, on Full House. Bob's character, Danny, was a widowed father to D.J. (his oldest daughter), Stephanie (the middle kid), and baby Michele who was actually played by The Olsen Twins – but more on their role in Saget's life later on. Full House was to be Saget's biggest success and quickly catapulted him to stardom.
Up to no good
Saget has often talked about the naughty things that he would get up to on the set of Full House – although we can't even mention some of them on here! While he may have played a good-two-shoes on the show (and was known for being a bit wimpy), he was a total clown behind the scene; the polar opposite of his character, Danny Tanner. From being inappropriate to drawing naughty things on the scripts, Saget was the ultimate naughty boy.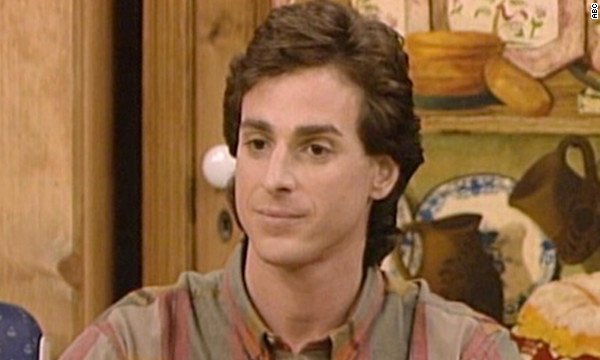 Sleeping with Stamos
One of his best stories (and one of our personal favorites), is the time he ended up in bed with John Stamos. The pair went to Las Vegas, to see an Elvis impersonator, but Bob couldn't handle his drink. He was so drunk that Stamos had to feed him his steak they'd ordered from room service, take off his shoes, and put him to bed. It wasn't until the next day that Bob Saget realized he'd just spent the night with John Stamos. Lucky guy!
The Reddi-Wip
If you think that's bad, there are stories ten times worse about what happened on set at Full House. Stamos, Saget and Dave Coulier were all bored waiting for the Olsen twins to finish a scene, so decided to raid the prop fridge. There they found cans of Reddi-Wip cream and decided to take it in turns to inhale the nitrous oxide from the can. Saget later admitted it was one of the stupidest things he's ever done. No kidding!
Changing an Olsen diaper
Bob Saget did have a softer side behind the scenes, however. He fondly recalls memories of being given the gruesome task of changing the Olsen twin's diapers – on more than one occasion. He said that the cameras were rolling and it was either film the long scene with a stinky diaper or do a quick change and carry on. While he may have been a rebel most of the time, he still was no stranger to getting his hands dirty.
Unhappy critics
While Full House may have been a huge success with fans from across the globe, the critics were not impressed with the show at all. From 1988 onward, Full House was nearly always in the Nielsen Top 30 shows and has proven even more popular in the reruns. The first season critics scores are a measly 31/100, however, and one critic called it "archetypally average." Ouch. As the show progressed over its 8 seasons, critics were a little more favorable by the end.
America's Funniest Home Videos
As if he wasn't busy enough, playing one of the main roles in Full House, Bob Saget also decided to become the host of America's Funniest Home Videos in 1989. The show featured home video clips that the general public had sent in, and it was Bob's job to fill the gaps with comical commentary. It was supposed to be just a one-off hour long special, but it became an instant hit, and ABC ordered more episodes to turn it into a weekly series.
Nearly losing Sherri
Not many people know, but Bob nearly lost his wife Sherri in 1987; the same year he started acting in Full House. When the couple were bringing their first child into the world, Sherri experienced a difficult labor and was recommended a cesarean. When she had her epidural, the medication didn't enter her spinal column like it was supposed to and ended up in her bloodstream instead. Sherri Saget flat-lined and had to be resuscitated, with catheters inserted to remove the fluids from her blood.
Saget's own Full House
After a difficult first birth, Bob and Sherri went on to have two more children together. The pair had three girls, Aubrey, Jennifer Belle, and Lara Melanie; mirroring Danny Tanner's family in Full House. While they're much younger than his on-screen kids, it's cute to think that his home life was so similar to his acting life. However, Sherri must have had her hands full trying to bring up three daughters while her husband was working long hours filming.
Calling it quits
In 1997, Bob Saget left two very important parts of his life behind. The first was America's Funniest Home Videos, which he grew tired of; believing the format to be samey and repetitive. He quit the show (although has been back since for guest appearances). The second part of his life Saget left behind that year was his wife, Sherri. After "going through hell and back," according to Bob, he admitted that the couple were never the same. They got divorced after nearly 15 years of marriage.
A near death DUI
Bob Saget admits he became a bit of a cliche after his divorce. He would spend a lot of time drinking and remembers a time that he blacked out when driving on Sunset Boulevard. The car drove up the curb and almost flipped, but that wasn't enough to deter Bob from drinking and driving. He was stopped twice by the police for driving recklessly while under the influence before vowing never to drink and drive again.
Back to stand up
Once both Full House ended (in 1995) and his time at America's Funniest Home Videos was over, Bob decided to dip his toe back into the stand-up comedy world. He wanted to prove that he was more than Danny Tanner, the kinda wimpy dad, and so focused his stand-up on the edgy and foul mouthed material that had got him noticed in the first place. Saget has always been one to divide opinions with his stand up comedy routines!
Keeping busy
Aside from his stand-up comeback, Saget received plenty of job offers over the next few years. He made a cameo in Half Baked, was the host of the game show 1 vs. 100 on NBC, voiced the future Ted Mosby in How I Met Your Mother, and even played a parody of himself in Entourage. And that's just the start! Saget has also appeared in Broadway, dabbled in creating his own shows, and has written a book to boot (more on that infamous book later).
For Hope
However, one of Saget's finest pieces of work came in the form of the TV movie, For Hope, which he directed for ABC back in 1996. The movie shows a woman as she falls apart, after being diagnosed with the rare disease scleroderma. It starred Dana Delany as Hope and received top Nielsen ratings for its slot when it was first aired. What made this TV movie so special, however, was the significance it played in Saget's life.
Losing his sister
The reason Bob Saget wanted to direct For Hope was because of his sister, Gay, who was diagnosed with scleroderma when she was 43. She had constantly been misdiagnosed and by the time they discovered what was really wrong with Gay Saget it was too late. She passed away at the age of 47, much to the heartbreak of Bob and the rest of his family. This wasn't the first time Saget had experienced the death of someone so close to him, however.
Charity work
Along with directing the movie For Hope, Bob has done a lot more to further the research efforts of the rare disease that his sister died from. He is a board member of the Scleroderma Research Foundation and has helped rope in other celebrities, comedians, and big-names to get involved. In fact, Robin Williams worked the very first benefit event for the foundation! Their work, along with the help of Bob Saget and his connections, is helping further research and one day find a cure.
Every 2 years
While Bob Saget may have lost his sister when she was just 47-years-old, he was no stranger to death by that point. In fact, it seemed as though he was losing someone close to him almost every two years. He lost his two sisters, along with four uncles, and several friends; all passing away every two years. Saget has admitted that death became a bit of an obsession, thinking that he wouldn't live past his fifties.
Comedy to cope
Losing people close to you every two years, being an outcast at school, and just generally feeling very depressed; you wouldn't expect these things to be the worry of comedian Bob Saget. However, he has admitted that he found himself in depressive states more than once. Bob's father, had his own way of coping with sadness and the hardship of losing so many family members. His sick sense of humor… Bob Saget looked up to his father as an idol and found that he could also use comedy to cope with the difficulties of life.
Dirty Daddy
In 2014, Bob Saget released a tell-all memoir entitled Dirty Daddy. In it, Bob Saget talks of his father's influence on him as a child (and using comedy to cope), his struggles on the comedy circuit, the secrets behind the scenes on Full House, the highs and lows of his marriage, and so much more. Many of the stories Bob Saget divulged had never been heard before, and people wanted to hear them from the horse's mouth. Saget toured America to do readings of the book, before visiting Australia with his The Dirty Daddy Tour.
That's what I'm talkin' about
That same year, Bob Saget also released a comedy album entitled That's What I'm Talkin' About. The explicit album features parts of his stand-up show, stories about his father and his comedy influences, and a lot of filth. It was yet another part of Bob Saget that divided opinion from fans and critics! However, it was also nominated for a Grammy Award for Best Comedy Album. So, it can't have been that filthy. Right?!
Kelly Rizzo
More recently, Bob Saget has been making headlines for dating travel and food blogger Kelly Rizzo who is 23 years younger than him. The pair are often seen in Instagram snaps together, with the most recent being for the comedian's birthday back in May 2017. The photo shows Rizzo kissing Saget on the cheek and states that he makes her feel like the "luckiest girl in the world." They certainly seem like a very sweet couple.
What's next for Saget?
Bob Saget may not be making too many headlines anymore, but that doesn't mean he has disappeared off the face of the planet. According to sources, he is working on more stand-up material, that is guaranteed to be more explicit than ever (we're so surprised). He also has his younger, blogger girlfriend to keep him on his toes. Plus his recent Danny Tanner reprisal in Fuller House catapulted him back into the forefront of our minds. It looks like this '90s comedy great is here to stay.